Rustic Italian Christmas table decorations
by: Chica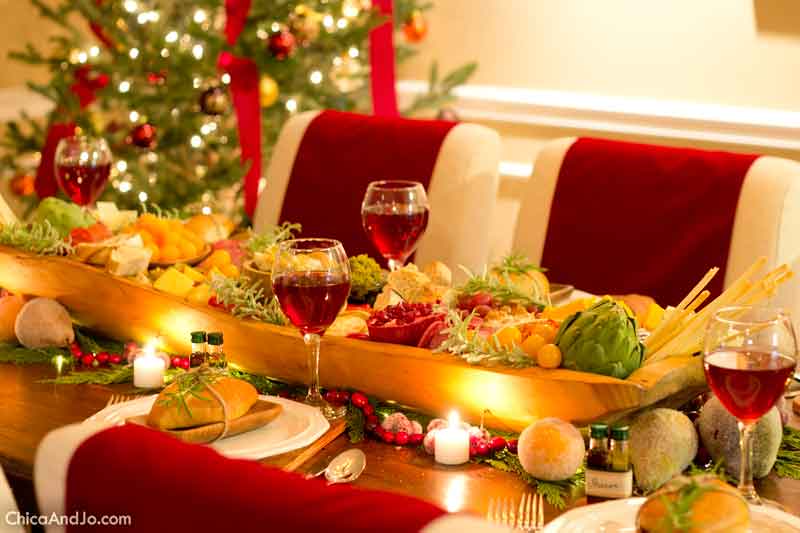 I had a small Christmas dinner party over the weekend, and my theme was a rustic Italian Christmas feast. I focused on rich colors, bountiful food, and modern farmhouse table decor, and the result was a spectacular feast!
The most important part was the food. I'd seen plenty of antipasto tables on Pinterest, and wanted to do something similar but with a twist. Jo found me an antique carved wooden dough bowl
that was a perfect fit for my dining table, and we filled it up with food.
And I mean we FILLED it! We tucked a complete antipasto bar into the bowl, including meats, cheeses, fruit, bread, and sauces. We used balled up wax paper to prop things up when needed, and used inexpensive items like grapes and crackers to fill the large gaps.
We finished it off with a few heads of roasted garlic, some skinny breadsticks, and springs of fresh rosemary that we'd sugared. Wow, what an awesome look sugared rosemary is! It looks just like snowy branches.
On the table, around the dough bowl, we tucked springs of fresh greenery, a few votive candles, and some whole sugared fruits, like oranges, grapes, and pears. A set of battery-operated fairy lights and a few strings of fresh cranberry garland were the perfect finishing touches to turn this main course into a beautiful centerpiece as well.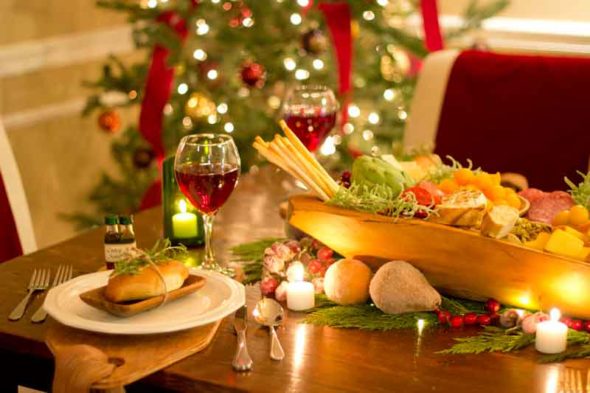 At each place setting, we used chunky white plates topped with a small wooden platter. We put a small loaf of bread and a sprig of fresh rosemary on each platter, and tied it with a piece of jute.
The placecards were mini oil and vinegar bottles that we decorated with the guests' names. (More details on that project coming soon!)
We really wanted to do something extra special for the placemats, and bring in another rustic wood touch. We also liked the idea of incorporating cutting boards to match the antipasto feast. We couldn't find any that were quite right, so we made our own cutting board placemats! We placed the boards and flatware at an angle, for a unique look, and hung the napkin from the hole at the end.
We decorated the dessert table with more greenery and fairy lights, and served the classic Italian pannetone. This was my first time eating pannetone, and it definitely won't be my last. I loved this sweet, rich, and fluffy treat that was half dessert and half bread.
On the wall above the dessert table, I added some more fairy lights to a wrought-iron piece I already had. I used wide burgundy ribbon to hung two wreaths that we decorated with fake sugared fruits.
My dining chairs are pretty boring, so I spruced them up with large bands of burgundy velvet that I folded into a point at the end. This was an easy no-sew project — I just used some of our double-sided tape sheets to "hem" the edges!
I decorated my Christmas tree with more burgundy velvet ribbon, white twinkle lights, and vintage ball ornaments in burgundy and gold. It was the perfect backdrop to the dinner.
My rustic Italian Christmas dinner turned out to be a feast for the eyes as well as the tummy. I'm so pleased with how everything came out, and we had a lovely evening.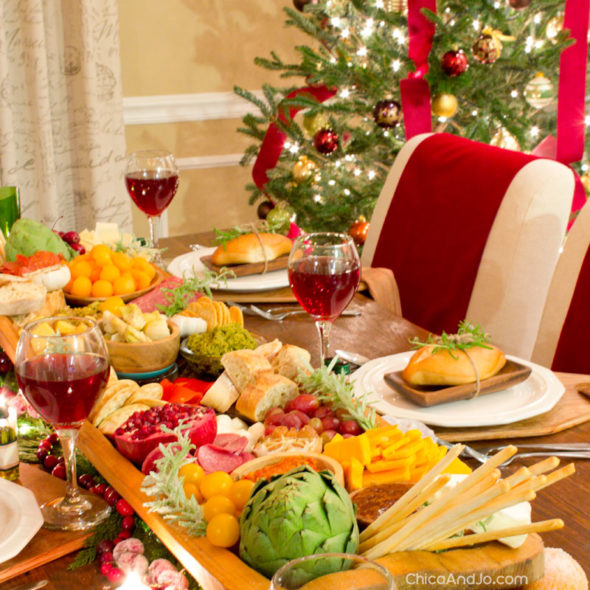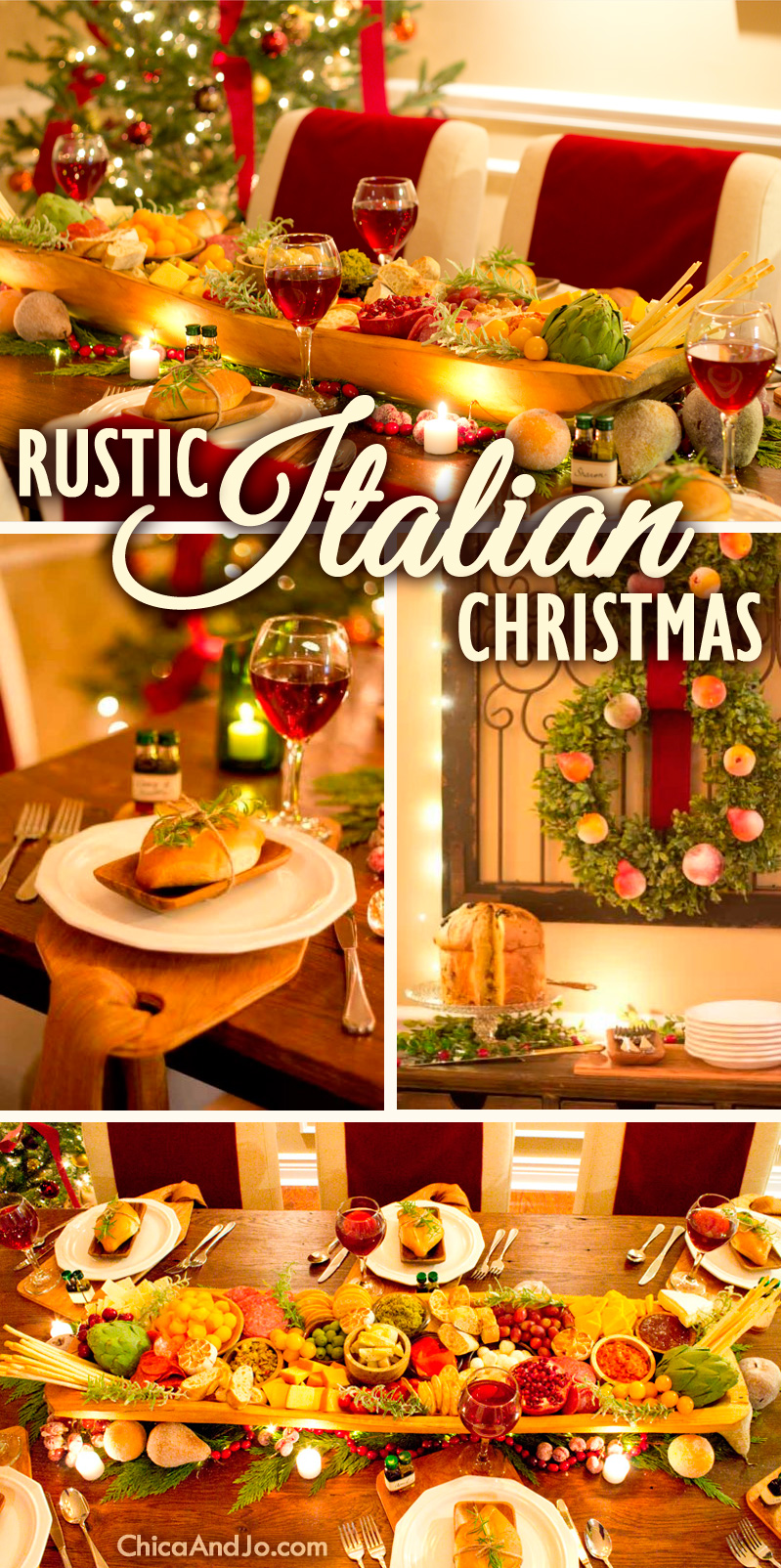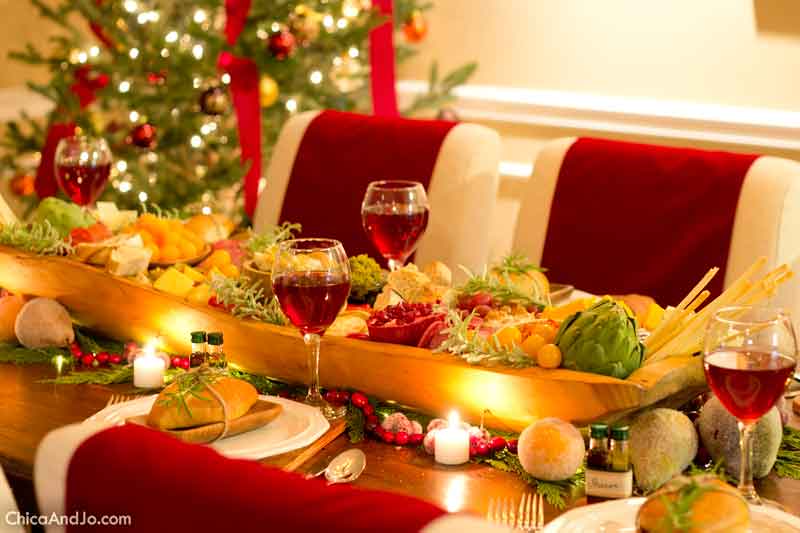 similar projects

leave a comment: