How to make a mesh ribbon wreath
by: Chica
Jo's husband (a.k.a. McGeeky) was browsing some store or other recently and encountered an item that he was sure Jo and I could make good crafty use of. It was a giant roll of sparkly, red, mesh ribbon.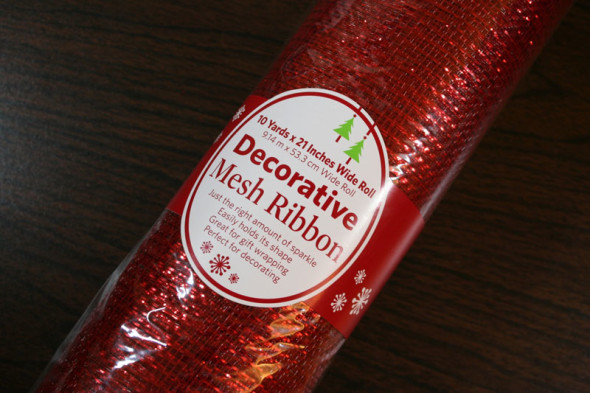 And when I say it's giant ribbon, I mean it — it's 10 yards long and 21 inches wide! When you unroll it, it's a very pretty and flexible mesh and Jo and I had never seen anything like it before. It was just screaming for something creative to be done to it!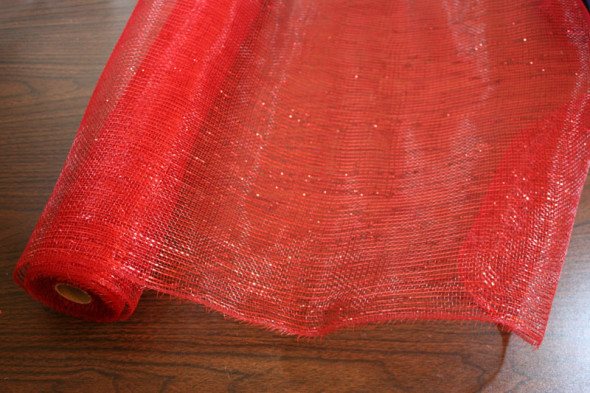 As soon as I held the ribbon in my hands, I had an idea on how to use it, so Jo gladly turned the roll over to me. I wanted to make a wreath, so I grabbed my favorite wreath base — an old wire coat hanger.
I stretched the hanger into a round shape, and used my needle nose pliers (my favorite tool of all time) to snip off the hanger's hook. Then I used some ordinary transparent tape to secure the wire ends into a loop. (If you prefer, you can leave the hook in place and use it for hanging the wreath later.)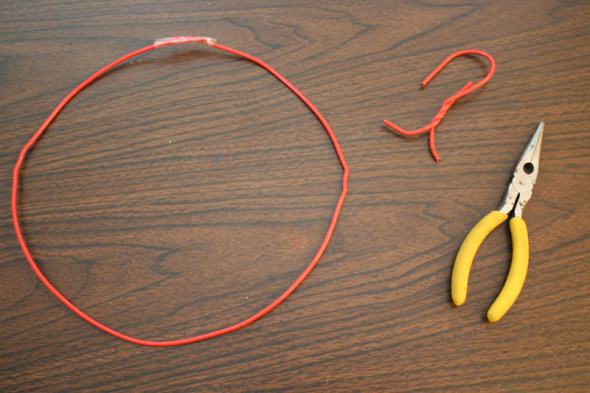 Then I took one end of the ribbon and bunched it up, sort of accordion folding it as I went.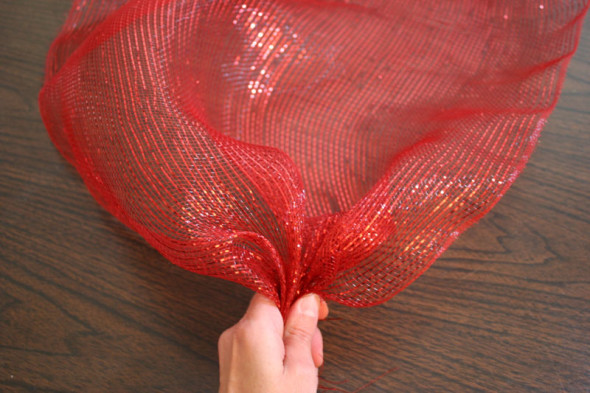 I secured it tightly together with a piece of tape.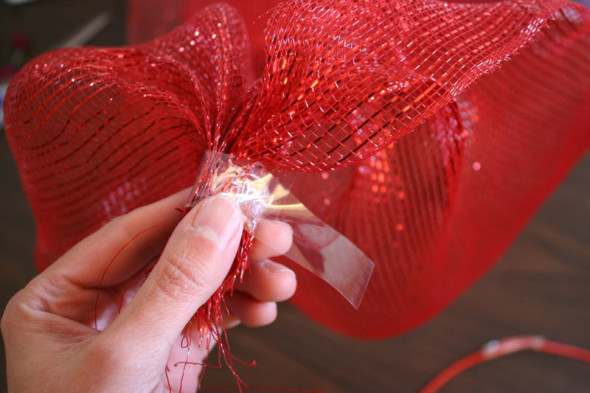 Then I attached the end of the ribbon to my wire frame with more tape, making sure it was super tight.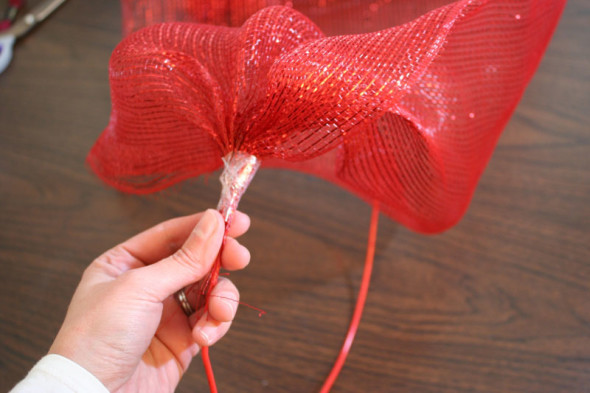 I bunched the ribbon up again, about 8 inches from the first place…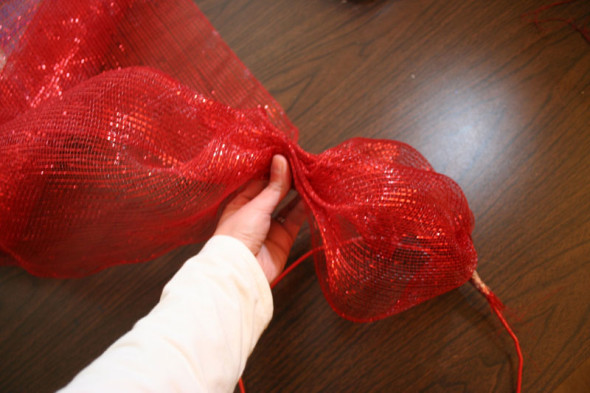 …and secured it tightly with more tape. If you are having trouble getting the tape to stick or want something more durable, you could also use wire to attach your loops to the hanger.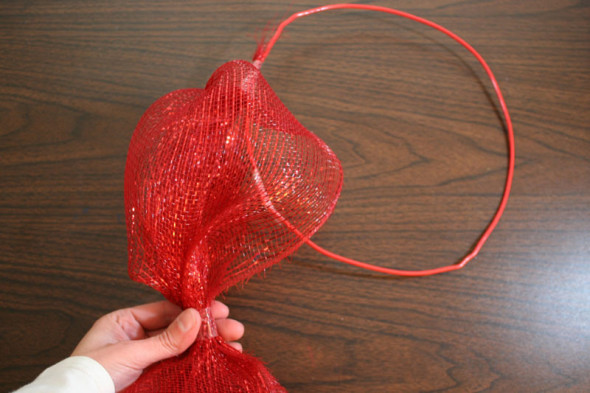 I attached the taped part to the wire frame, pushing it right up against the first one, so that the ribbon billowed out in a fluffy shape.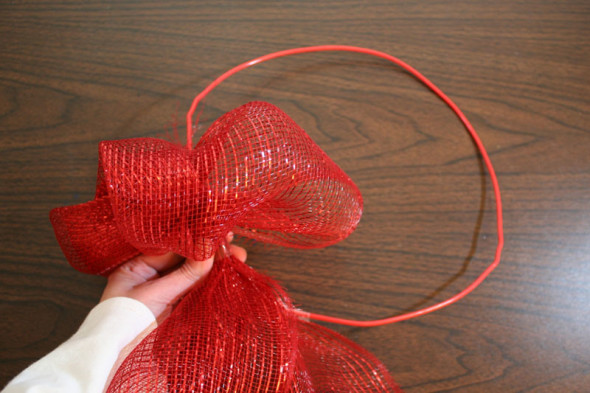 Once again, I secured it to the frame with tape.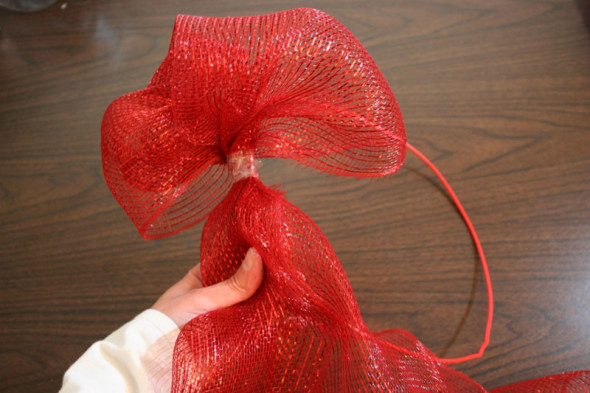 Then I did the same thing again, moving out 8 inches along the length of ribbon, bunching it up…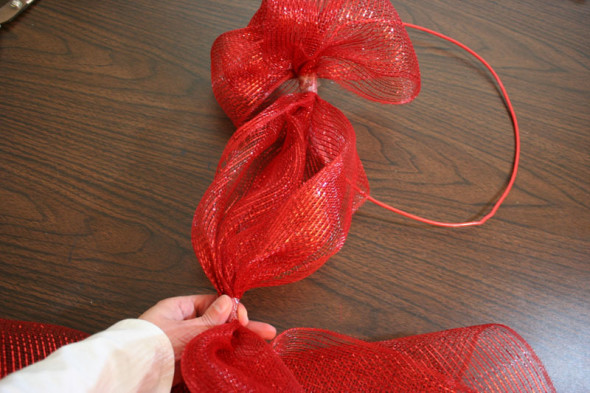 …then securing it with tape and attaching it to the frame with more tape.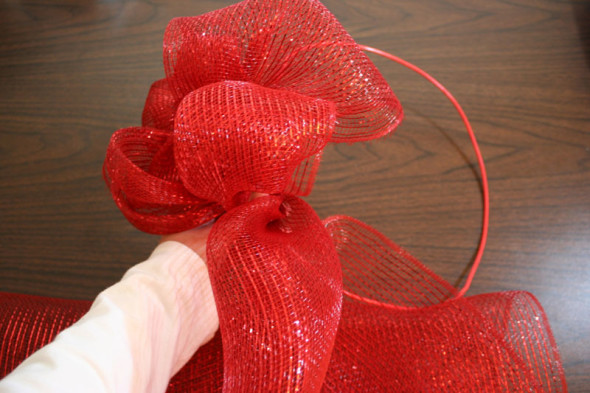 The second loop squished right up against the first, and they blended together beautifully. I knew I was on to something good!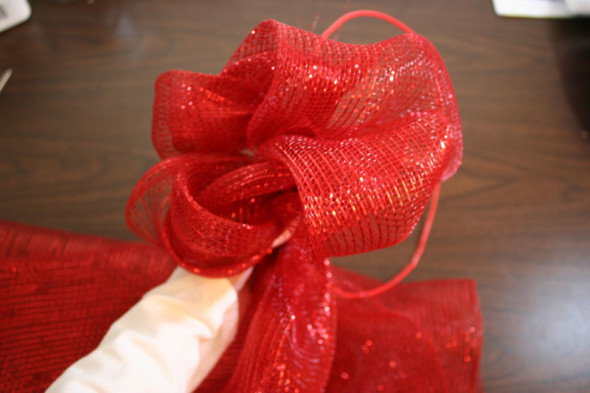 On the back, you can see the tape where I attached each loop.
As the loops were added, the wreath took on a really fluffy shape that was basically like a giant bow.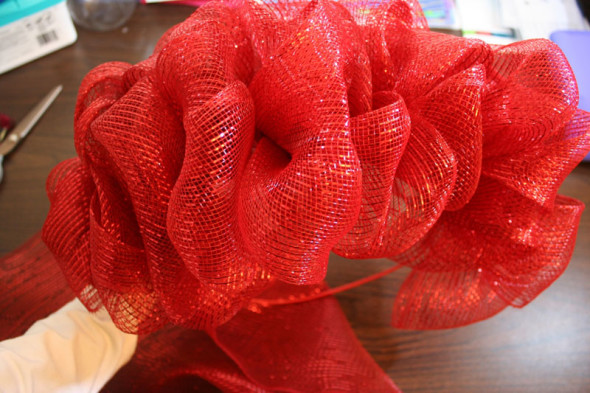 I kept on working my way around, keeping all the taped areas as close together as I could get them.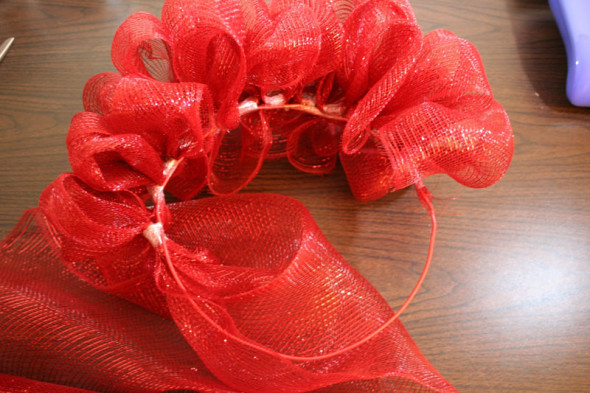 When the frame was covered in taped bunches, the back looked pretty funny with all it's taped bunches.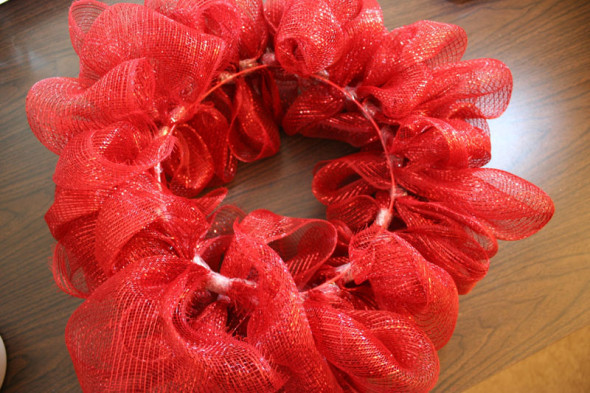 But I flipped it over and I had a gorgeous, fluffy front! It was easy to adjust the ribbon a little here and there to make a nice shape.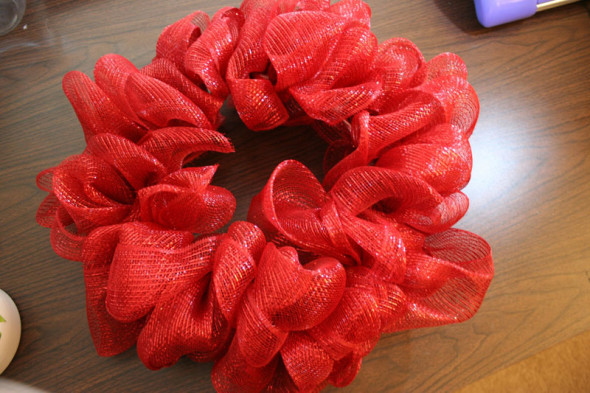 I love how this wreath came out, and it only took me about 15 minutes to make.
The wreath looks great on the door, and will be a wonderful addition to my Christmas decorations.
UPDATE: I created this wreath back in 2010, when McGeeky gave us that giant roll of mesh ribbon. I had never seen the ribbon before, or wreaths made of it. Now it's years later, and both are everywhere! I can't help but wonder if we helped start the trend, or if I just had the same idea a bunch of other people did too. :)

similar projects

leave a comment: