Googly eye Halloween wreath
by: Jo
I like to make wreaths.  I should clarify that a little more.  I like to make non-traditional wreaths. My dad can make traditional wreaths that look like they belong in a home decorated fully in Pottery Barn and Arhaus. They are gorgeous and I treasure the one that he gave me a few Christmases ago. I, however, like to make weird wreaths. One of my favorite projects I have ever done for this site was the Thanksgiving clothes pin wreath. I love that thing and I still have it in the hall closet waiting to go on my door this season. There are still unsigned clothes pins on it to be filled this year.
Let's not skip ahead to Thanksgiving just yet, though. I would first like to share with you a fun and easy wreath I did for Halloween this year.  This one involves LOTS of eyes and hot glue.
I started with an 18 inch flat, wooden, wreath form. I happened to have one in my craft room already, but you can easily find them at your local craft store.
I then painted the front of it with gloss black paint.
Next, you need A LOT of googly eyes.
Lots of them in all sizes. The largest size I used was 40 mm. Don't get them too small, though. I bought and used some of the really tiny ones, and my fingers are still sticking to the keyboard as I type from trying to glue those tiny little eyes onto that wreath. I didn't even need them that small in the end.
I wish I could tell you exactly how many I used on the wreath, but I can't.  I dumped a bunch out in my tray and had quite a few left over so I am not sure.  Buy more than you think you will need because I had to order more.
Pay attention now, because I am actually going to say something useful. Dad told me that the trick to making a good wreath, no matter what kind, is balance and scale.  Always start with your largest items you are going to place first.  Disperse these largest items evenly around your wreath. In this instance, I evenly spaced my largest eyes around the entire ring using a hot glue gun to attach them.
For other wreaths, you might be just decorating the bottom half, or side, or whatever. In that case, space your largest items evenly in that area.  This will provide you with a nice base to fill in around.  Now, start placing your next largest items and work your way down to the smallest, filler pieces.
The picture below shows the wreath pretty far along but still not finished.  You can still see a lot of the black base in the lower, left corner.  I also did a second layer of eyes overlapping the ones beneath. This gave the wreath a lot of depth. The other thing you will notice is that I let the eyes hang off the edges.  This makes it easier to do and makes it look more interesting all at the same time.
The hard, gluing yourself, part is over.  Let's make a sign for the middle of the wreath.  I started with a 6.5″ plywood circle. That happened to be what I had lying around. You are going to cover this circle, so you could actually use some foam board, Styrofoam, an old lid, or whatever round thing you happen to have lying around. I painted the edge so it would look finished, and then cut two circles of coordinating scrapbook paper.
I used spray adhesive
to attach the decorative circle to the front.
I then attached my coordinating ribbon to the back with the same adhesive and put the paper on top of that to hide the ribbon. I didn't cut the ribbon from the roll at this point because I wasn't sure how long I wanted the top to be.
Now I needed my letters. I used my Plantin Schoolbook Cricut cartridge
to cut out the words, "I'm watching you!" to fit on my circle. I chose the size of my words based on the longest word to make sure everything would fit.
Now this is a fun part. I made my letters into stickers with my Xyron
and then, and then… I painted them with glow-in-the-dark Mod Podge.
Yep, it glows! In the dark! How awesome is that? I applied two coats to be sure I got good coverage.
I then used our trick for lining up letters to place my longest and middle word on my circle first.
Once I had all of my letters placed (I used tiny googly eyes for the dots), I covered the whole circle (front and back) with outdoor Mod Podge.
Since this would be hanging on my front door for a few weeks, I wanted it to be well protected.
To finish it off, I made a bow for the top and used a little extra ribbon to tie the wreath to the hook on my door. I love how fun it turned out! I'm also really happy with how well the glow-in-the-dark Mod Podge
works. I am going to have to think of some other Halloween uses for it.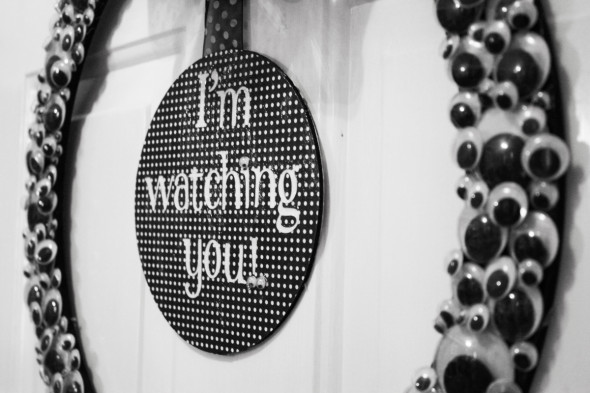 similar projects

leave a comment: