Turn a sewing table into a bar cart
by: Chica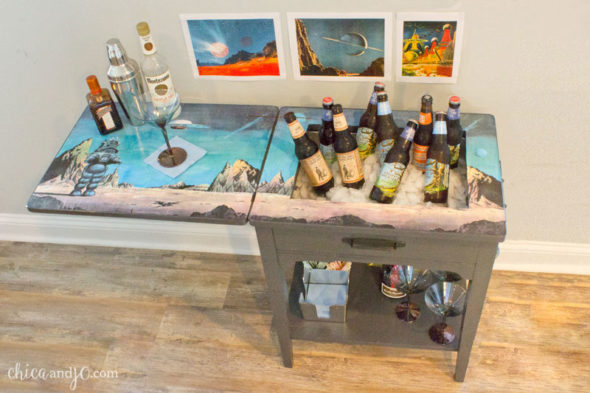 A while back, my parents were going to throw out Mom's old, vintage sewing table. The sewing machine hadn't worked in ages, and the table really needed some TLC. I stopped them immediately, because I knew I could refurbish it and breathe some new life into it!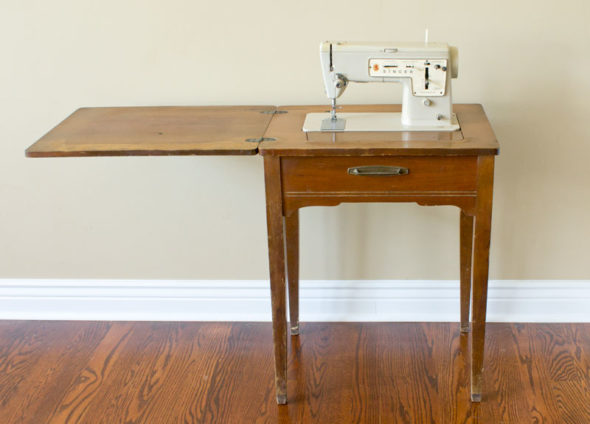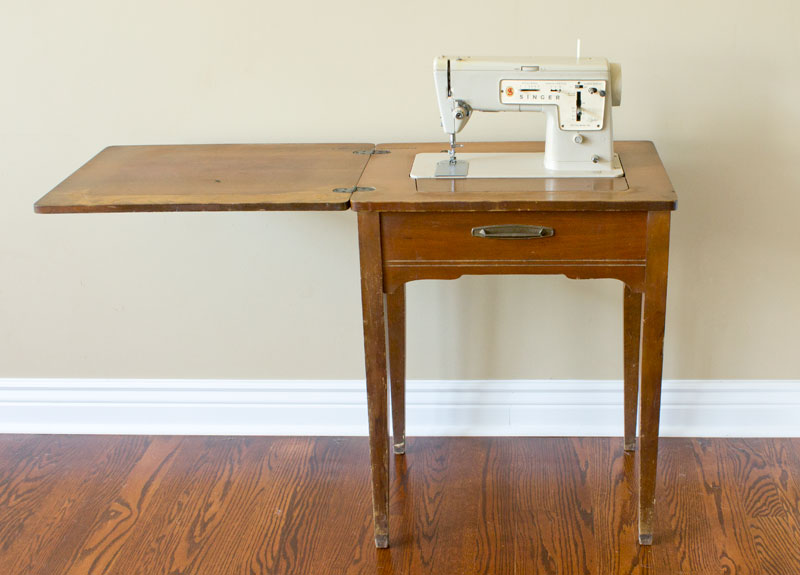 My favorite part about this table is that the sewing machine is mounted on hinges and folds down into the table. So clever!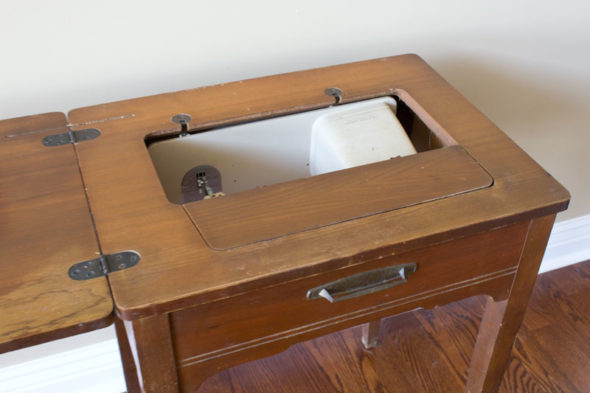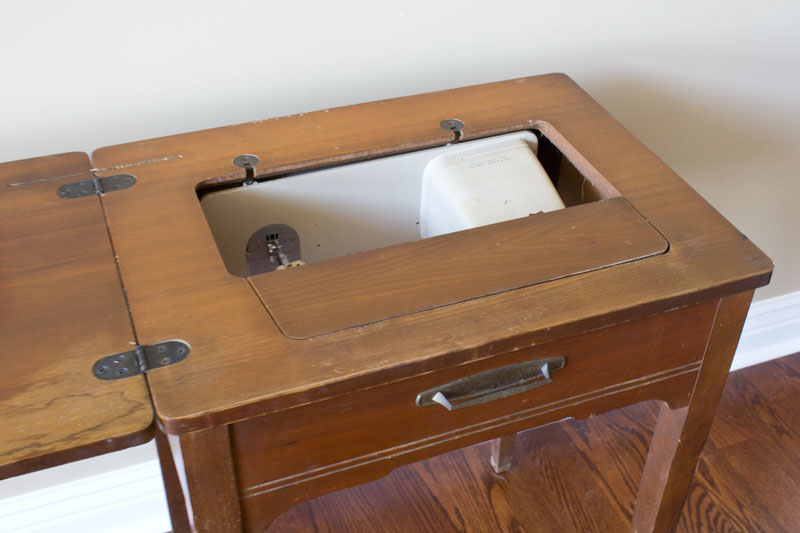 Then the tabletop just folds over to create a charming little table that you can't even tell contains a sewing machine.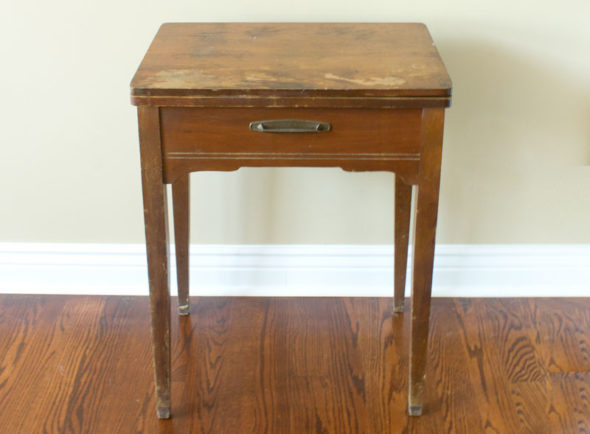 But I didn't need a sewing machine table. What I needed was a bar cart, and I knew this would be the perfect piece of furniture to start with.
Dad was really intrigued by this restoration project, and helped me with the construction aspects. After removing the sewing machine and extra hardware, we squared off the hole and made it just a little smaller than a steam table pan. Then we mounted some rails underneath to hold the pan, and converted the side of the table into a swinging door for easy access.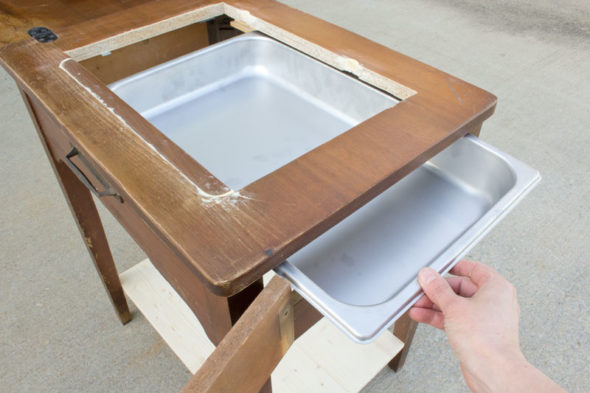 The steam table pan would be great for holding iced beverages, but I knew that sometimes I would want to use the table for serving food, so I wanted a flat surface. We cut a piece of clear pine to size, making a removable cutting board that could be cleaned easily.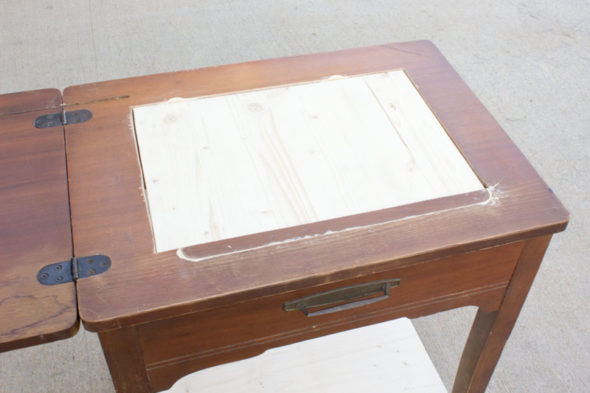 We also added a shelf to the bottom, for extra storage and to stabilize the whole thing.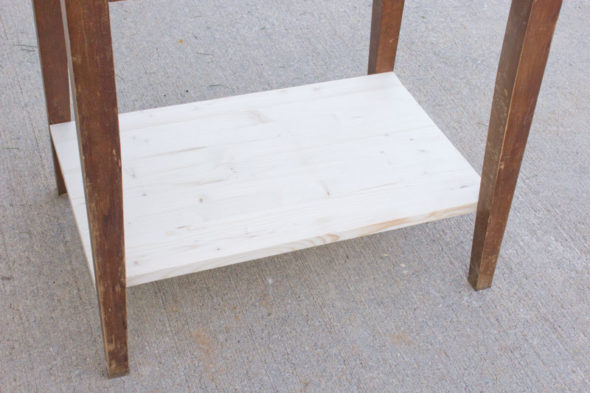 Then Jo and I painted it with Chalky Finish paint in Relic, first using a small brush to get into the grooves.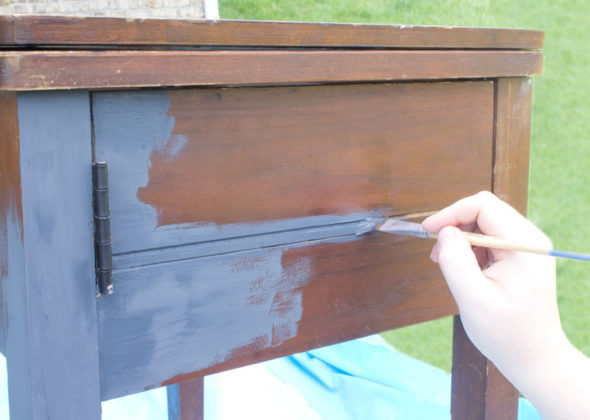 We used a larger brush on the rest of the surfaces, then a foam paint roller on the top. We sealed it all up with Americana Decor Light Satin Varnish and let it dry throughly.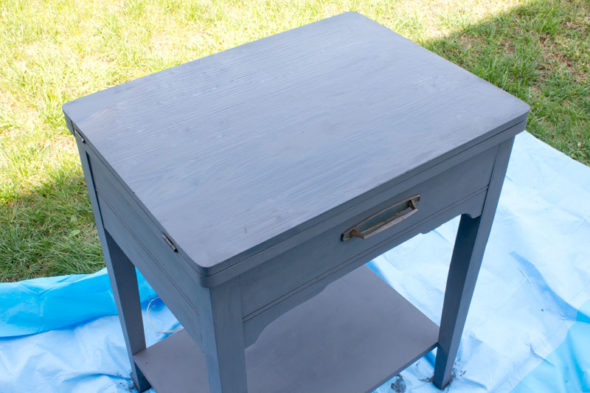 For the tabletop surface of the bar, I wanted to do something really unexpected and fun. So we went with a retro sci-fi theme! We used large copies of a Robby Robot / Forbidden Planet movie poster and decoupaged them to the surface. Since this table will undoubtedly have liquids spilled on it, I went with Outdoor Decou-Page to provide some water resistance.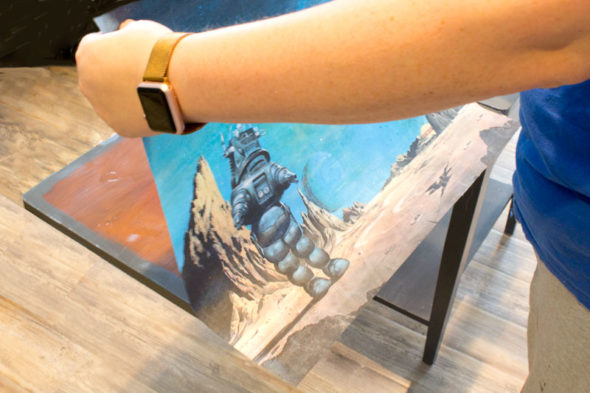 Oh my goodness, look at how cool it came out!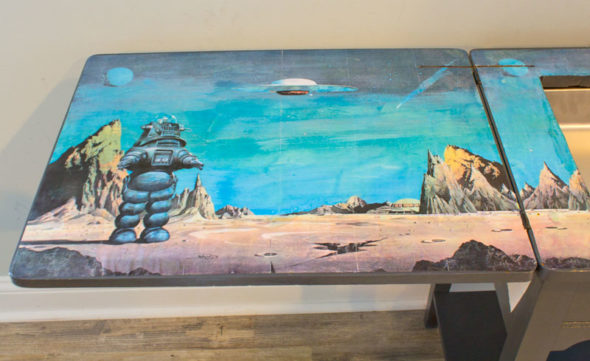 When we did the other side of the table, we just let the poster cover the hole entirely. Then after it had dried, we cut away the excess with a craft knife.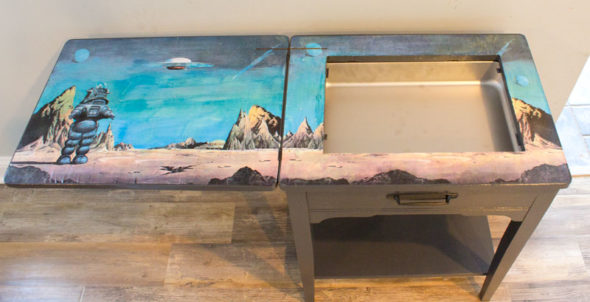 I mounted a wide drawer handle to the side door. I actually couldn't find any towel racks that were small enough to work here, but this handle was the perfect size. The only problem was that it was silver! No worries — a couple coats of black multi-surface paint and it matched perfectly!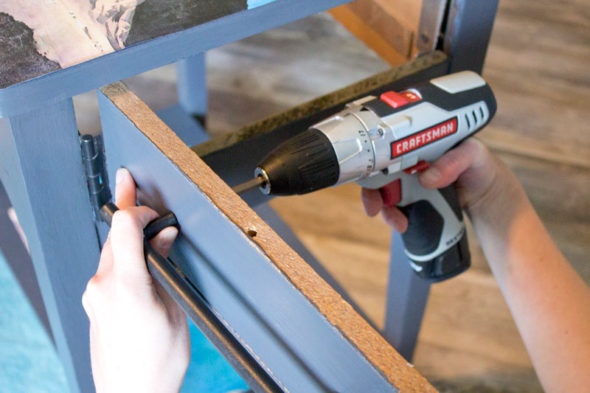 This handle works great to hold towels, or S-hooks from which to hang bar tools.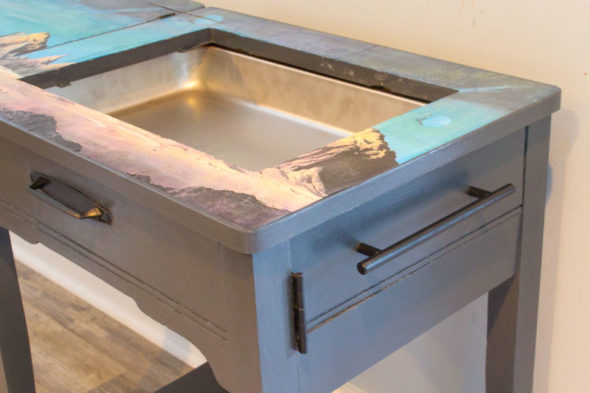 I am so thrilled at how this bar cart transformation came together. With everything in place, it's such a fun addition to a party, and a real conversation piece!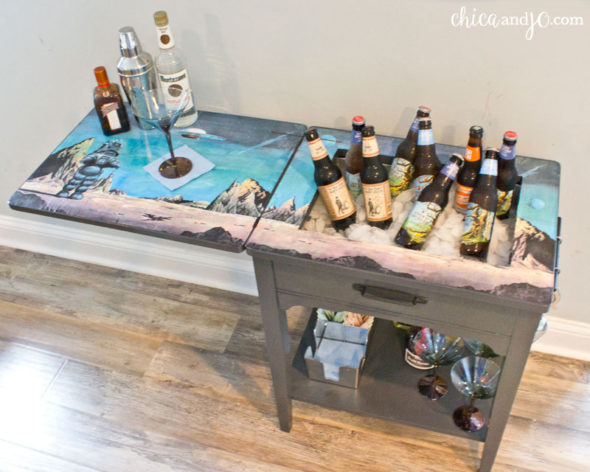 The steam table pan is perfect for holding iced beverages.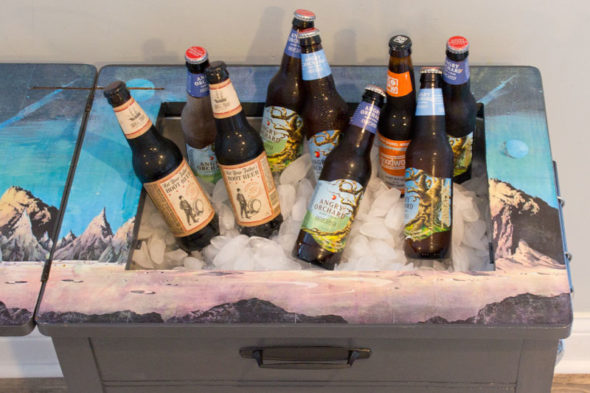 And the cutting board is a great option for a flat serving surface.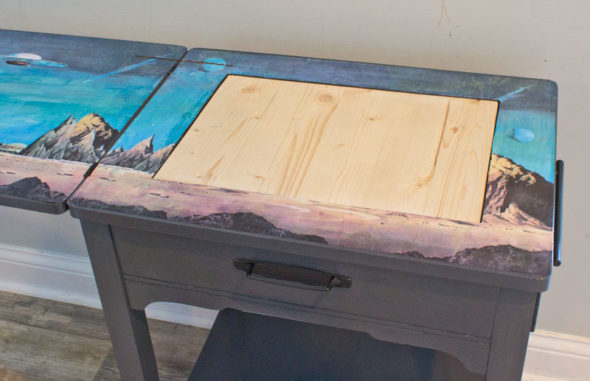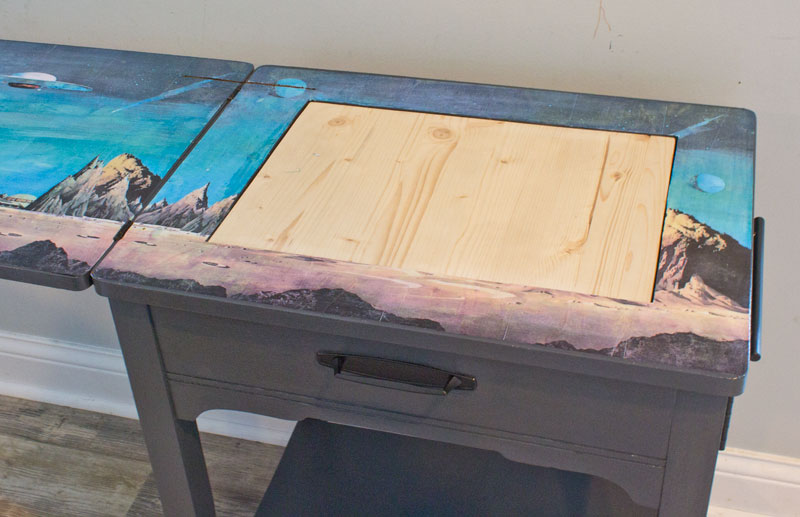 The flip-open tabletop is great for holding special items… I just need to be sure not to put too much weight on it!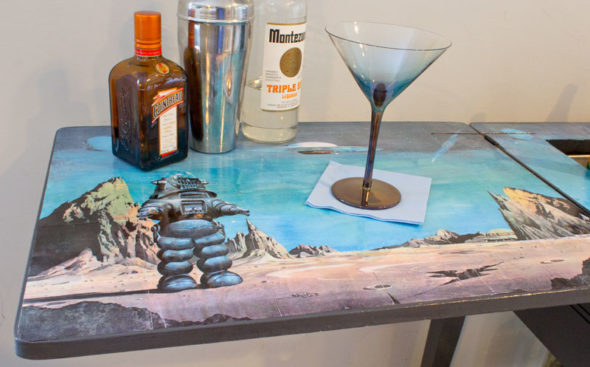 And the extra shelf on the bottom is great for holding bottles and glasses.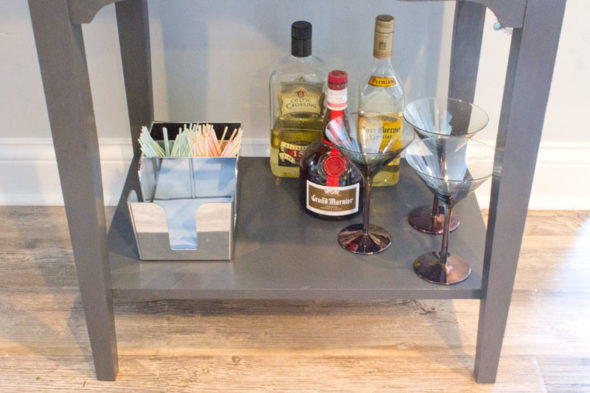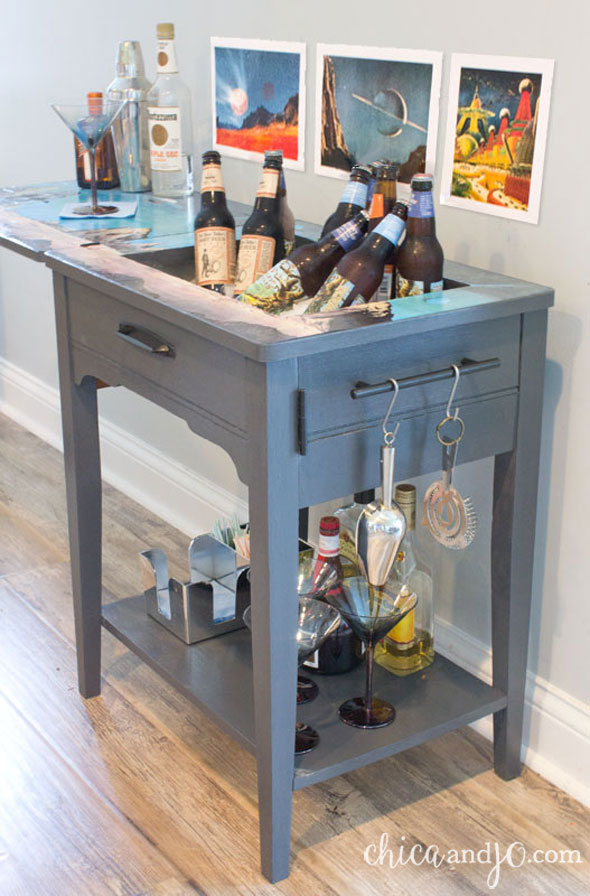 And when the party is over, the fun folds away for a clean and simple look.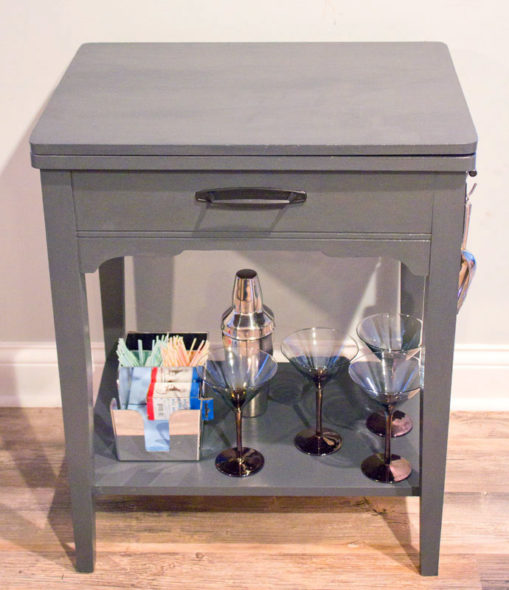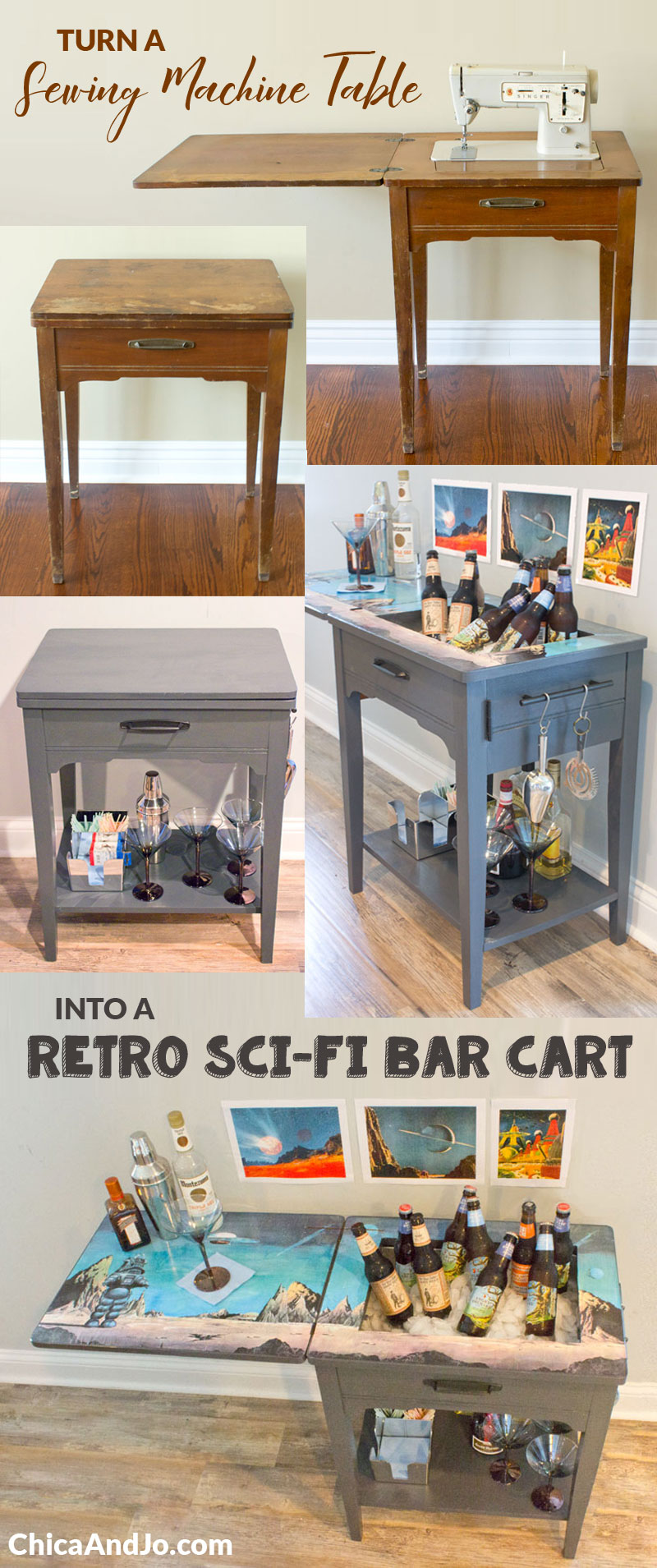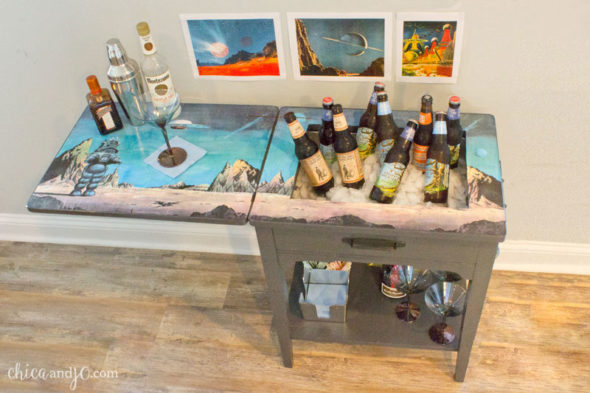 similar projects

leave a comment: