Betting pool spreadsheet for the 2017 Kentucky Derby
by: Chica
The running of the Kentucky Derby is the second biggest reason to give a party. We love to give parties, and the first Saturday in May is the perfect time to host a gathering. It's situated nicely between the Christmas craziness and the July 4th weekend. We've hosted a few Derby parties in the past, so we have devised a simple betting sheet to use to track bets at your party. To go along with your betting pool, you will also need betting tickets to hand out, so we created some of those for you to print and use as well.
This is a very simple betting sheet to use. Just keep the spreadsheet open on your computer during the party, and every time somebody places a bet, add the dollar amount of that bet to the current total (in the "Wagers" column) for that horse. When the race is over, find the winner on the spreadsheet and it will give you the odds to pay out for each person who bet on the winning horse.
We went ahead and input the horses, trainers, and jockeys into the spreadsheet for you that are entered in this year's Derby (2017). However, you might have to make some changes based on late scratches, jockey changes, etc. Consult the internet to make any last-minute alterations. Once you have double-checked it, you are ready to open your betting window! download our 2017 Kentucky Derby Betting Pool Spreadsheet and you're ready to go.
NOTE: You may need to click the "Enable Editing" and "Enable Content" buttons at the top of the Excel window to make this spreadsheet editable and activate the macros. Also, the pool odds won't compute properly until after you have entered a few bets but don't worry, they will work after that.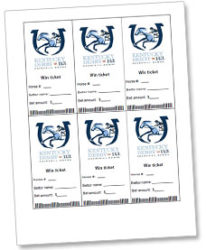 And to make it easy to keep track of the winning bets, download our printable derby betting tickets. Print and cut them out, then hand one to each person who places a bet. Be sure to write the person's name and amount of the bet on the ticket!

similar projects

leave a comment: