Review of new and unique meal delivery kit services
by: Chica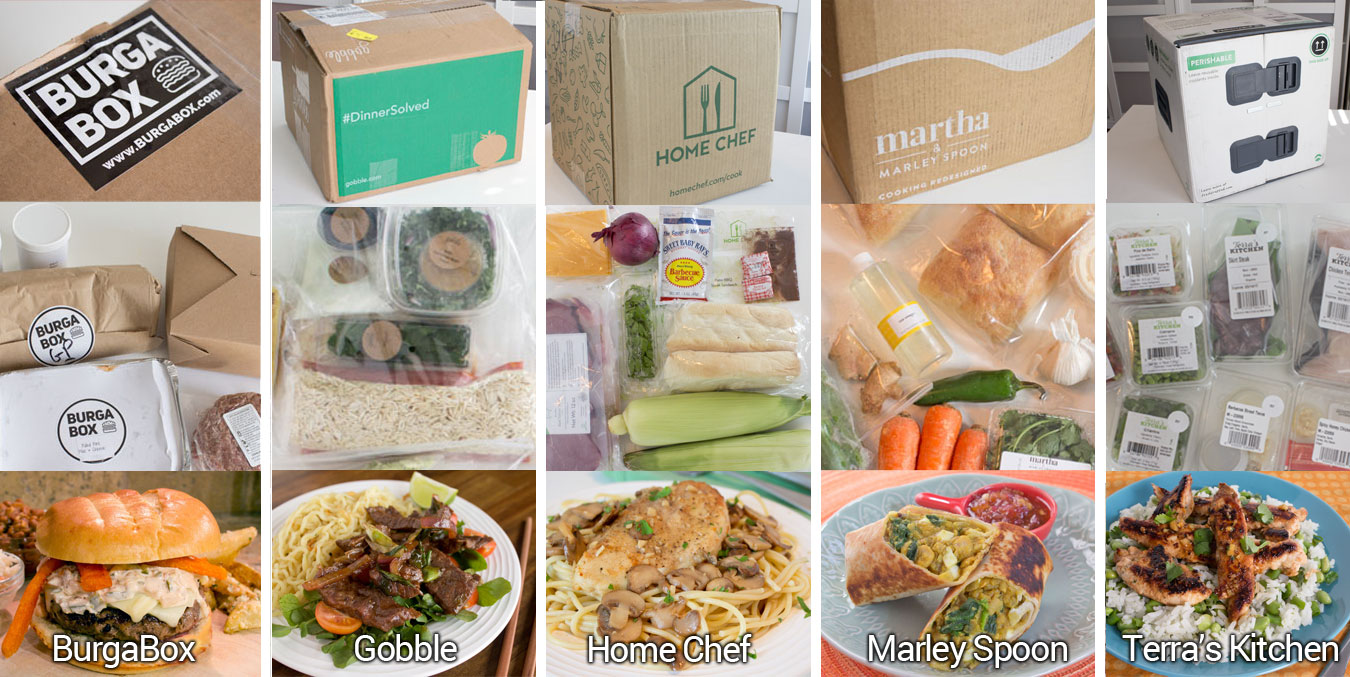 I love to cook, and consider it one of my hobbies. But sometimes I just don't have the energy to come up with new recipe ideas, and living out in the country like I do, it's often hard to get to the store for unique ingredients. So I'm a big fan of meal delivery kit services. What a fun way to try new foods with the convenience of not having to go out! You've probably heard of many of the more established and popular meal kit services like Blue Apron, Hello Fresh, Sun Basket, or Plated.
But I wanted something new and unique! I hunted, poked, and Googled my way through the internet to find some really fun new start-up meal delivery kit services to try, and I can't wait to tell you all about them. I'm going to review my experience with BurgaBox, Gobble, Home Chef, Martha & Marley Spoon, and Terra's Kitchen, and share my thoughts on what makes each one a unique option for packaged meal prep kits. I'm getting hungry again just thinking about it!
BurgaBox
What makes them unique: Burgers! Need I say more? BurgaBox sends you some gorgeously fat and juicy burger patties and a bunch of toppings to make fantastically messy and satisfyingly sloppy burgers piled with goodness. Delicious side dishes contribute to a meal that defines "comfort food".
How it works / What it costs: No commitment required here — you make a one-time purchase of whichever burger kits (about $67) or separate sides (ranging from $16-25) that you want. They do have "BurgaBox of the Month Club" subscriptions (at reduced prices) in 3 or 6 month increments if you want to splurge or give a burger-loving friend the best gift ever. They ship nationwide.
In the box: My BurgaBox included the "Hot Mess" burger with sides of Garlic Parmesan Fries, Pulled Pork Mac & Cheese, cole slaw, and baked beans. I was delighted the second I opened the box and could already smell burgers! I wasn't sure why until I opened the jar of Thousand Island dressing that was inside. All the ingredients were well packaged with minimal waste. The buns were fresh and soft, and not squished at all. Everything was nice and cold, thanks to the included ice packs. The lettuce was put a little too close to the ice, rendering it unusable, but everything else was great.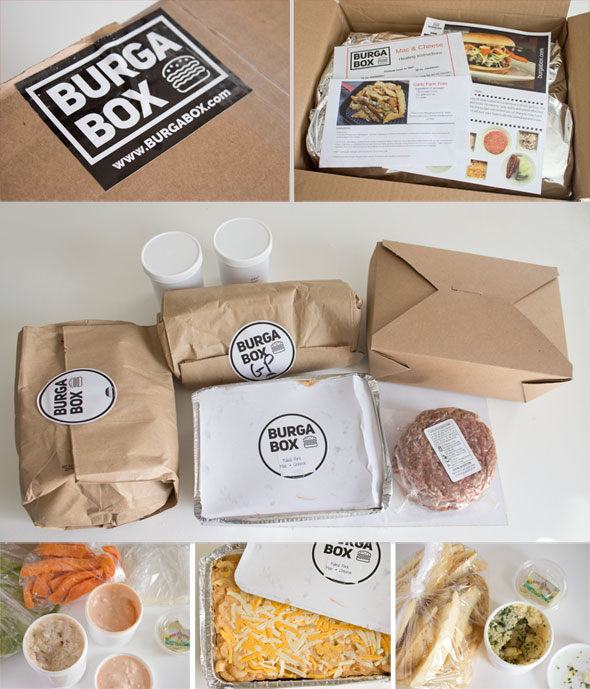 The cooking experience: The burgers were easy and fun to assemble, and the sides were partially pre-prepped, which also made them quick to prepare. The instructions really needed some polish and had a couple of points that were confusing, but I was able to work through them. The burger patties were the only things that required real cooking, and everything else (fries, macaroni, baked beans) could just be heated up in the oven. One downside to having so many items already partially prepared, though, is that there's no full recipe for me to recreate on my own if I wanted.
The results: This was an amazing meal! Portion sizes were great — even though it was slated for two people, it served four of us perfectly. The burgers were 1/2 lb each, so cutting them in half was plenty, especially because the side dishes were abundant. My favorite part of the burger was the Hot Mess Sauce, which contained bacon, pickles, maybe mayo, and some other mystery ingredients that made it magical. The Garlic Parmesan fries were outstanding! If I had a tub of that garlic Parmesan sauce, I would put it on almost everything I ate.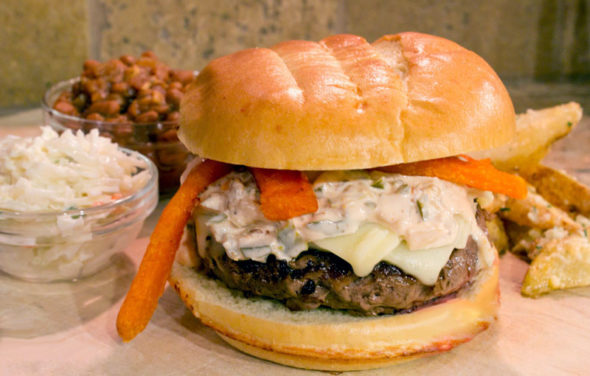 And hands down, everyone agreed that the Pulled Pork Mac & Cheese was the best macaroni and cheese any of us had ever eaten.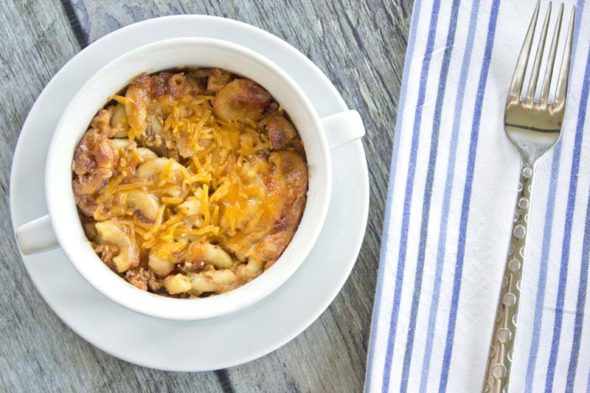 Gobble
What makes them unique: These were the fastest and easiest meals to prepare of any I've tried. Gobble meals only take about 10 minutes to cook, thanks to partially-prepared ingredients and streamlined recipes. This is a great option for families with limited time but who still want a homemade meal.
How it works / What it costs: This subscription-based service provides 3 dinner kits per week, either for 2 people (6 meals) or 4 people (12 meals). You can add, remove, or change meals for any week, and after your first delivery, the minimum order is only 4 meals. Pricing is a flat $11.95 per meal if you order at least 6, and $13.95 if you order 4. They currently ship to CA, NE, WA, OR, AZ, ID, and UT, but will be expanding to other states soon.
In the box: I was super impressed with Gobble's packaging. The box itself was significantly smaller (and less wasteful) than any meal kit box I've gotten before, and everything inside was packaged very efficiently. Every ingredient was top notch, in perfect condition and of high quality. I also loved the plastic bag approach to packing the ingredients, because it made it super easy to grab the right one from the fridge. They even included a bag of cookie dough balls as a treat for being a new customer!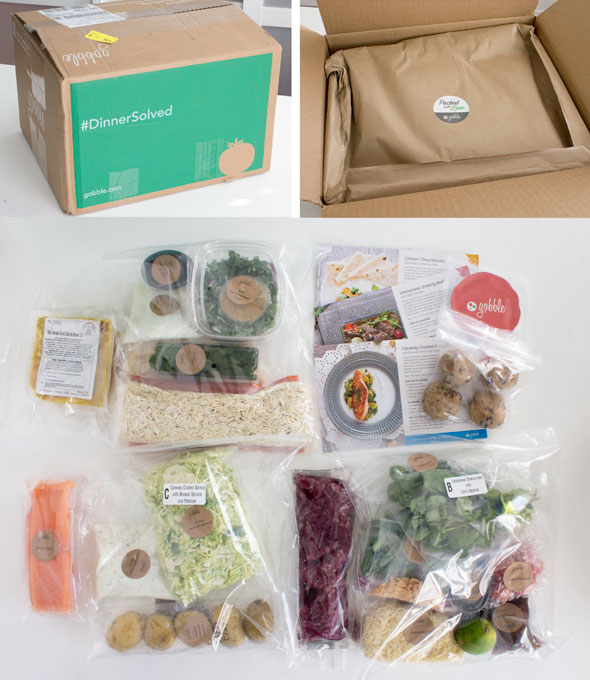 The cooking experience: Wow, these meals were so fast! Other meal kits typically take in the range of 30-45 minutes to prepare, but these Gobble meals only took 10-15 minutes. The instructions were clear and streamlined. Most of the ingredients were ready to go (I only had to cut the lime and tomatoes before using) and it was a very "dump and stir" cooking process. Things like the rice and potatoes were parboiled, which made it super quick to finish cooking them. The sauces were already prepared too, which makes them easy to add, but unfortunately I can't cook these yummy recipes again later, because I don't know what went in the sauces!
The results: Every one of the three meals was great. Portion sizes were just right, plenty to fill you up but with none left over. The recipes were familiar but slightly adventurous, which is a perfect blend for my tastes. Each meal included a side that rounded it out perfectly.
I cooked the Caraway Crusted Salmon with my mother, and she especially loved the horseradish dill sauce that came with it. I was amazed that I could cook fish and potatoes in just 10 minutes.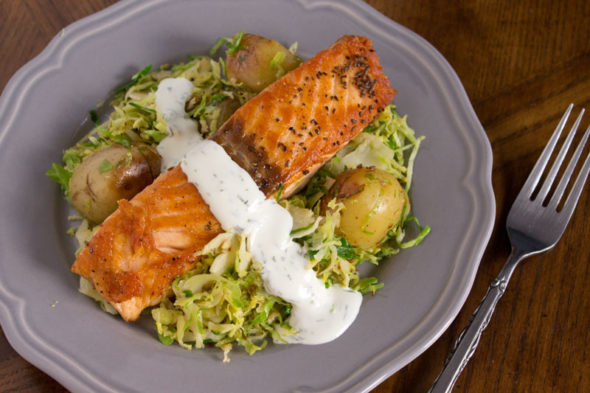 My 12-year-old niece prepared the Chicken Tikka Masala on her own (with me overseeing) and she was as pleased with the process as we both were with the results. The parboiled rice finished up perfectly in the microwave, and the naan bread reheated great in the oven. We especially loved the surprise addition of the Kale and Garbanzo Bean Salad, which paired perfectly with the chicken.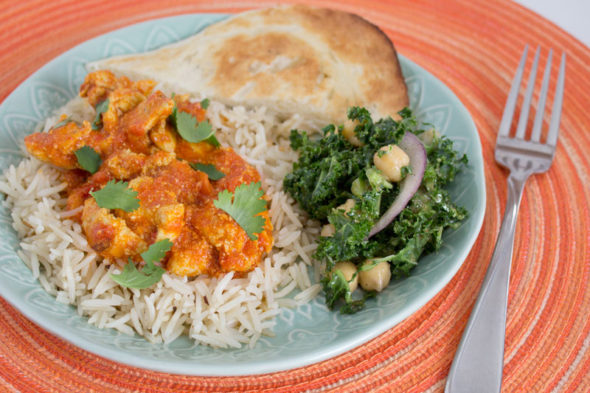 The Vietnamese Shaking Beef was my favorite of the three, and hit every one of my favorite flavors. The tangy sauce, sweet tomatoes, and bright addition of lime were a perfect combo. And the buttery garlic ramen noodles made a great side.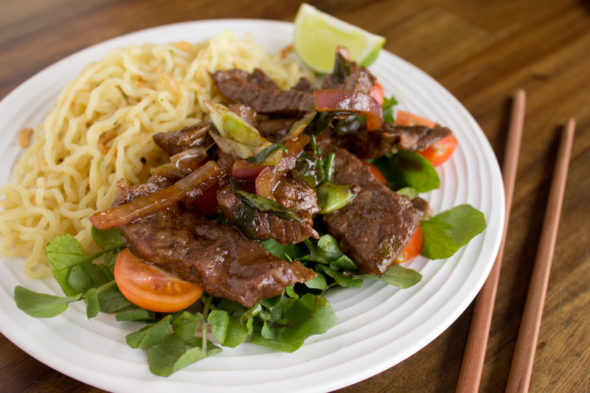 Oh yeah, and let's not forget those cookies! They were delicious, and a perfect treat for me and My Honey while we watched TV after dinner.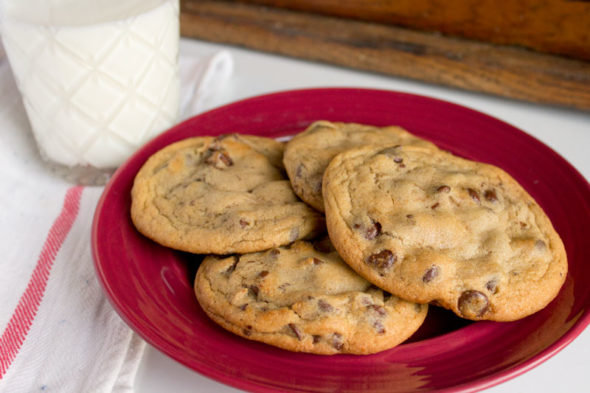 HomeChef
What makes them unique: Home Chef offers a great variety of meals to choose from, including grilled and breakfast options! I was really able to mix up my meal kit routine and keep mealtime fresh by cooking on the grill Saturday night, then having a big breakfast on Sunday morning. They even offer smoothies and fresh fruit, which are fun and inexpensive additions to the box. Home Chef also offers uniquely awesome customer service — my support question was answered quickly and with incredible friendliness, something I don't often experience online.
How it works / What it costs: This subscription-based service automatically sends you 3 meals every week, selected based on your taste profile. However, you can easily skip any weeks you want, and change your meal selections, choosing as few as 2 meals in a delivery. Most meals cost $9.95 per serving, but premium dishes are at slightly higher market prices. Delivery is free as long as your total is at least $45. And it's SO EASY, simple, and fast to add or remove your meals. Of all the services I tried, Home Chef's ordering experience on the website is hands-down my favorite. The interface makes it incredibly clear what you get each week, and which weeks are skipped. If you want to try them out, you can get $30 OFF your first order.
In the box: Delivered in an insulated box with ice packs, each meal is in its own handy plastic bag with a zip top, and is clearly labeled with the name of the dish. Almost all the ingredients are in the single bag (the meat is separate), so it's really easy to grab from the fridge when it's time to cook. It all arrived cold and everything was in great condition. The recipe cards were unfortunately too close to the ice packs, and got wet and wrinkled. But once they dried out, I was able to store them in the handy binder that they include with all first orders.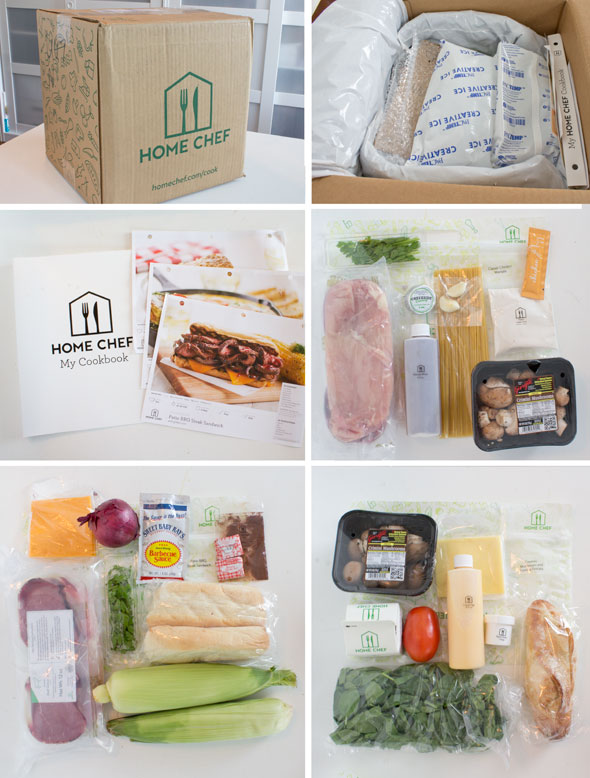 The cooking experience: The directions were simple and clear, and easy to follow. Each recipe card has a list of "before you cook" tips that are really useful, but the list is hard to spot, so make sure you look for it in the upper left corner. All the prep and cooking steps were the right balance of easy and chef-like, so it was a fun experience to cook them. And all ingredients are listed on the card, so it will be easy to recreate them again later if I want to repeat a dish.
The results: Overall I was very pleased with all the meals I prepared. Portion sizes were just right, and the side dishes made the meals complete. It was especially nice to have the grilled and breakfast options in the mix.
Oh boy, was the Patio BBQ Steak Sandwich good! It was fun to cook the meat, corn, and onions all on the grill, which kept the kitchen clean and provided great flavors. I loved this treatment of the steak with barbecue sauce and roasted red onions — we will definitely be repeating this meal soon and often.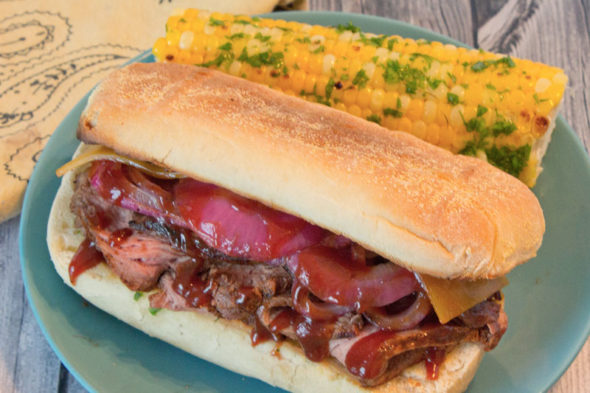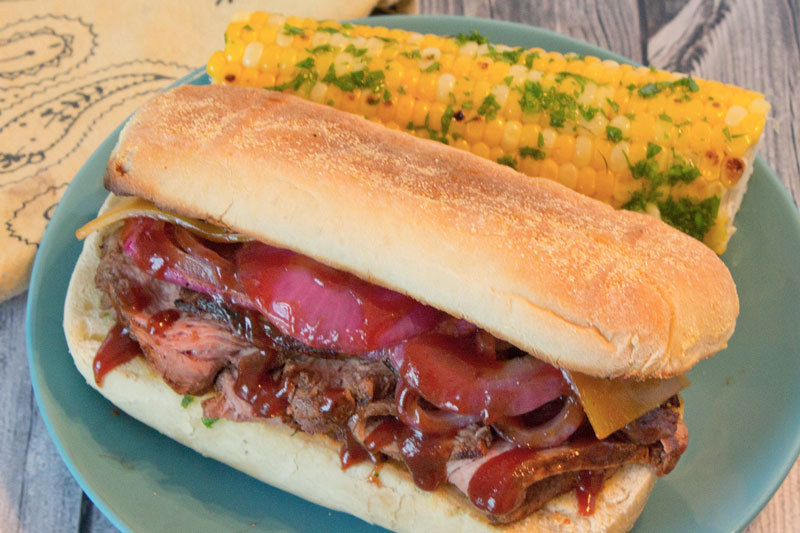 The Chicken Marsala was delicious! The mushroom sauce brought so much flavor to the pasta and chicken, although I wish the sauce had been a little thicker. This was a really easy meal to make, and a real treat for our Italian-loving bellies.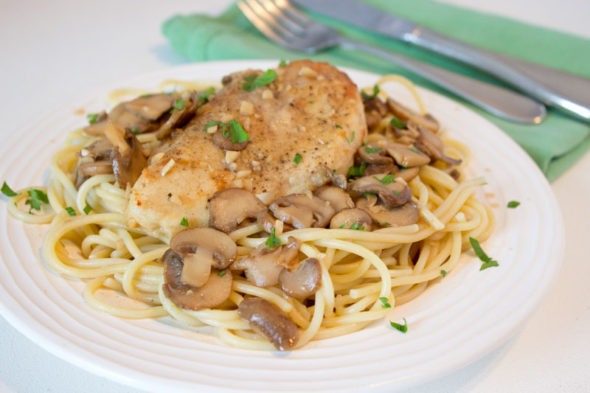 The Crimini Mushroom and Fontina Frittata was the perfect breakfast meal. So much flavor in the cheese, mushrooms, and spinach. The accompanying bread was a perfect addition, though I added some cream cheese to it to round it out. This was a great one-pan meal in my iron skillet.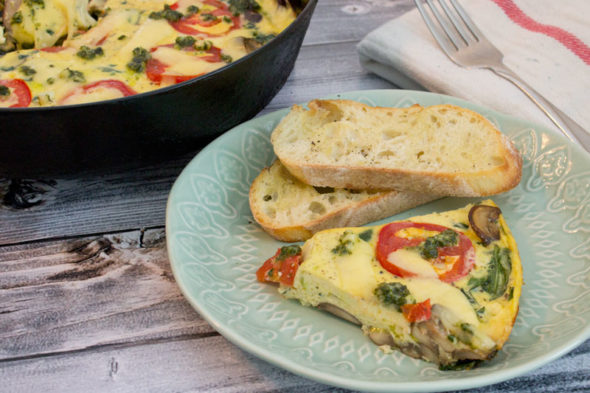 The Mango Tango Smoothie was a refreshing snack that my niece and I enjoyed one afternoon. I especially loved the pineapple and orange flavors, which really brightened it up. This was an easy blender recipe that only took a few minutes.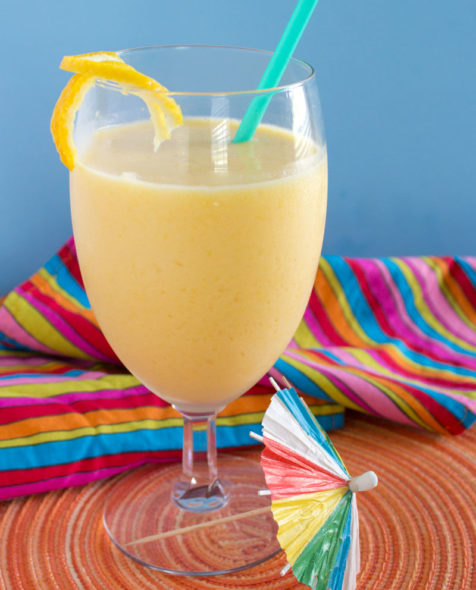 Martha & Marley Spoon
What makes them unique: Focusing on the highest quality ingredients, Martha & Marley Spoon uses local, sustainable, organic options whenever possible. And with Martha Stewart in the mix, the recipes are unique, adventurous, healthy, and tasty.
How it works / What it costs: This subscription-based service automatically sends you dishes every week, but you can skip a week or pause your subscription at any time. They offer 2-person box ($10.25 per serving) and 4-person box ($8.90 per serving) plans, and you choose the number of meals you want per week. You can change your subscription as needed, and the minimum order is 4 portions. They deliver to most of the US (check your zip code on the site).
In the box: The packaging was pretty typical for meal delivery kits, with ice packs in an insulated box, and ingredients packed in boxes, bags, or bottles. The quality was great for all the ingredients, and the produce was in perfect shape. I especially loved getting full-size items like a whole onion and a whole head of garlic (yay for leftovers!). Everything was in easy-to-grab paper bags, which made for easy fridge storage. The buns were fresh and soft, and the spinach amazingly fresh. The quality ingredients really showed here.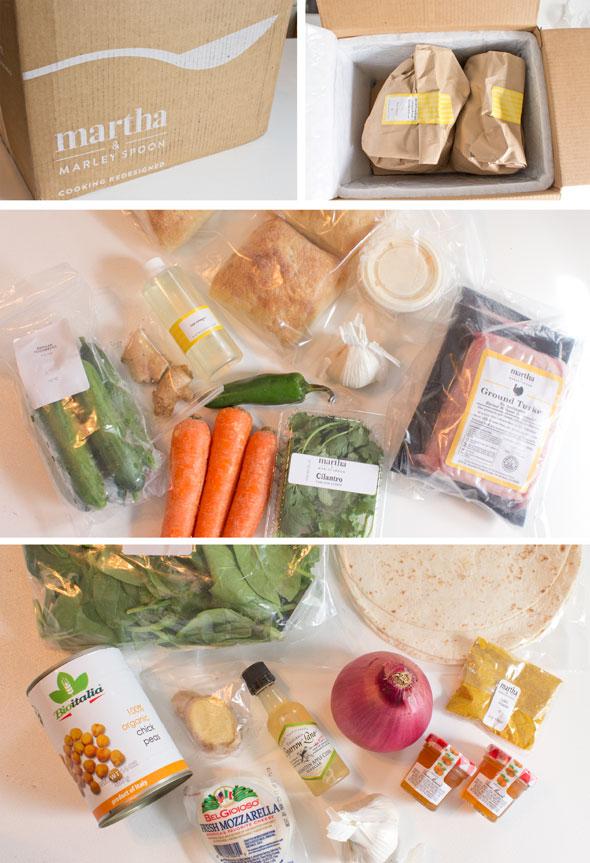 The cooking experience: The directions were easy and very clear, and I had no trouble following them. There was a fair amount of chopping/prep for the recipes, but because I truly enjoy the cooking process, I had no problem with that. It felt very chef-like to chop and dice everything, and pour the tiny containers of ingredients together to create a delicious dish. And because it was base-level ingredients and a full recipe, I can easily recreate the dishes again later if I wish. These recipe cards are definitely going in my recipe box!
The results: These were delicious meals, and were delightful twists on more traditional recipes. However, the portion sizes were rather small, and didn't fill us up. And both meals were really in need of a side dish, which would have made them more well-rounded.
The Bahn Mi Turkey Burgers were amazing. The turkey was a healthy choice of protein, and adding the tangy pickled vegetable slaw was a great twist. I love a good Bahn Mi! There was plenty of slaw left to serve more on the plate, but I just couldn't eat that much pickled veggies… I would have preferred something with a different flavor profile as a side.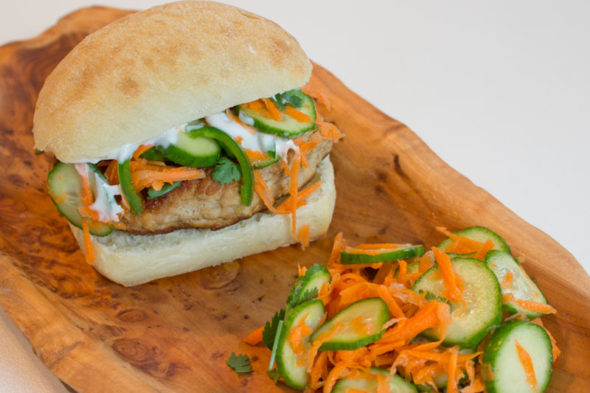 The Chickpea & Spinach Kati Rolls were another fun twist — imagine Indian burritos! They were filled with a spinach and cheese curry, pan fried, and served with a delicious apricot chutney that I made as part of the recipe. They tasted great, but each portion only included one roll, which wasn't nearly enough. I ended up adding my own side dish to round out the meal and fill our bellies.
Terra's Kitchen
What makes them unique: They minimize waste by sending each kit in a unique "mini fridge" vessel that you send back to be reused. And Terra's Kitchen saves you time when you cook, because almost everything comes already chopped and ready to go. You can even order extra sides, salads, and chopped veggies for snacks.
How it works / What it costs: This subscription-based service will automatically send you meals each week based on your preferences, but you can swap out meals or skip weeks at any time. Pricing depends on which items you choose from their extensive menu, which includes small grab-and-go items ($4-10) and full dinner items ($10-18 per serving). You can customize your order with as many items as you want until your vessel is full, as long as you meet the $64.99 minimum. Enter your zip code on the site to see if they deliver to your area.
In the box: I can't even really call this one a box! More of a mini-fridge, the Terra's Kitchen packaging is very different from other meal kit services. The reusable vessel is made of a tougher plastic (not cardboard), and has latching doors that open to reveal pull-out shelves that hold the ingredients and cooling packs. The vessel comes with a prepaid postage label for return and reuse, and they even schedule a pickup for you automatically. I just put my empty vessel on the porch the next day and the driver picked it up! The ingredients were all pre-cut, chopped, and ready to go. Besides two meal kits, I also ordered a separate caprese salad and a side of pico de gallo, each of which came in a separate container. These are all neat packaging ideas, but unfortunately, the prepped nature of the ingredients greatly reduced their shelf life and quality. I don't know if it was the proximity to the cooling packs or if my ingredients were cut up way ahead of time, but I was displeased with several items. I ended up replacing the onions, lime, and tomatoes with some from my fridge, because what I was sent just wasn't up to par.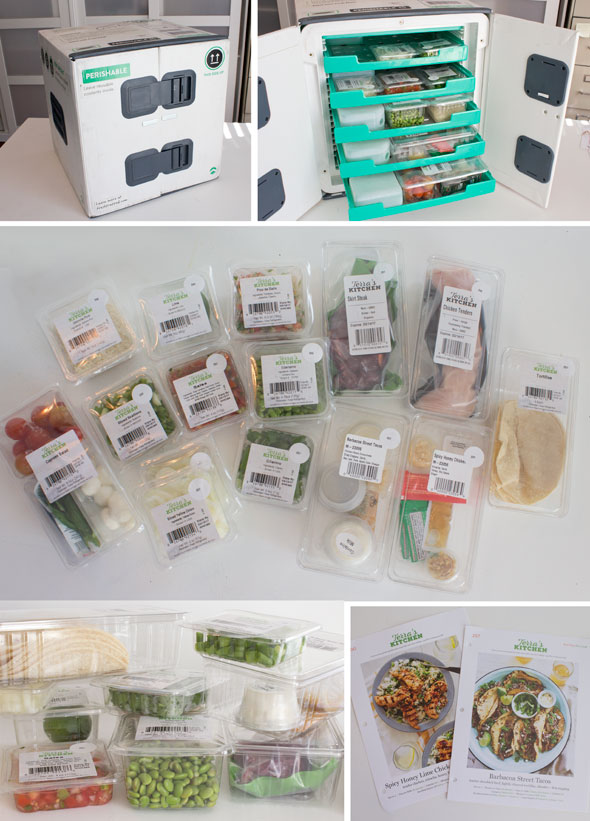 The cooking experience: The instructions were pretty clear and easy to follow, although there were a few areas that could use improvement. (One included a "pro tip" at the end of the recipe, which was too late, and the other had an "optional" ingredient that I considered required, and which wasn't included in the box.) And despite the promise of reduced waste, I seemed to have more empty containers on my counter after cooking these meals than any of the others. Having everything chopped already certainly saved on time, but they were chopped so far ahead of time that quality suffered. Both recipes only took 20-30 minutes of hands-on cooking, although one unexpectedly required 7-8 hours in a slow cooker, which really threw off my dinner plans that night!
The results: Despite the ingredient shortcomings, the meals were delicious overall. The portion size was perfect, and since the full recipe was included, I can (and will!) recreate them in the future. The separate sides were not as successful, due to their make-ahead nature.
The Honey Lime Chicken with Edamame Rice was super tasty, and a huge meal. I loved the sweet and spicy sauce on the chicken, and the addition of edamame, cilantro, and lime to the rice really took it to a new level.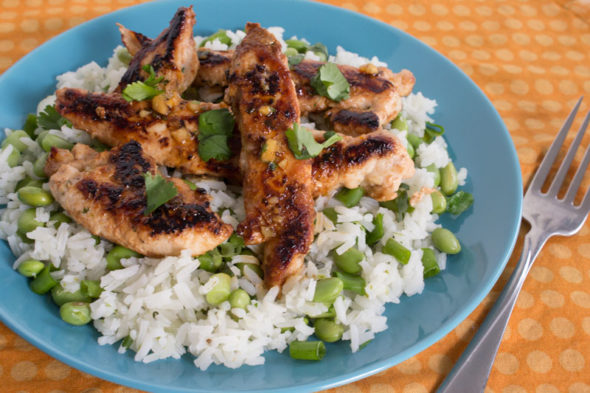 My favorite was the Barbacoa Street Tacos. Even though it was a challenging recipe (it required the slow cooker, and I was shorted an ingredient), the tender beef and onions paired perfectly with the cilantro and feta cheese crumbled on top. I'll definitely be making this one again.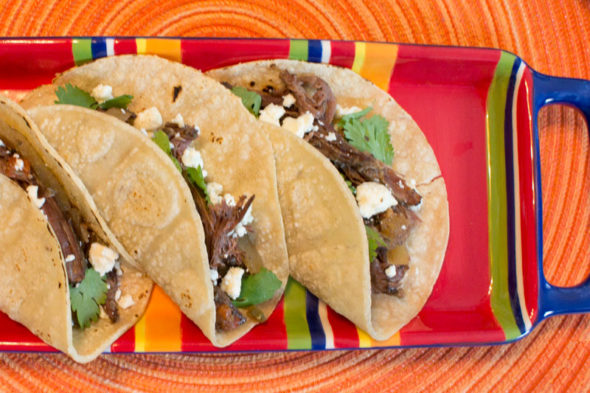 The full meals were great, but I was disappointed with the separate sides I ordered. The tomatoes in the caprese were squishy, and I threw them away. The pico de gallo was flavorless and mostly made of onions, so after one bite I threw that out, too. I shared my results with their customer service, but have yet to receive a response.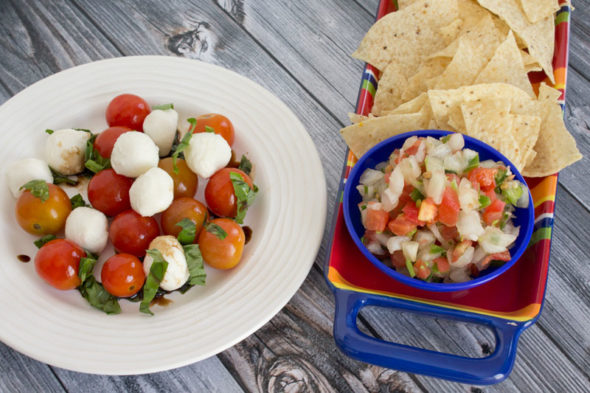 In conclusion…
I hope you enjoyed hearing about my experiences with these new and unique meal delivery kits as much as I enjoyed experimenting with them. If you're looking for some shortcuts at dinner, here's my advice: Burgabox will give you decadent comfort food, Gobble provides the quickest meal prep, Home Chef will provide variety with grilling and breakfast, Martha & Marley Spoon focuses on sustainable, local ingredients, and Terra's Kitchen reduces prep and minimizes shipping waste.
Buying meal delivery kits can be costly, but most comparisons to the time and money spent shopping for ingredients in the store show that it's quite similar. And somebody else answers that ever-present question of what's for dinner. I like saving time so I have more time to enjoy being outside on the water. What would YOU do with the extra time you'd save by using a meal kit?
Disclaimer: I received complimentary meal kits from BurgaBox, Gobble, Marley Spoon, and Home Chef in exchange for my honest review. All opinions expressed here are my own.
Save
Save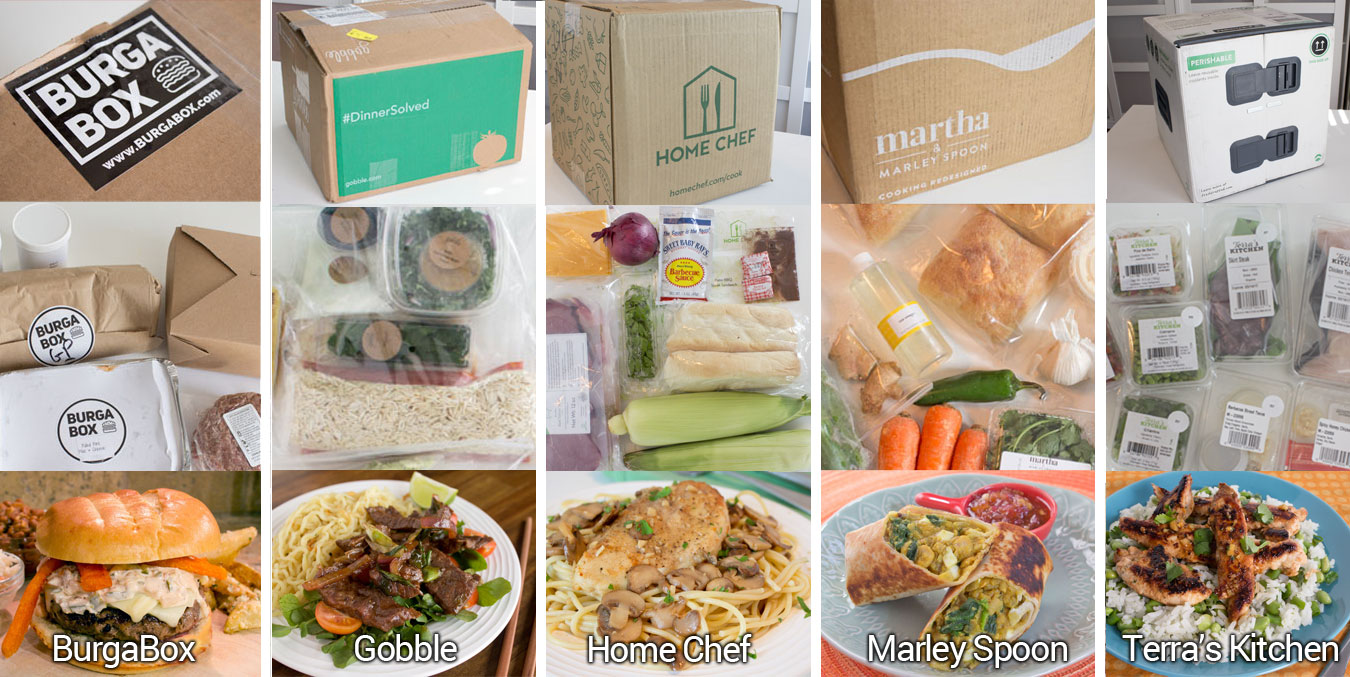 similar projects