Teenage Mutant Ninja Turtles party favors and invitations
by: Chica
Our friend is planning a Teenage Mutant Ninja Turtles birthday party for her little boy soon, and asked us for help with favors and invitations. I remember TMNT very well from my teen years, and always had a soft spot for them. So I was happy to help by creating some customizable TMNT party invitations and easy and fun turtle party favors.
The first thing I knew I wanted to incorporate was pizza boxes, since the turtles are such big fans of pizza. No Teenage Mutant Ninja Turtles party would be complete without pizza, so we used our white 4″ and 5″ mini pizza boxes everywhere we could.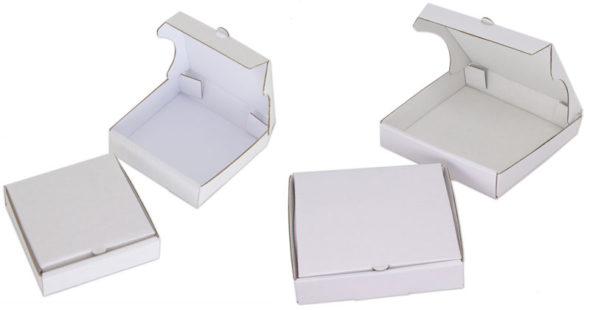 The first place we used these mini pizza boxes was for the invitations, which are always a good place to start planning a party! We found some really cool TMNT Pizza Box Printables with masks on the front and the invitation as an insert inside. We used these printables with the 4″ boxes. Perfect!
Next up was party food. This was an easy one, because our 5″ mini pizza boxes just so happen to be the perfect size to hold a Red Baron Singles mini pizza.
We added the 5″ version of the mask labels to the top of the box and stuck a 5″ pizza insert inside. Let me tell you, the kids went nuts when we served these mini TMNT pizzas!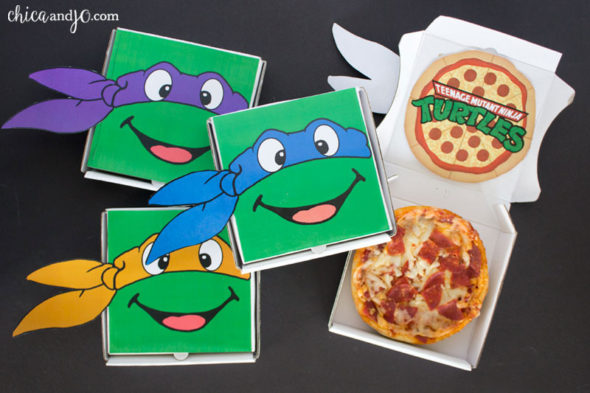 The boxes wouldn't be big enough for all of the party favors my friend had planned, so we decided to have some larger paper bags as well. We decorated plain green bags with coordinating Teenage Mutant Ninja Turtles Favor Bags Printables that we found on Etsy, and stuffed them with goodies.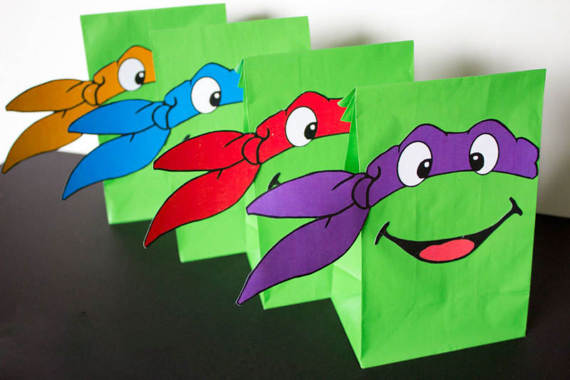 Since there were some girls at the party, we thought we'd mix things up by using some of the pastel TMNT mask colors that were also included in the set. The pink TMNT mask was definitely the crowd favorite.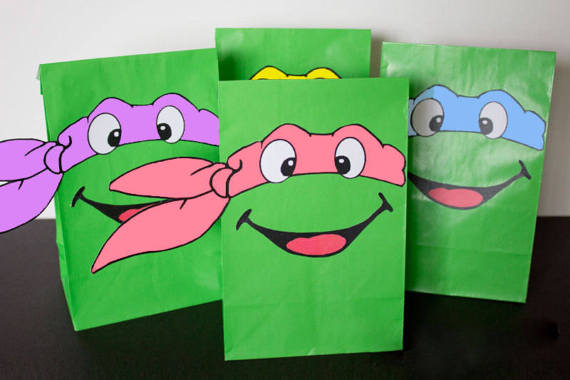 For the final "Thank You" gift as the kids left, we used more 4″ mini pizza boxes. We decorated them with "Thanks, Dude!" inserts from the same TMNT Pizza Box printables set. The birthday boy signed the inserts before we put them in the box lid. We tucked a yummy chocolate chip cookie in the box, and all was well in the TMNT world.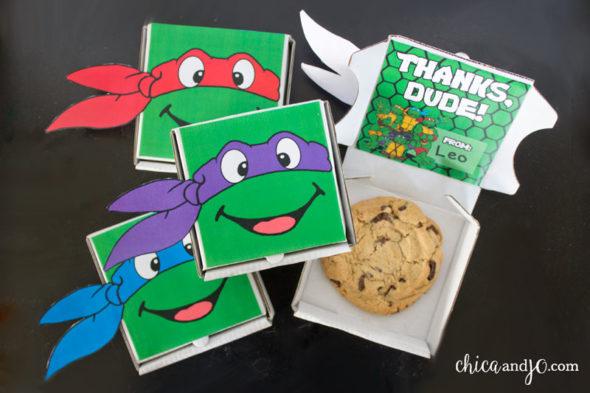 similar projects

leave a comment: