Harry Potter school trunk DIY
by: Jo
Later this year, we are fortunate enough to be taking a trip abroad, and one of our stops will be to the Warner Brothers Studios outside of London. My kids have grown since our last extended trip, so their suitcases are now too small and they need new ones. I decided to hunt down suitcases that looked like Harry Potter's school trunk to customize for them.
I started with this set of luggage that is hard-sided and looks like a vintage travel trunk, but is lightweight and easy to maneuver.
I measured the area I had on the front of the suitcase and sized a Hogwarts Crest Silhouette cut file to fit. I used my Silhouette to create a stencil with it out of adhesive vinyl.
Using transfer paper tape to keep all the tiny design details in place, I carefully applied my stencil onto the suitcase.
Now it was ready for some paint!
The textured surface actually took quite a few coats to get good coverage. I found that dabbing the paint on with a makeup sponge was the best way to get smooth results without the edges bleeding. Since metallic paint tends to be more transparent, I would advise starting with white and then adding yellow and finally a metallic gold on top.
The layering also adds some nice depth to the design, rather than a flat color. It may seem odd but it actually ends up looking really great when you remove the stencil. To finish it off, I also added their initials to the top.
My little witch is absolutely thrilled with how it turned out!
MiniMe and Hedwig are ready to head off to the Hogwarts Express!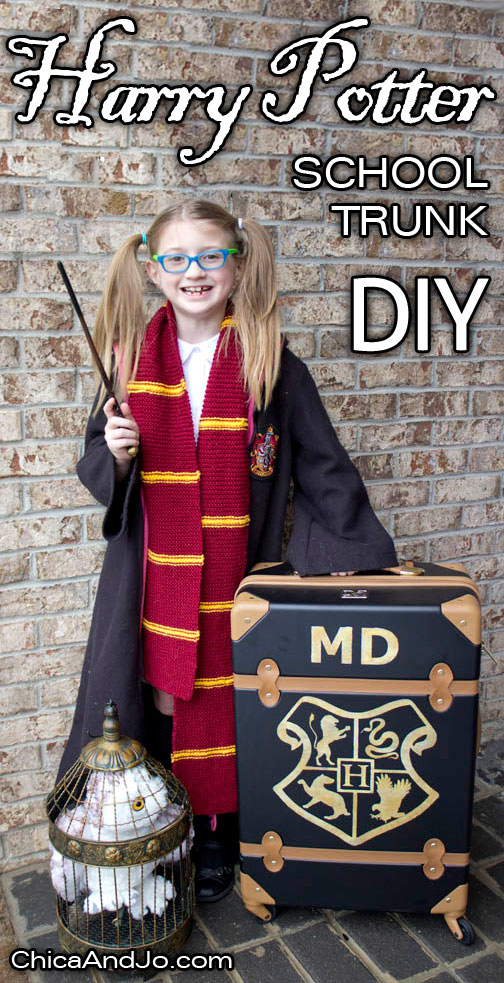 similar projects