Christmas baked goods for gifts idea
by: Chica
My mom wanted to make some baked goods for her church group for Christmas gifts this year, and asked for my help trying to make them special and unique. I thought about it for a few days, but then I spotted something in Michaels that made the whole idea come together instantly — these cute little Santa ramekins! At only $1 each, they were the perfect inexpensive starting point.
To fill the ramekins, I made a bunch of the hands-down best banana bread recipe I've ever used, the Smitten Kitchen's Jacked Up Banana Bread. The house smelled so good that My Honey asked me to make a special batch just for him to eat… he ate the whole thing right out of the loaf pan!
I needed some sort of tag to top these little gifts with, and it had to match the Santa theme. I made little Santa hats and of course we have the Santa Hat Gift Tag download to share!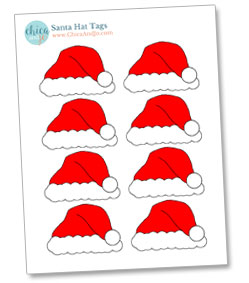 I just printed the hats onto white cardstock and cut them out with fine-point Cutterbee scissors, which work great for tiny jobs like this.
Then I grabbed some 3/4″ white pompoms and large, 3-D Zots adhesive dots to attach them with.
I just stuck a Zot on the white circle on the end of the hat, and pressed a pom pom firmly in place.
Goodness, these are so cute! You could use them on just about anything.
Since I wanted to tie them onto the gifts with ribbon later, I punched a hole in the top of each one.
With the addition of some gusseted cellophane bags and thin red ribbon, I had everything ready to begin assembly.
I tucked the ramekins into the bags, and trimmed off a little from the top so the gathered cellophane wasn't too tall and unwieldy.
Then I tied the bags closed with a double-knot and a cute little bow.
Rather than mess with incorporating the tag into the bow, I tied the tags on separately with their own little piece of ribbon. This made it a lot easier for me to gather and tie and attach and tie with just my two hands!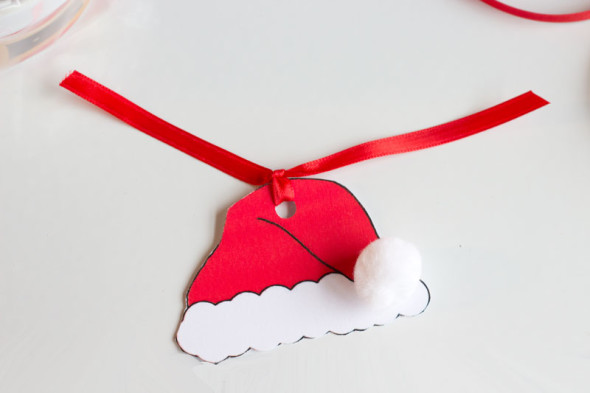 Look how cute they came out! You could easily write names on the hat's brim to make personalized Christmas baked goods gifts for neighbors, friends, co-workers, or your church group.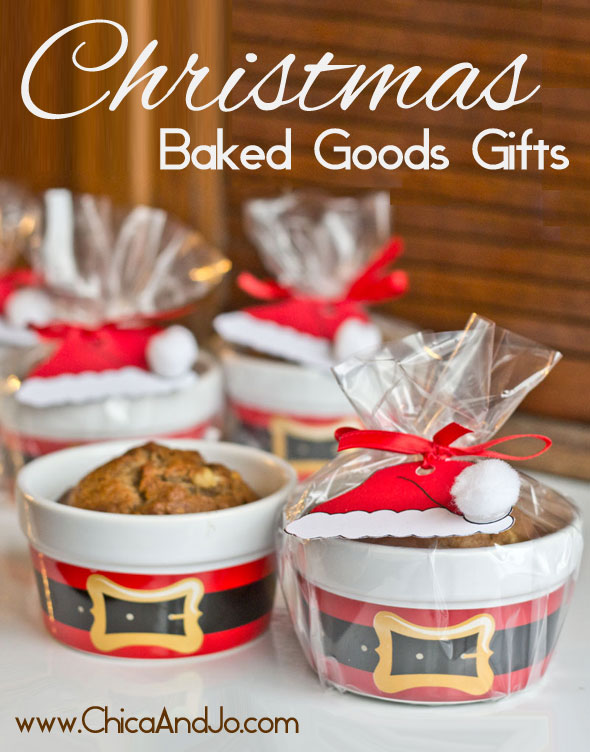 similar projects