Unique Christmas door decoration
by: Jo
During the holidays, the delivery drivers seem to stop by our house almost every day. Since we aren't always able to receive packages, we often don't get to thank them for all of their hard work. I decided that this year, I wanted to design a door "wreath" that would do it for me. What a perfect way to give out Christmas gifts for our mail carriers and delivery drivers.
I started with a wooden palette hanging that I found at Target.
Bare wood wouldn't do, so I painted it red, using Multi-Surface paint so that it would be protected outside.
Then it was ready to add the design. I decided to do a vinyl transfer, so I created a .studio cut file to use with my Silhouette machine. You can download our .studio file if you want to create this project yourself.
If you don't have a Silhouette, don't fret. We made a PDF version you can print out and use as a pattern to trace/transfer the design onto the panel and then paint it by hand.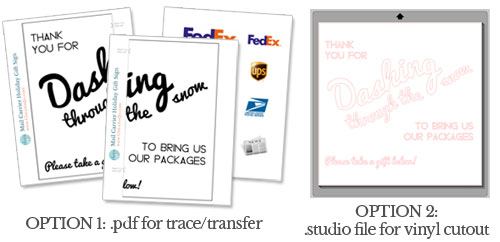 I decided at the last minute that I wanted a little more decoration besides the text, so I also added a few snowflakes that I found online.
Transfer paper is an absolute must for this project. Weeding the vinyl bits from all the text took a bit of time!
Once the design was done, I added a few hooks to the bottom and got some small, white, handled gift bags to hang on them. I wanted to make it clear to the delivery drivers that these gifts were meant for them, so I added their company logos to the bags. The logos are included in our downloadable PDF template mentioned above.
The bags were perfect for inexpensive Christmas gifts for our mail carrier and delivery drivers. The whole thing looks so adorable hanging on the door!

similar projects

...we're sorry, but comments are closed for this post...