Disney's Orange Bird themed birthday party
by: Jo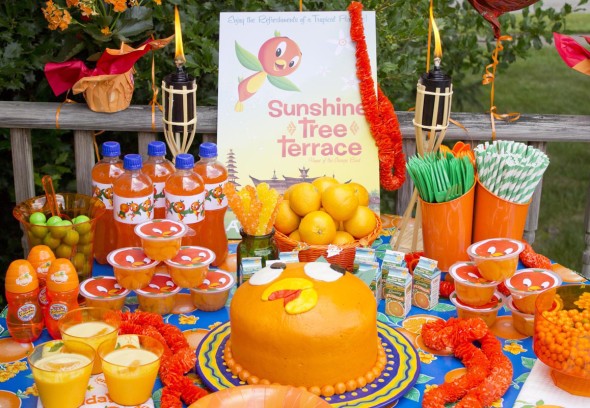 Our family loves all thing Disney. We feel very fortunate that we have been able to take our girls to the Magic Kingdom a few times while they are young. We are even planning on going this October to experience the "Mickey's Not-So-Scary Halloween Party". (If you have any tips for this event, please let me know in the comments!) One of the things we must always have when we visit Disney is a "Dole Whip" ice creamy treat. Mini Me is a huge fan of all things fruit, and the Whips are no exception. So for her birthday this year, we decided to go with a Disney Orange Bird theme alongside her pool party.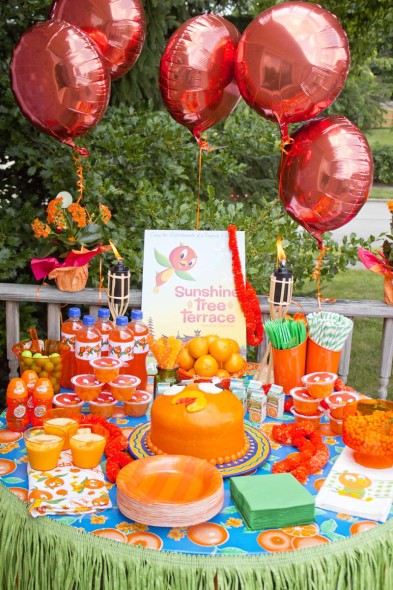 Chica had no idea who the Orange Bird was when I mentioned it, but she was game for making a cake for us. For not knowing him, I think she did a great job of capturing this cute little guy in cake form. The cake itself was citrus flavored and oh-so-delicious!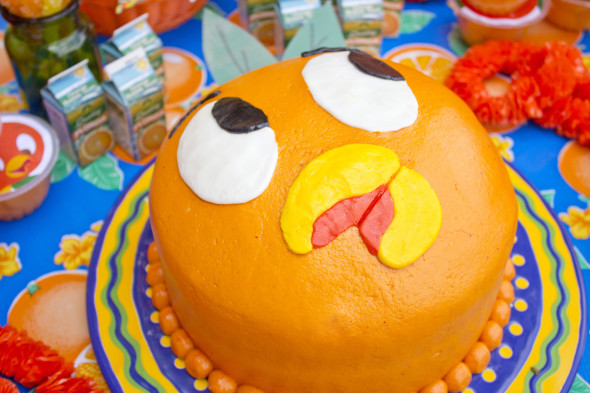 By the way, the table you see under all the orange-themed decor is a project in itself! I breathed new life into an old piece with my folding table makeover project. If you don't want to do a whole table, you can create a quick tablecloth for your party using the same oranges oilcloth from fabric.com.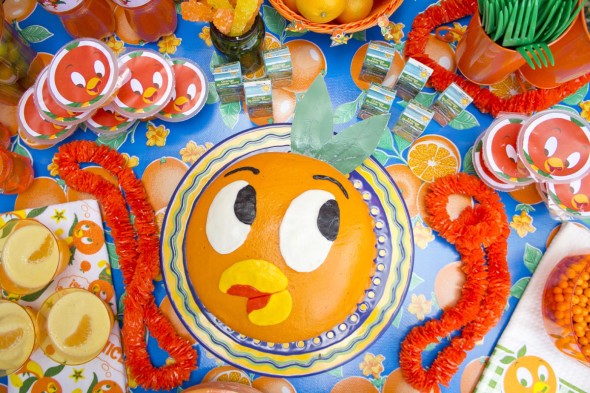 I just had to have bottles of Sunkist for the kids to drink, but I wanted to customize the labels to make them special. I found some images online and created water bottle wraps. I'm sharing these along with a few other Orange Bird printables with you to use as well.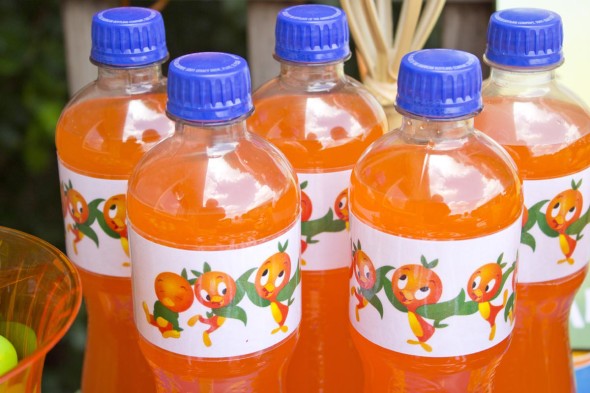 Pre-packaged cups of mandarin oranges sure look a lot cuter with the Orange Bird on top, don't you think?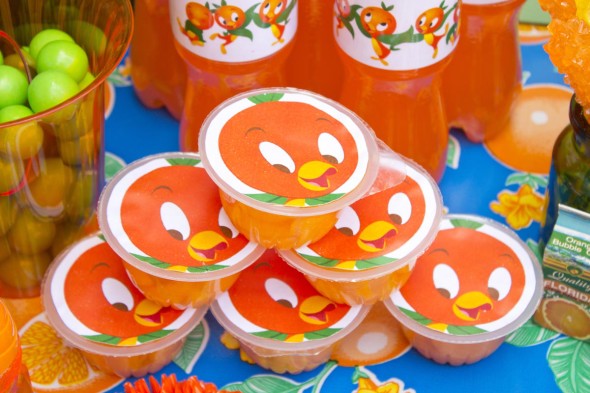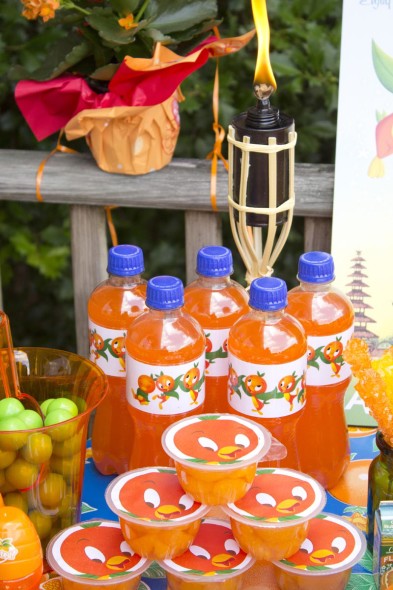 And I couldn't forget to serve some type of Dole Whip treat to our guests. For my version, I blended together a tub of Cool Whip, a container of fruit juice concentrate, a little vanilla extract, a few tablespoons of sugar, and some ice. I made two different batches, flavored with pineapple and orange. By far, everyone loved the pineapple better. Sorry, Orange Bird!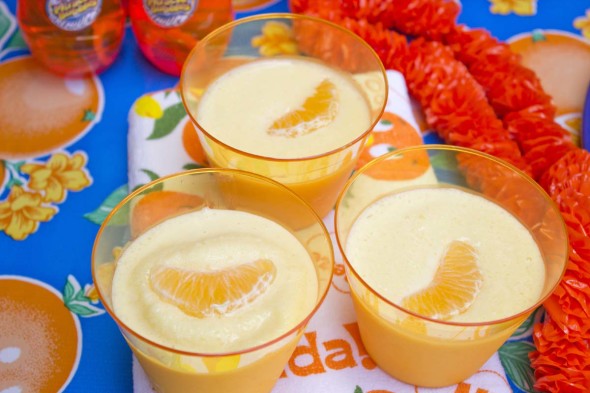 I found some adorable orange-scented bubbles at Target for the kids to play with at the party. If you can't find the scented variety, you could just go with bubbles in orange containers to match the color scheme.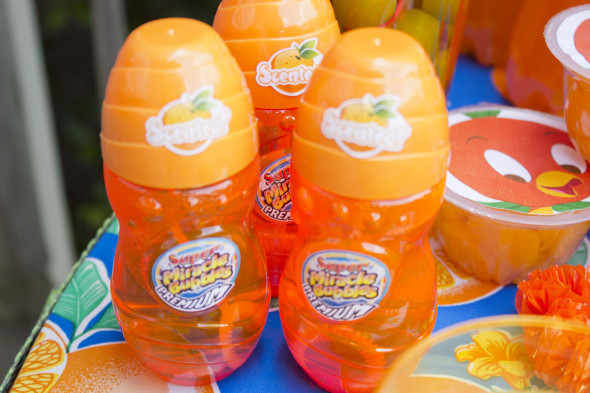 I decorated the tables with some Orange Bird towels that I bought online from the Disney Store. The towels aren't always in stock, but they will have cute Orange Bird themed items available periodically so keep checking back. I also had plenty of orange leis which were a big hit, especially because they were plastic and the kids could even wear them in the pool. Another fun table treat that everyone loved was the orange Sixlets by the scoopful.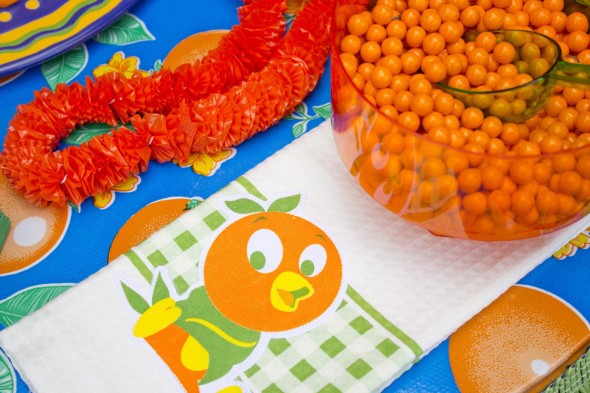 While we were in Sanibel earlier this summer, I picked up some orange bubble gum that came packaged in tiny, retro, Florida orange juice containers. So cute!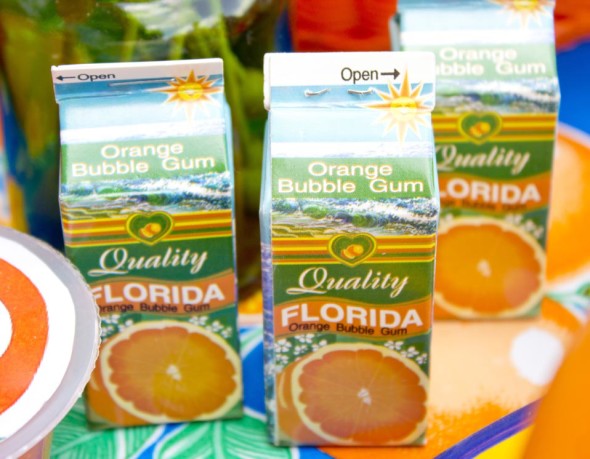 I centered the table on this vintage-looking Sunshine Tree Terrace poster that I mounted on foam core. I flanked it with two tabletop tiki torches with Cirtonella oil to help keep bugs at bay.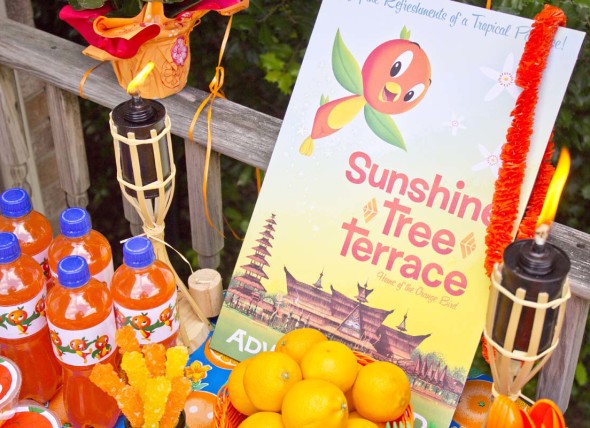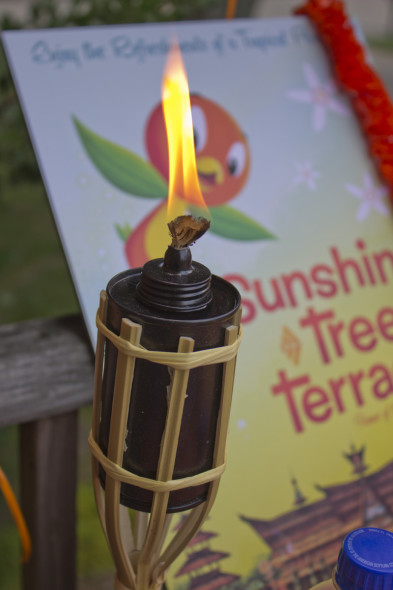 OTHER PARTY RESOURCES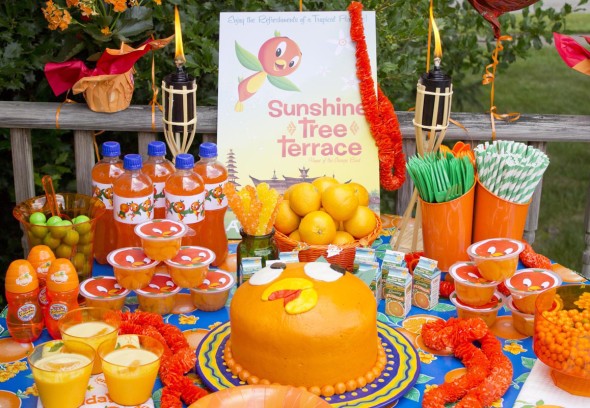 similar projects