Chalk painted bookshelf table
by: Jo
After I painted the hall tree in my entryway, the little entry table across from it just looked out of place and drab by comparison. I had bought this shelf at Target years ago and it now needed a little make-over for sure.
I used Chalky Finish paint again, and this time mixed a little bit of the Everlasting color in with the Timeless to lighten the color just a bit and make it a little different than the hall tree. I used my HomeRight paint sprayer to do the painting again… so simple!
The top of the table needed a bit more design, in my opinion, so I decided to use the Americana Decor Distressed Harlequin stencil to add a subtle pattern.
Using a stencil brush, I dry-brushed Everlasting through the stencil. The great thing about this design is that the style is rough and ragged on purpose, so you don't have to worry about getting crisp edges when stenciling!
I love the character this stencil gave the top of the shelf. And itt took me less than 15 minutes to do.
After the paint dried, I went over it with sandpaper just to make it look a bit more aged. When you do this, make sure to wipe your sandpaper in only one direction (not in circles or back and forth) for the most natural-looking results.
I used the Soft Touch Varnish to seal the surface. I applied multiple coats to the top since it would be seeing a lot of use.
You may have noticed that I also covered the books with craft paper to give them a more cohesive look. This refinished hall table is now a perfectly stylish spot to toss my mail as I walk in the door.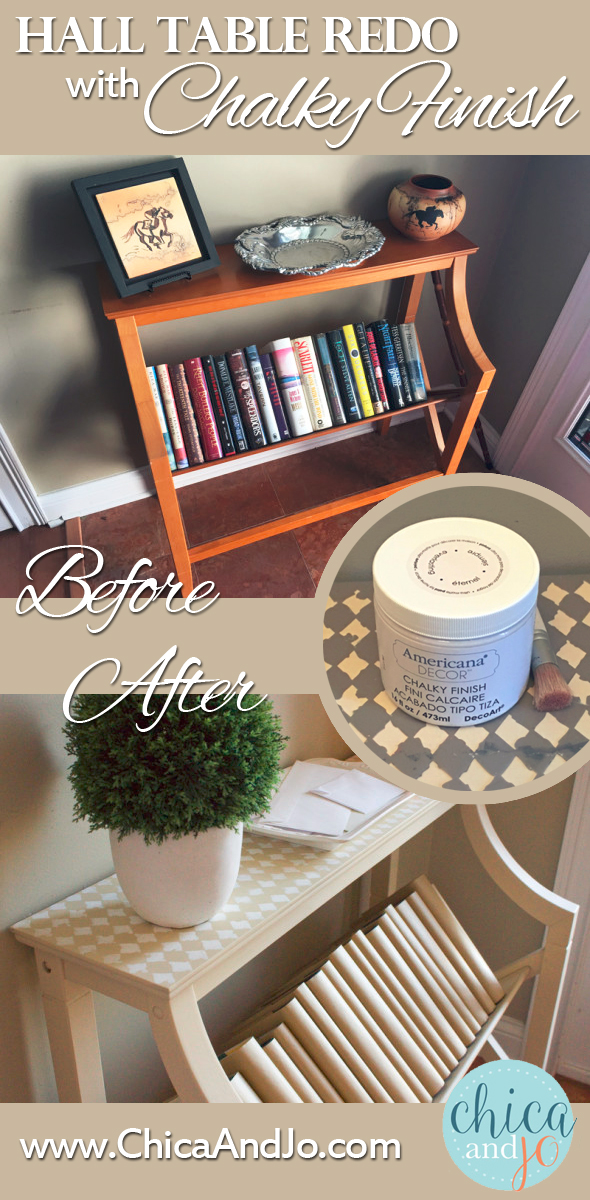 similar projects

leave a comment: