Cranberry salsa with fall leaf tortilla chips
by: Jo
I am fortunate enough to work with a wonderful woman named Donna who also happens to have a farm where she grows many wonderful things for the local farmer's market. She not only knows how to grow the food, she knows how to make really yummy food! The recipe I am sharing with you today is hers and it has become a favorite of mine to make for Thanksgiving, Christmas and other fall/winter potlucks. It's so pretty and impressive looking!
Cranberry salsa
1 bag (12 oz.) fresh or frozen cranberries (don't thaw)
1 Granny Smith apple, peeled, cored and cut into eighths
1/2 large red pepper, cut into large chunks
1/2 medium red onion, cut into large chunks
3/4 cup sugar
1/3 cup apple juice
3 tbsp chopped fresh cilantro (or 1 tbsp dried)
2 tbsp chopped pickled jalapeno pepper
1 tsp grated lime zest
colored tortillas
Put cranberries, apple, pepper and onion in food processor; pulse until chopped. Transfer to a large bowl. Stir in remaining ingredients (except tortillas) until blended. Cover and refrigerate for a few hours or overnight for flavors to blend. NOTE: Can be made up to two weeks ahead.
Use a shaped cookie cutter to cut colored tortillas into shapes, then bake on ungreased cookie sheet at 375 degrees F for about 7 minutes or until crisp. Remove to a wire rack to cool completely. Store in an air-tight container.
The star of this show is the cranberries. I started with fresh ones from Costco.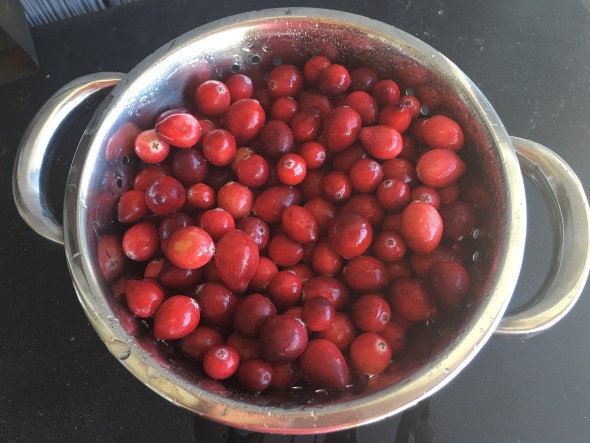 The recipe calls for half an onion and half a red pepper. Here's a tip, go ahead and cut up the other half and add it to a freezer bag along with the right amount of cranberries (the Costco bag had plenty for two full recipes). Freeze until you want to make this recipe again. It saves waste and makes it much easier the second time!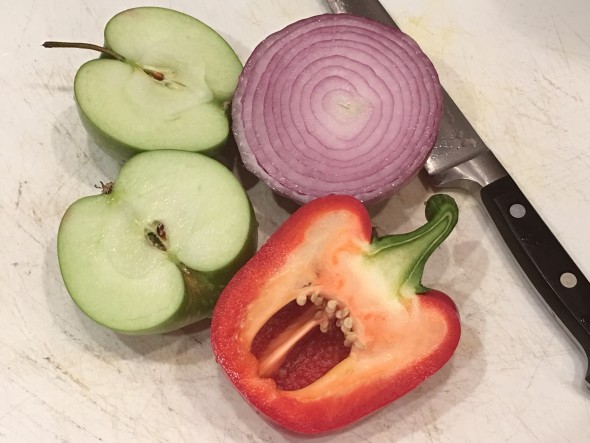 Use a food process to chop it all up and mix together.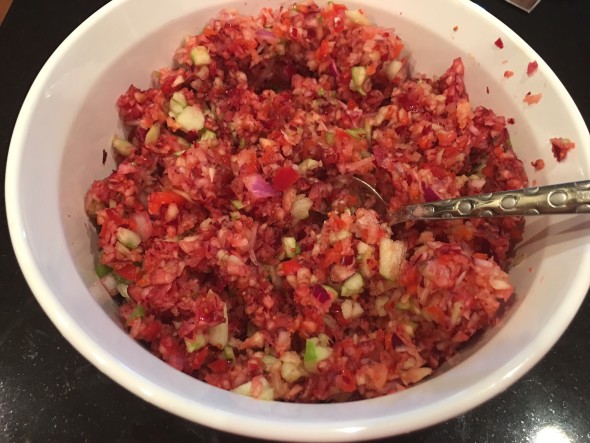 Toss in the sugar and cilantro. I used Splenda instead and it worked fine.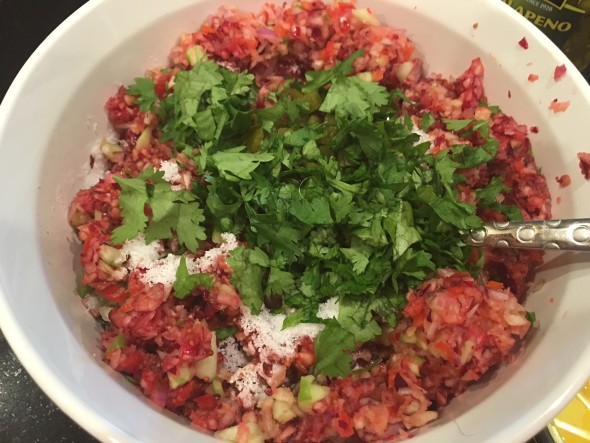 Next comes the apple juice, pickled jalapeño and grated lime zest. One of my dogs, Sallie Sue, always stands at the ready when I am cooking hoping for some scraps. I don't think she would like anything I am using today!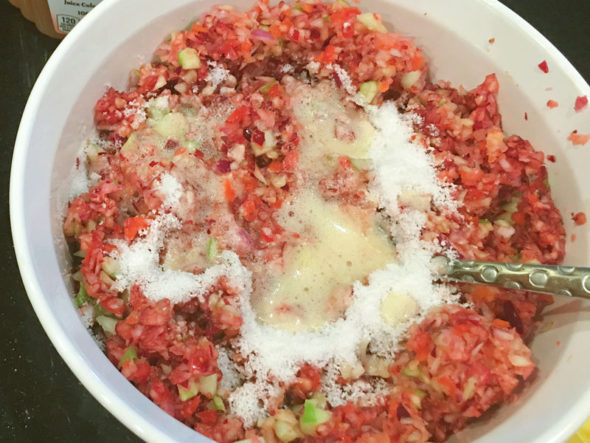 Once you have your salsa resting in the refrigerator, it's time to make your chips. I have done these a lot of different ways. I used a ghost cookie cutter to go with a black bean dip for Halloween. For fall, I like the simple leaf design
.  Just cut them out and toast.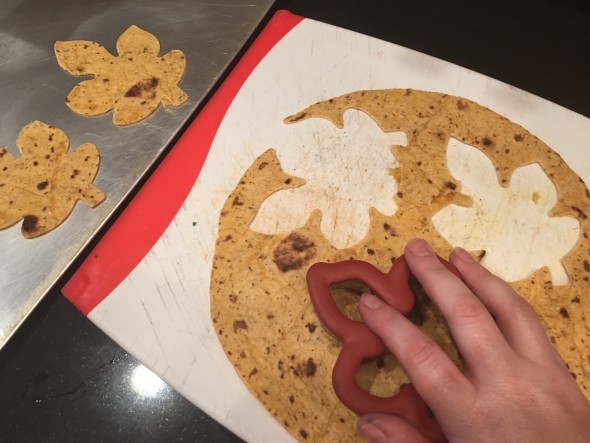 If you have leftover salsa, it freezes well so you can save it for your next dinner party. I usually make it for Thanksgiving and have plenty left-over for my Christmas parties. I used a Christmas tree cookie cutter
and spinach tortillas.
Save

similar projects

...we're sorry, but comments are closed for this post...