Single serve coffee maker comparison
by: Jo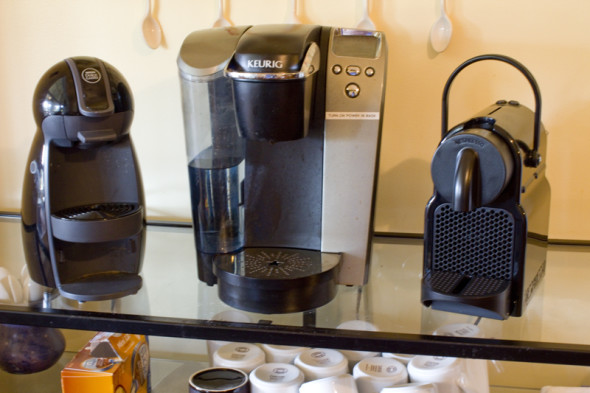 It's no secret that Chica and I both love a good cup o' Joe to warm us on a cold morning and to rev up our engines to face the day. So when I was asked if I would like to try out the Gourmesso pods for the Nespresso machine, I couldn't resist! The three machines I will be comparing in this post are: Keurig
, Nescafe Dolce Gusto
and Nespresso Inissia
. I already owned the Keurig and Dolce Gusto and the Nespresso machine was sent for me to test out the Gourmesso pods. For reference, here's some quick and dirty definitions of different coffee drinks.
COFFEE DRINK DEFINITIONS
ESPRESSO – a "shot" of concentrated coffee extracted by an espresso machine. Most popular drink throughout Europe.
MACCHIATO – an espresso with milk foam on top.
CORTADO – an espresso with an equal amount of milk added
CAPPUCCINO – equal parts espresso, milk, and froth
LATTE – espresso with twice as much warm milk and a small amount of froth, very similar to a cafe au lait
NESPRESSO INISSIA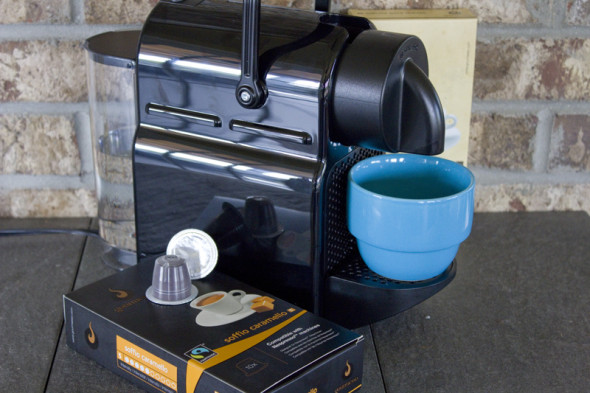 I like the compact styling of this machine and the extreme simplicity of use. There are exactly two buttons! Just TWO! It takes no time at all to heat up and you can go ahead and punch the button you want, go put on your shoes and coat, and come back and your espresso is ready to go! I like not having too many choices to make or buttons to push early in the morning.
The machine is great, but if I had the funds, I would buy the De'Longhi America EN750MB Nespresso Lattissima Pro Machine because it has the attached milk frother that will allow you to make any coffee concoction you can imagine. Since I don't, I will be buying the milk frother as a separate piece but if you are purchasing one right now, buy the Nespresso Inissia Espresso Maker with Aeroccino Plus Milk Frother to save $20.
Now for the pods. The espresso is the best I have ever made at home and tastes like what I would get in an Italian cafe. The crema is nice and thick from the Gourmesso capsules, as you can kind of tell from the picture below. I didn't use a frother or anything, it just came out like this. I tried the Soffio Caramello for this particular taste test because caramel is my favorite and I had that flavor available for all three of the machines I was testing. I was pleased to see that didn not have the "fake" caramel taste like a lot of other flavored coffees have. I used the larger cup setting for this taste test just because of personal preference. After my initial tasting of the pure coffee, I added a measured amount of half-and-half and one packet of Splenda. If I had the milk frother, I would have added that with a packet of Splenda. It was still an amazing cup of coffee!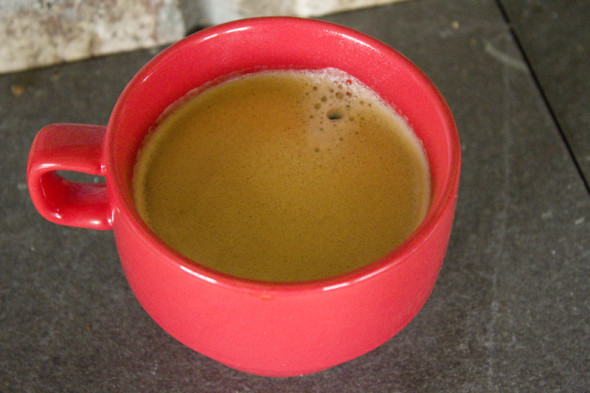 Gourmesso offers a large range of coffee blends, graded for intensity from a 3 to a 10. I have tried a variety of the flavors since my initial taste test, and they have all been quite good. I found it odd that the capsules are packaged two per pack, so I was a little concerned that the flavor in the left-over capsule would suffer after I opened the pack and used only one of the capsules, since I am the only coffee drinker in my house. However, I used the second capsule the next day and I couldn't tell any difference. Perhaps if you left it out for weeks on end it might be an issue, but the next day was fine. I even left it sitting on the table next to the coffee maker instead of sealing it in an air-tight container! The price points on the capsules are quite reasonable and on par with what you will pay for one to fit in a Keurig machine. I am hoping Gourmesso comes out with a hot chocolate line as well, which my kids would really enjoy.
Overall, I love the quality of the Gourmesso capsules and will definitely continue to buy them. And, I can go ahead and tell you, the Nespresso and Gourmesso have replaced the Keurig in my home kitchen, I am just waiting on that frother now to become a fancy coffee drink maker all on my own. Sorry, Keurig!
KEURIG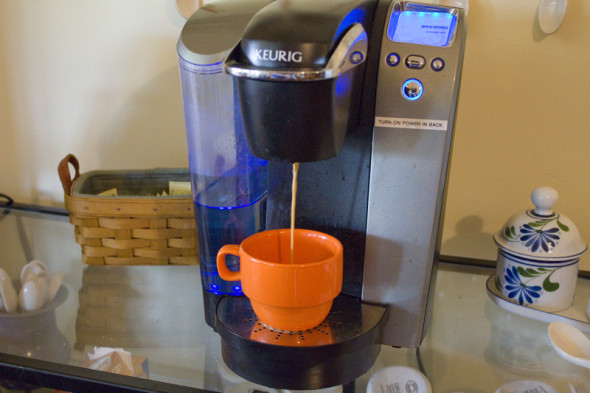 This pot can be found in almost every kitchen and office across the US now. I have enjoyed my Keurig since getting it. I was happy that I could brew a quick cup of coffee for myself, my kids could make hot chocolate, and my husband can have hot apple cider all from one machine. The best thing going for this pot, however, is the availability of the pods. You can pop into any grocery store and find a wide selection of them.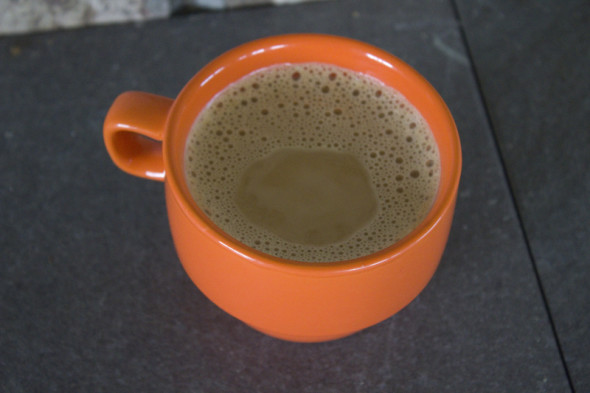 Again, I used the caramel flavored pod to test. I used to think this was a great cup of coffee. I am not really a coffee snob and will drink just about anything that isn't straight up black but when I tasted this right after my Gourmesso cup, there was no comparison. The Keurig coffee tasted watery and fake. There was zero depth of flavor. After trying it plain, I again added the same amount of cream and Splenda and it didn't really help much at all.
NESPRESSO DOLCE GUSTO
Ah, my beloved Dolce Gusto. It's the single-serve coffee maker I use the most to make coffee since it actually stays in my office. This machine uses two different pods for most flavors — a coffee pod followed by a milk pod.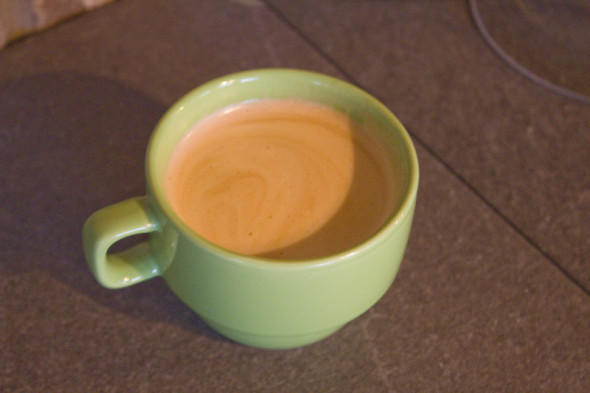 The flavor I tried on this machine is the Caramel Latte Macchiato
. This is kind of a misnomer since a latte and a macchiato are two different things. This is definitely more like a traditional latte. The flavor on this is great and I only add a small splash of creamer and no Splenda. It is very sweet on its own. The flavor is less fake on this one and it is very convenient to make in an office setting.
SINGLE SERVE COFFEE POT COMPARISON

Brand
Pros
Cons
Best for
Nespresso Inissia
• Compact design
• High quality
• Ease of use
• Makes true espresso
• Pods hard to find locally
• Non-espresso only drinks are more difficult to make.
Serious espresso drinkers. (Recommend the frother for creating coffee drinks)
Nescafe Dolce Gusto
• Ease of use
• Pods hard to find locally
• Not a true espresso machine
Private office or home use for those who enjoy cappucinos or lattes.
Keurig
• Pods widely availabile
• Large variety of pods
• Low price point
• Not a true espresso machine
• Lower quality of coffee
Families with a wide variety of tastes and as
a shared office coffee pot.
DISCLAIMER: All opinions on coffee and machine quality and use are my own. I received pods and a machine for testing from Gourmesso but was not monetarily compensated for this post.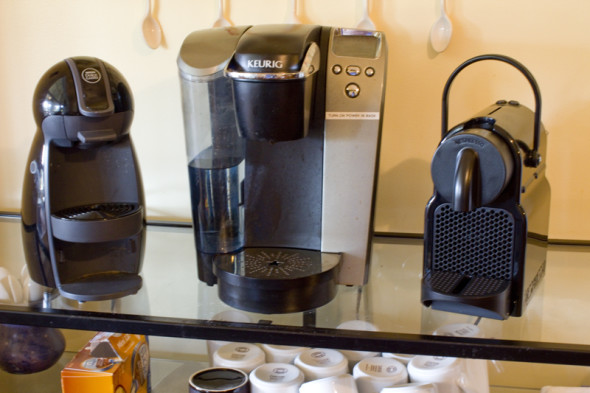 similar projects

leave a comment: