Sesame Street party favor bags
by: Chica
I'm helping a friend throw a Sesame Street themed party for her one-year-old, and she put me in charge of the party favors. I knew right away what I wanted to do, and that was to make paper favor bags that looked like the Sesame Street characters!
Making favor bags featuring Elmo, Bert and Ernie, Cookie Monster, Oscar the Grouch, Big Bird, Grover, Abby Cadabby, Rosita, Zoe, Count, and Telly is super easy with our Sesame Street character face printables.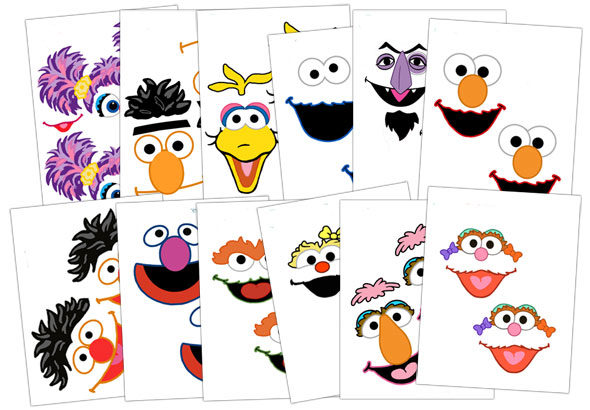 INSTANT DOWNLOAD –
PURCHASE NOW!
Sesame Street Favor Bag Printables – $4.99
Contains printable face templates for decorating your own paper bags to look like your favorite Sesame Street characters. Includes 12 characters (Elmo, Bert, Ernie, Cookie, Oscar, Big Bird, Grover, Abby, Rosita, Zoe, Count, Telly)! Assembly instructions with color photos are included.

Instant Download! You can download your files
from here immediately after your purchase is complete*.
Have questions? Email us at chicaandjo@chicaandjo.com
* Files must be downloaded within one month, and can be downloaded a maximum of 3 times
Just print whichever character pages you need onto standard-size 8.5″ x 11″ white sticker paper, cut them out, and apply them to some paper party bags in bright colors to match the characters.
Having trouble finding bags in the right colors? We've done the hard work for you, and created a collection of 12 plain bags that coordinate perfectly with the 12 characters in this printable set.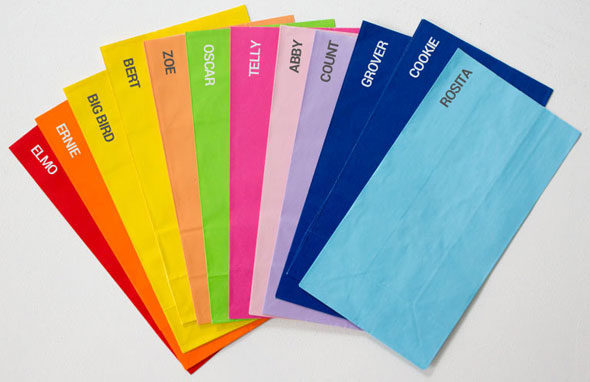 PURCHASE NOW!
NOTE: These are PLAIN bags, and the faces are NOT included.
You'll need to purchase the printables set to print the faces to add.
12 Paper Bags – Sesame Street Color Mix – $10.00
Set of twelve (12) UNDECORATED paper party bags in coordinating colors to match these Sesame Street characters. Colors include: 2 royal blue, 1 red, 2 yellow, 1 orange, 1 peach, 1 green, 1 light pink, 1 turquoise, 1 deep pink, and 1 lavender. Bags measure 5-1/8″ wide, 10-3/8″ tall, and 3-1/8″ deep.

Fast Shipping! Bags will be mailed within 1-2 days of order.
You will receive tracking information after your order ships.
Have questions? Email us at chicaandjo@chicaandjo.com
Once you've printed your faces and cut them out, assembly is easy. Just stick them onto the bag, fill with goodies, and fold over the top.

similar projects

leave a comment: