Disney's Tusker House orzo pasta salad
by: Jo
We are huge Disney fans here in my house and we try to go to Walt Disney World as often as we can. A few visits ago, we made lunch reservations at the Tusker House in Animal Kingdom. While there, I must have eaten an entire pan of the orzo pasta salad. It is AMAZING! Once home, I had to find a recipe. I found this base recipe on AllEars.net and altered it slightly to my tastes. It is now my go-to potluck side dish for the summer. It looks impressive and tastes so light and fresh!
Tusker House Orzo Pasta Salad
Ingredients:
12 ounces orzo (cooked)
1 cup fresh spinach
2 teaspoons olive oil
¼ cup vegetable stock
2 diced tomatoes
¼ teaspoon ground black pepper
2 cloves minced garlic
1 teaspoon kosher salt
2 tablespoons lemon juice
20 each kalamata olives sliced
1 tablespoon fresh thyme (10 sprigs)
2 ounces feta cheese crumbled
2 tablespoons fresh basil (10 leaves)
Method of Preparation:
1. Cook orzo in boiling water for 7 minutes, drain and cool quickly.
2. Heat large skillet over moderate heat.
3. Add oil, tomatoes, garlic and sauté 1 minute.
4. Add all other ingredients except olives and feta.
5. Heat through and cook like a risotto.
6. Place in pan for service and garnish with olives and feta.
As a side note, you can't see the tray very well all full but it is a gorgeous copper serving tray from World Market. They don't pay me to say wonderful things about them, I just love World Market!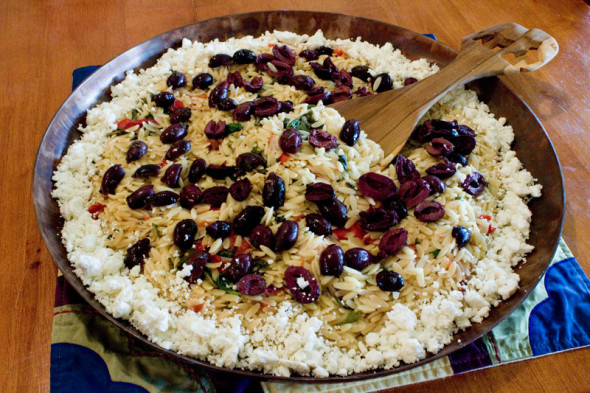 similar projects

...we're sorry, but comments are closed for this post...