Once Upon a Time party ideas
by: Jo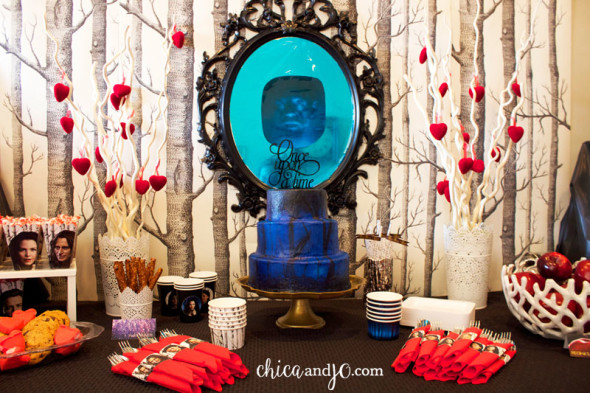 ABC's "Once Upon a Time" is Little Jo's favorite television show, so it came as no surprise to me that she wanted a "Once Upon a Time" themed 10th birthday party. This sounded fun and a nice switch from the Disney princess themes that typically invade our home. Let me walk you through the decorations and games that we had!
The cake table was the centerpiece of the party, as usual. Watchers of the show will recognize the birch tree wallpaper from Mayor Regina's office. That design made a graphic background for everything else on the table. I tried to stick to a color palette of deep blue, black, red, and white. The cake itself was hand-painted to resemble the woods in the shows's opening sequence, and I purchased the cake topper from a delightful shop on Etsy where they are available in multiple colors.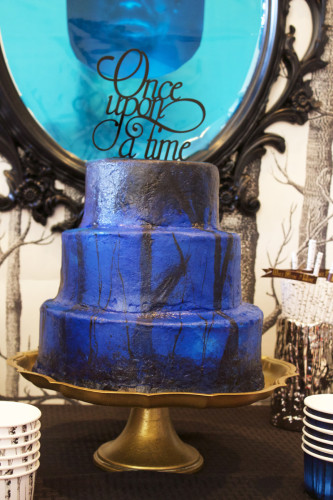 I picked up the curly branches and the lacy white metal canisters at IKEA, and I found the red velvet heart ornaments at a local store right after Valentine's Day. The popcorn boxes are filled with our kettle corn that I tinted red by adding food coloring to the oil. The boxes themselves are part of our complete "Once Upon a Time" printables set.
See the end of this post for details about what's included in our OUAT printables set!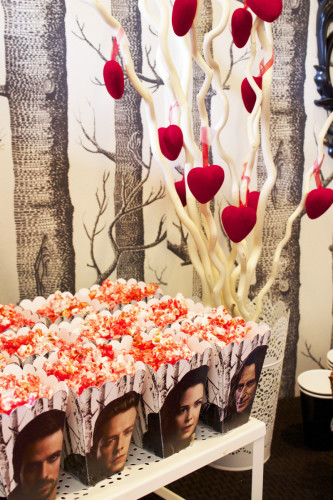 You might recognize the bowl full of apples from Regina's office as well. I think it is the exact version they use on the show, and you can get one at Wayfair.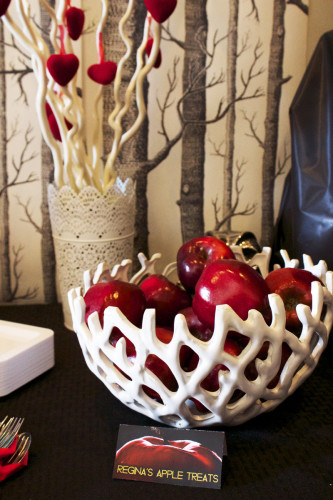 The "Regina's Apple Treats" sign I put next to the bowl of apples is one of the fun food labels we designed for the party. We made eight different labels, all honoring our favorite characters from the show. These labels are also part of our OUAT printables set.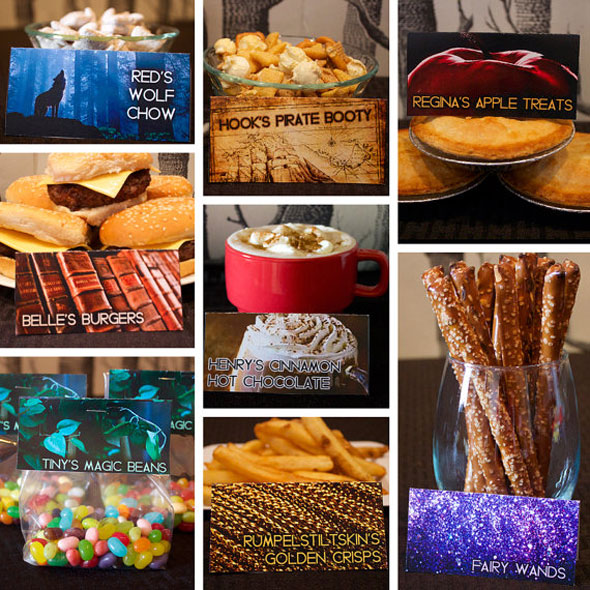 The set also includes printable favor boxes made to look like Regina's heart boxes from the show! I filled them with heart-shaped chocolates for the kids.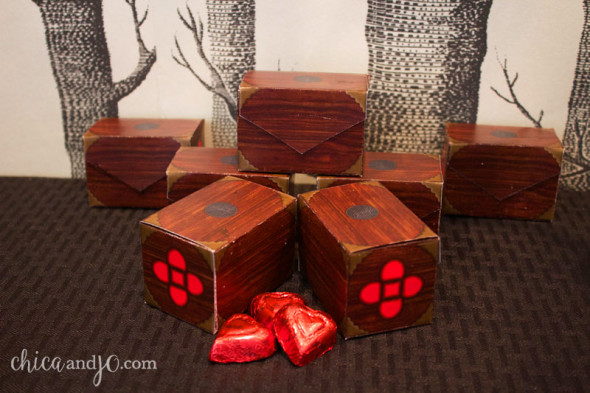 Many of our our Once Upon a Time printables come with two different backgrounds, so you can choose depending on the colors you want to use for your party. These cutlery wraps show both the white birch tree background (from the Mayor's office) and the blue forest background (from the show's title sequence).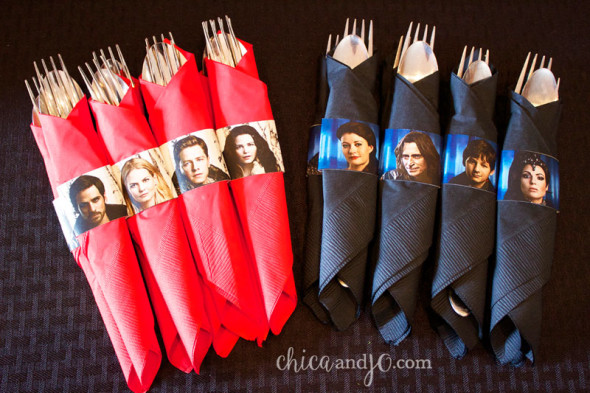 I couldn't believe my luck finding these birch tree paper straws that look super cute with our storybook-inspired "Once Upon a Time" straw flags attached.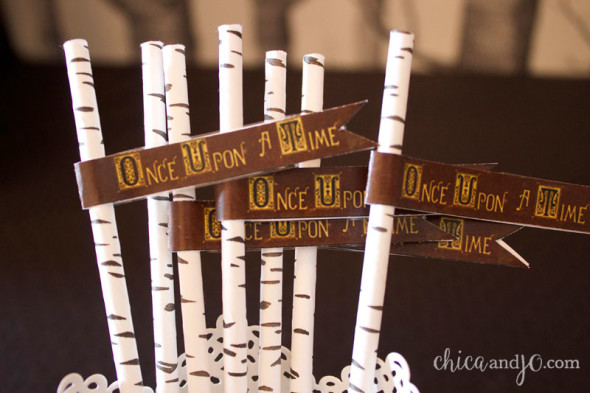 We couldn't forget about the favorite hangout spot of the Storybrooke characters — Granny's Diner! You can apply our round labels to snack bags, coffee cups, punch cups, and to-go boxes.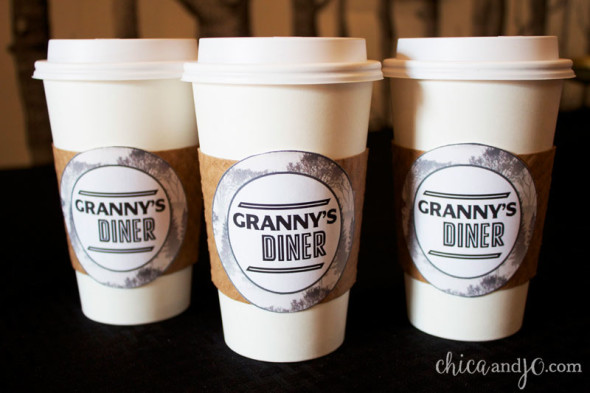 Our 2″ round circles, featuring the characters' faces, were designed to be used as cupcake picks, but I think they worked great on my punch cups, too!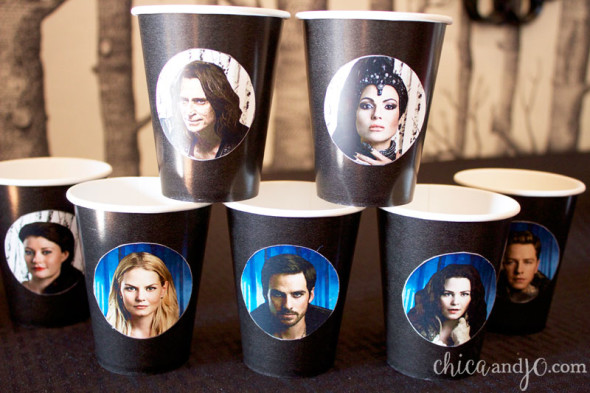 I love the "Wishing Well Water Company" labels we came up with! Just peel the regular label off the bottle and add these instead. If you want to put the bottles on ice and prevent condensation from ruining the paper and destroying the printed image, try our favorite trick for laminating the wraps on the cheap. Just laminate them on both sides with regular packing tape!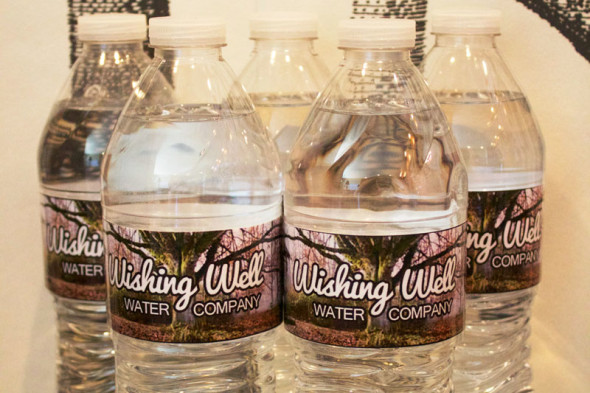 Hook's pirate chest is filled with chocolate coins that we used for a game I will explain later. I also bought some pirate compasses
to use as decorations and to give out as party favors.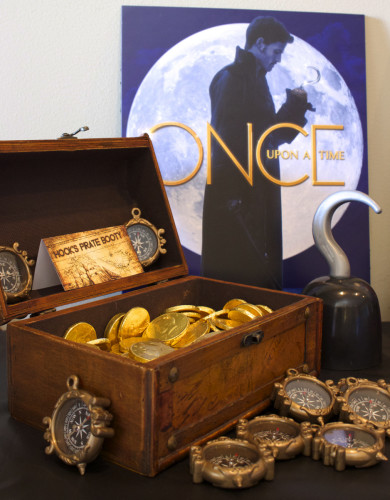 A few toy yellow VW Beetles were a must as part of the decorations.
The favor boxes look pretty frightening in front of the Evil Queen poster, don't you think?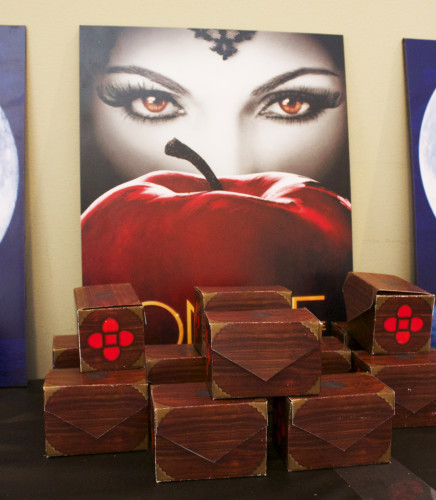 Or perhaps a cinnamon candied apple treat would be more your style? So delicious you will want to take a chance on whether it is poisonous or not!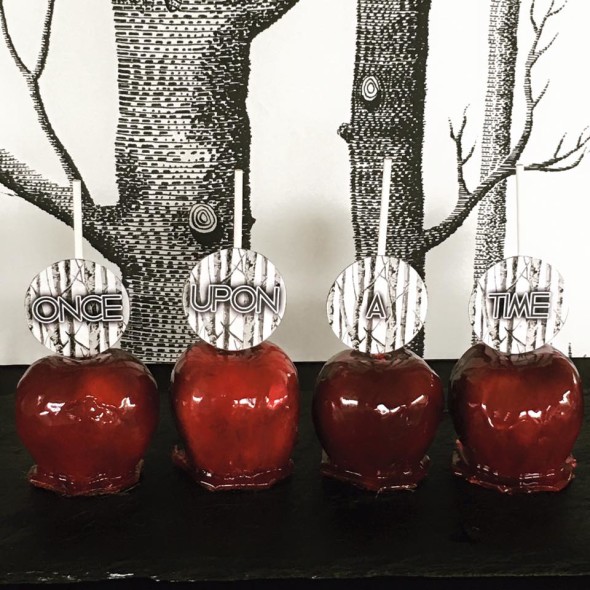 The printable set also includes letters, numbers and character faces to create custom party banners.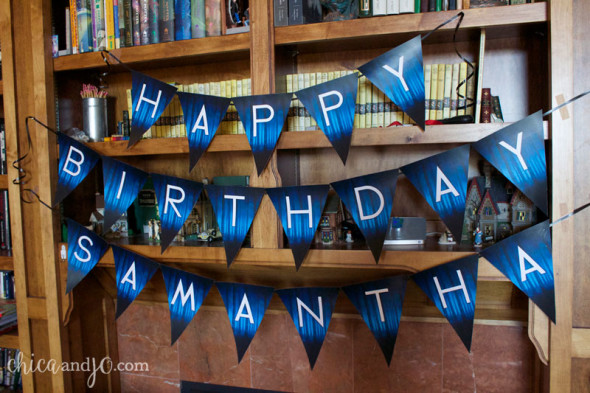 I altered Snow White's "Wanted" poster in Photoshop to include a picture of Little Jo instead, and hung plenty of them around the party space.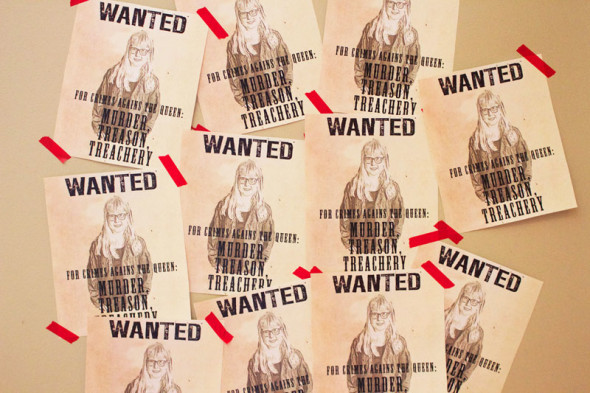 I set up another table outside for displaying the food. I used an Enchanted Forest Scene Setter for the background, and pieced together some fluffy, green throw rugs from IKEA to create the grass tabletop.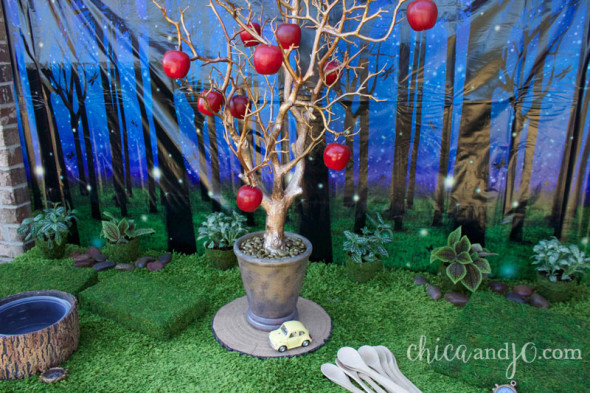 I purchased some bright red fake apples at Michaels and tied them onto this branchy tree that I usually use for Christmas decorating.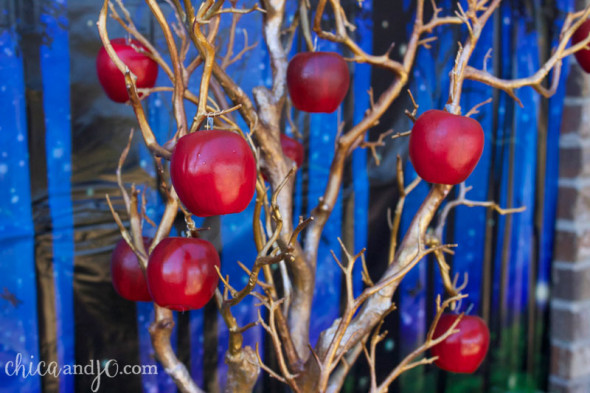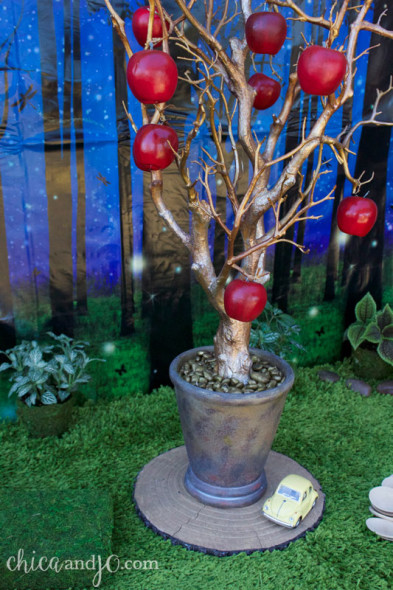 Another yellow VW Beetles added the perfect touch.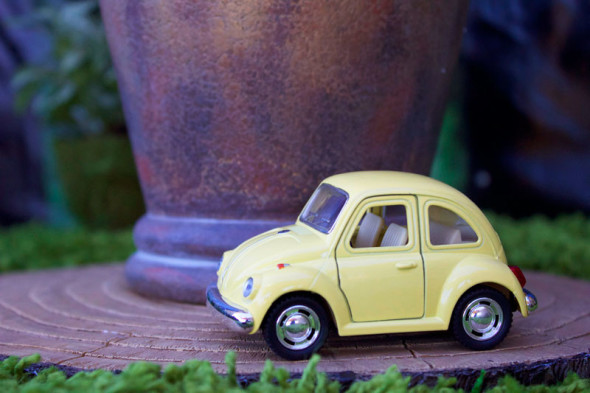 All the kids dressed as their favorite fairy tale characters. Little Jo had so much fun putting together her Emma Swan costume!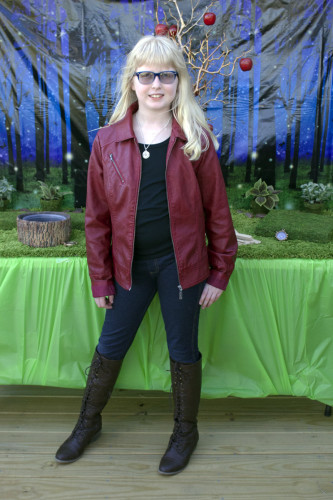 We played a few simple games at the party as well, all in keeping with the theme of the show.
GAME: Mr. Gold's Pawn Shop — The first game involved a trip to Mr. Gold's pawn shop. Guests were greeted at the front door with this sign from our printable set.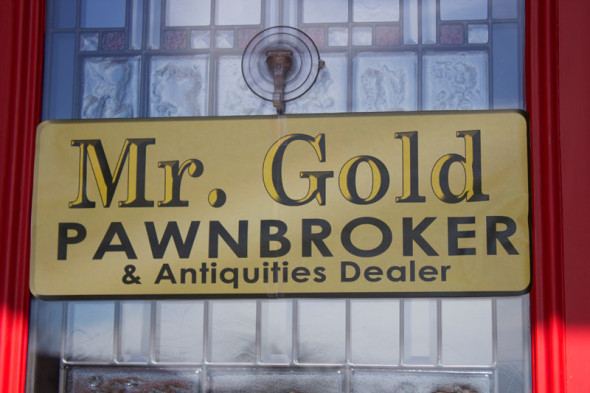 Inside the door, guests saw tons of weird things that I collected from around the house, and which one might find in a magical pawn shop such as Mr. Gold's.
Part way through the party, I told the kids that we were going to visit the shop again to take a look around at things they might want to buy later. After giving them a few minutes to look around, I then took them into a separate room and had them write down as many things as they could remember from the shop. The one who remembered the most items won. The kids loved the "trick" and lamented not having paid more attention!
GAME: Character Scavenger Hunt — I purchased inexpensive 4×6 photo albums from the Dollar Store and used them to make a storybook for each kid.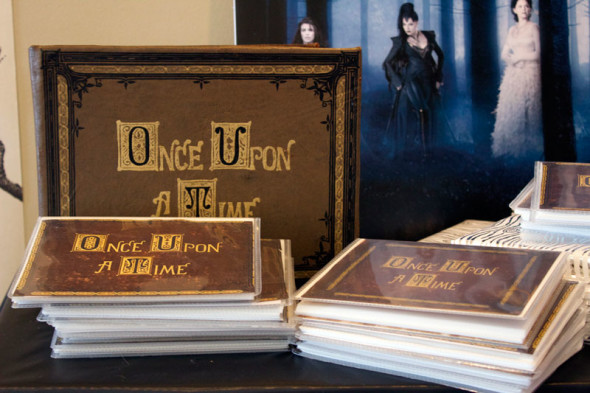 The books had sections for each character, made up of a story card and a few black-and-white photos showing scenes from the show. Each of these scenes had an important element blocked out, and the kids had to figure out what it was.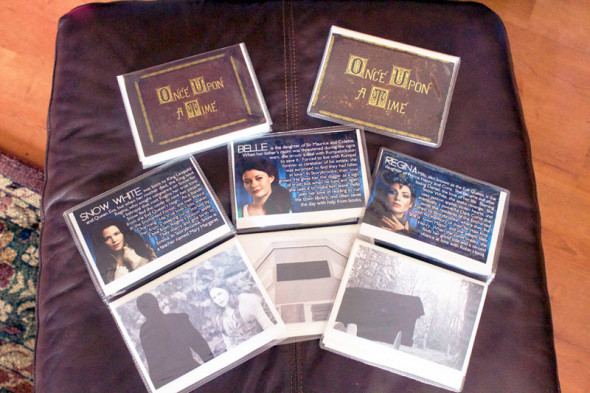 The kids had to find coordinating full-color versions of those pictures, which were hidden throughout the party space. The first one to find all the matching photos and turn the book in won. This was a great way for the kids who don't watch the show to get to know the characters better, and they all liked having a photo album to add their own party photos to after the party.
All of these black-and-white and full-color images, as well as the book cover, are available free for you in our downloadable Once Upon a Time printable party game.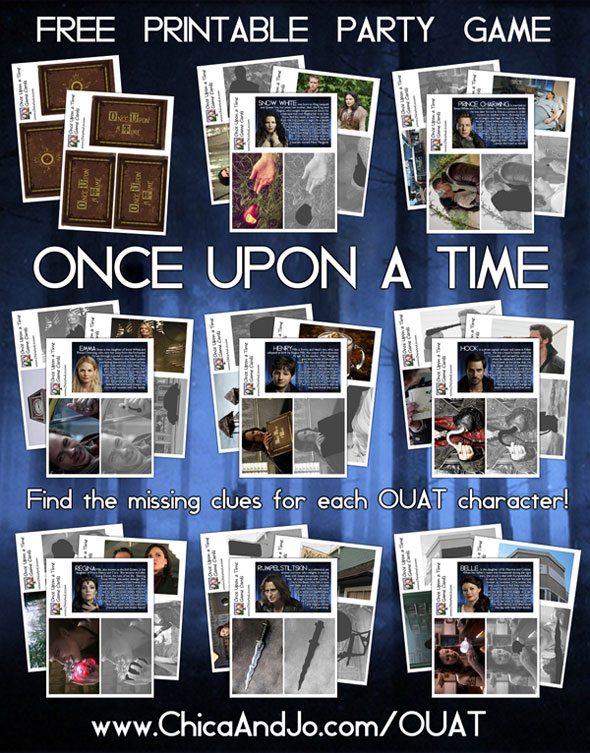 GAME: All Magic Comes with a Price — As prizes for the other games, I handed out bonus golden chocolate coins that were then used for this fun auction-style game. I filled about 15 gold satin drawstring pouches with items. Some of the prizes were good, like Play-Doh, a Slinky, or a ball. Some of the prizes were not so good, like rocks, cotton swabs, and a tiny bottle of baby powder. The kids had no idea what was in each bag, and had to use their chocolate coins to buy the pouches at auction based on their instincts. The kids enjoyed this game the most and even found it fun to get the bad prizes.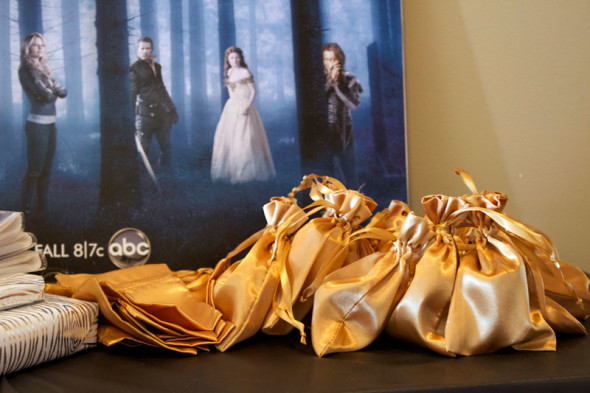 This was such a fun party, and I loved it as much as Little Jo did. I hope you find these OUAT party tips and decorating ideas inspirational.
OUAT Party Printables Set
If you're planning a Once Upon a Time themed party and are looking for help with the favors, decorations, and invitation, look no further than our complete "Once Upon a Time" printables set.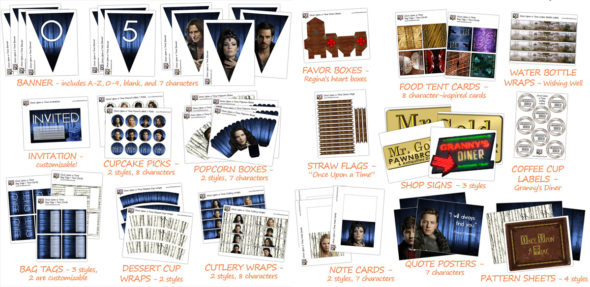 Our printables set includes:
Banner (A-Z, 0-9, blank, 7 character faces)
Invitation (print-ready and customizable versions)
Popcorn boxes (blue and birch, 7 characters)
Heart favor boxes
Granny's Diner coffee cup labels
Cutlery wraps (blue and birch, 8 characters)
Character quote posters (7 characters)
Straw flags ("Once Upon a Time")
Water bottle wraps ("Wishing Well Water Company")
Note cards (blue and birch, 7 characters)
Mr. Gold's Pawn Shop sign (2 sizes)
Granny's Diner neon sign
Fairytale book cover
Dessert cup wraps (blue and birch)
Pattern sheets (OUAT logo, blue background, birch background)
Bag tag / tent cards (11 print-ready designs, 2 customizable designs)
Round labels / Cupcake picks (blue and birch, 8 characters, "Once", "Upon", "A", "Time")
Many items come in two different backgrounds — the "blue" background is the blue forest from the show's opening title sequence. The "birch" background is the wallpaper in Mayor Regina's office.
The printables that feature 7 characters include Emma, Henry, Snow White, Prince Charming, Regina, Rumpelstiltskin, and Hook. Some printables feature 8 characters, which includes Belle.
PLEASE READ CAREFULLY BEFORE PURCHASING:
You are purchasing digital items which will be delivered to you electronically by email within 24 hours of payment. You will receive one PDF file and one DOC file. You must have Adobe Reader and Microsoft Word/Office, respectively, to open these files, or a software equivalent that can handle these file extensions. You may print these files as needed to create your own clues, signs, and labels. No papers, printouts, or other items will be mailed to you as part of this purchase. By purchasing these digital items, you agree that they are for your personal use only, and you are prohibited from sharing, distributing, or selling either the files or products made with the printables in these files.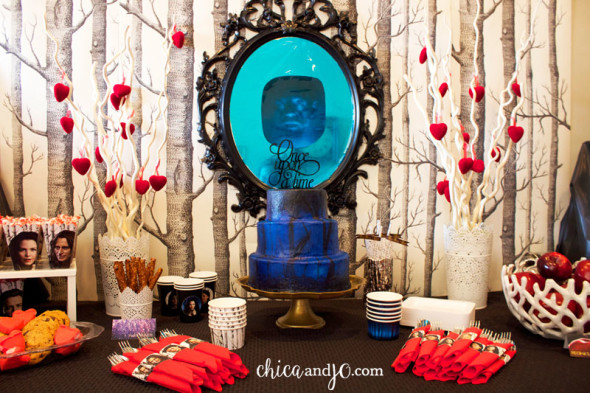 similar projects