DIY Colorful Computer Keyboard
by: Chica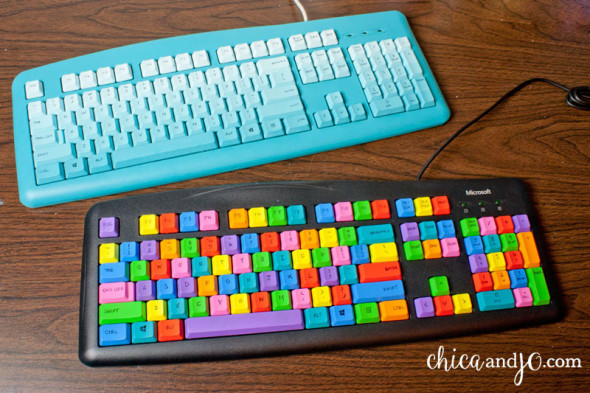 Between my job and my personal life, I spend a lot of time on the computer every day. A LOT. So much that I really need my workspace to be cheerful, fun, and inspiring. A plain old black keyboard like this just doesn't fit the bill. But what's a girl to do?
I've been going crazy lately with the new Americana Multi-Surface Satin Paints from DecoArt, because they are so easy to use and work on just about any surface you can imagine, including plastic. I had some sitting on my desk the other day, near my keyboard, and I thought… Could I? Should I? Yes!
I picked out a set of my favorite bright colors: Canary, Flamingo, Deep Turquoise, Orange Sherbet, Poppy, Apple Green, Blue Bird, and Iris.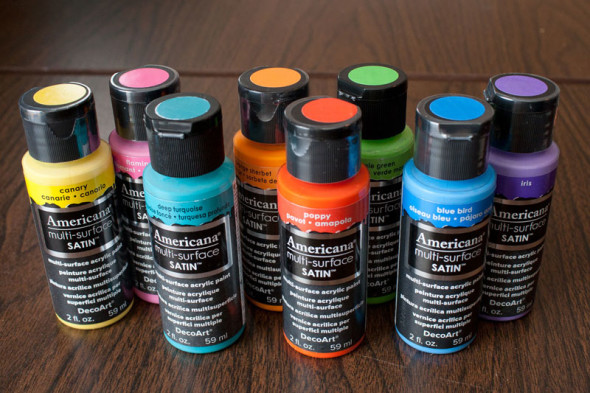 Then I picked out a keyboard. I needed something simple, basic, and inexpensive. I found the perfect match with the Microsoft Wired Keyboard 200 for Business, which has a minimal design, comes in black and white, and is very affordable. It also had the benefit of having the letters printed on flat, rather than raised. You don't want raised letters, or else they will show after you paint the keys.
The first thing I did before I started messing with the keyboard was to take a picture of it and print it out. This was going to be a vital reference point later on in this project!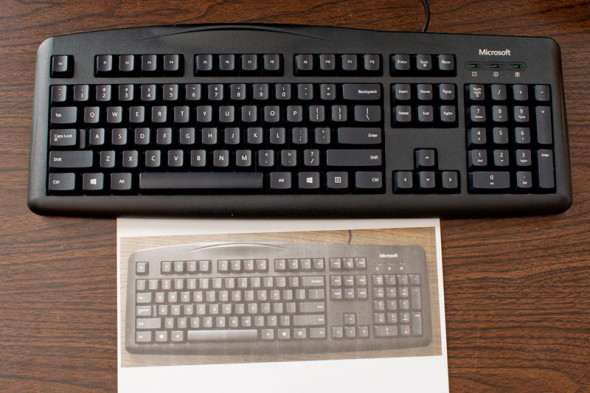 Next I began the task of removing all of the keys from the keyboard. I used a thin letter opener to pry them off, but you can use anything flat that you can get up under the keys.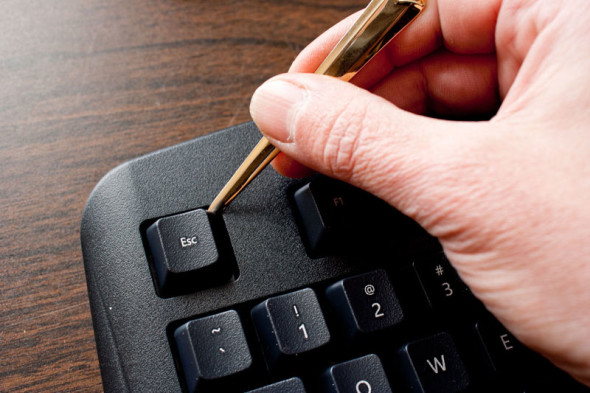 Every type of keyboard is going to be a little different, but the keys on this kind have a little square cavity on the back that hold them in place.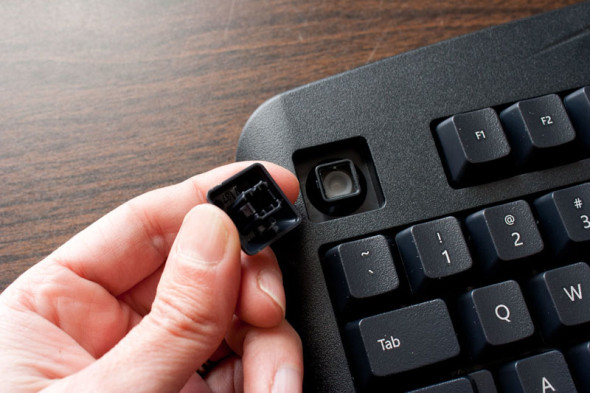 I needed to come up with a way to prop the keys up to dry after I painted them, so I got to thinking about what I could put in that little square cavity. I'm not sure where the idea hit me, but I realized that the cushy end of a Q-tip would be perfect! I cut some Q-tips in half because I only needed the fuzz on one end.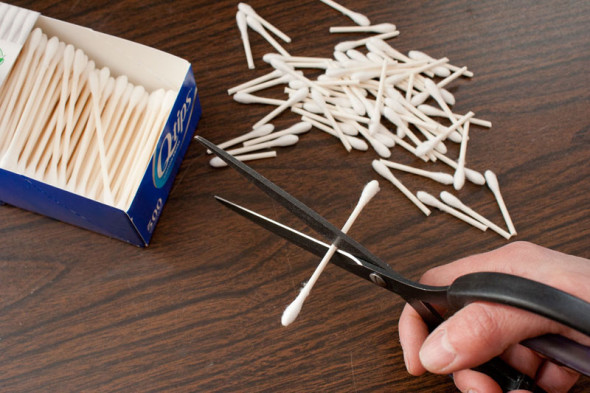 Then I stuck one half into each key. It fit snugly and made a perfect little handle.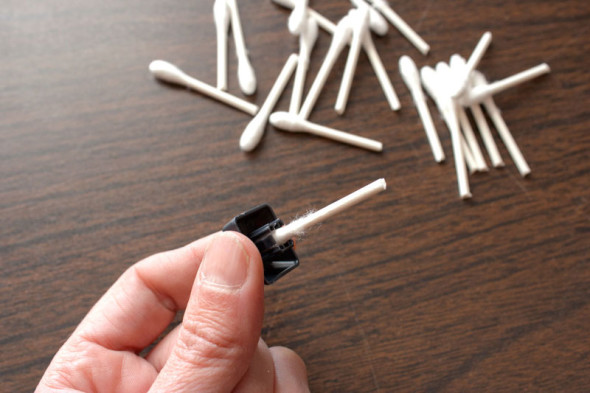 Then I just stuck each one into a chunk of foam I had left over from the packaging on some electronics.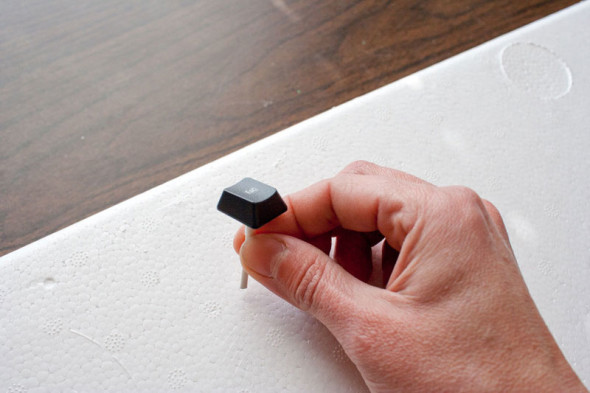 I sort of put the keys in order, but didn't worry about it too much because I knew I was going to be painting randomly with different colors and it didn't matter.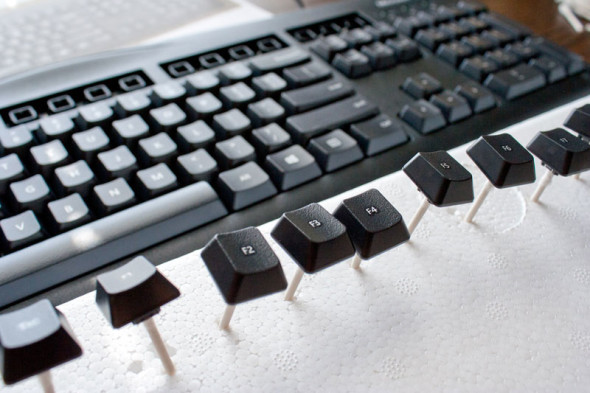 As I did this, I made note of the fact that most of the keys were the same size, but some were different sizes, like the Shift, Tab, Enter, and Backspace key.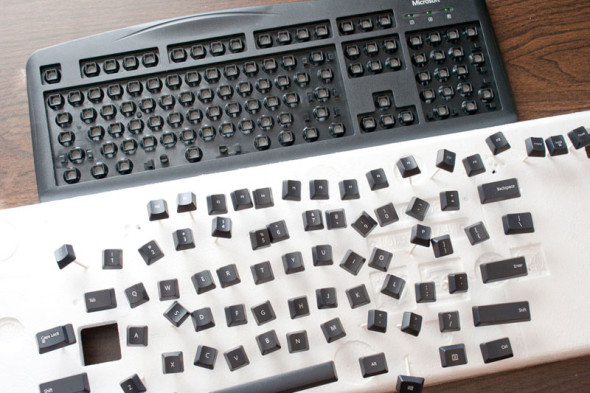 Then it was time to start painting! To get a nice, smooth finish, I used a cosmetic wedge to gently dab some of the paint onto the key. I only applied a very thin coat, so that no blobs or brushstrokes would appear. These wedges do a great job of making an even coat.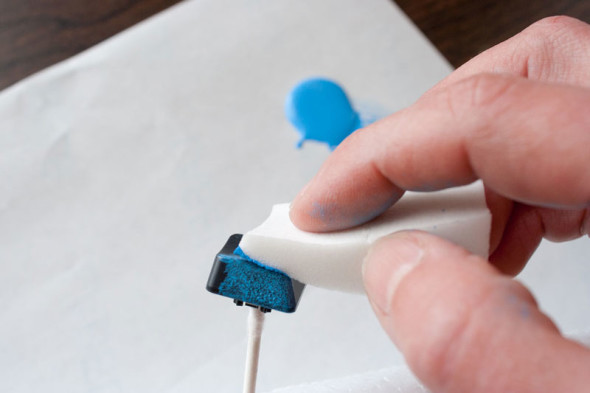 Since I was going to use 8 colors in all, I painted roughly 1/8 of the keys with this first color.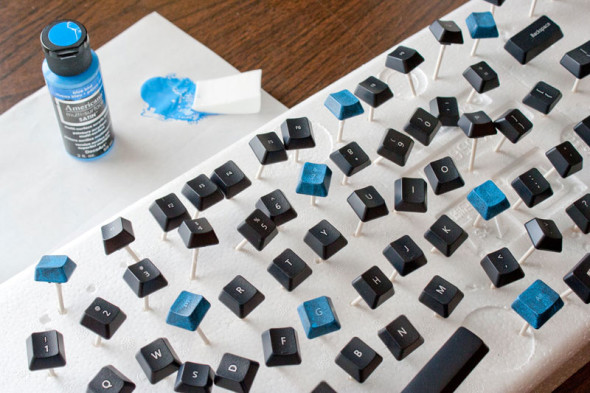 Then I moved on to the other colors, painting about the same number of keys with each color. I made sure to pay attention to those larger keys and was careful not to use the same color on two that were going to be next to each other, like the Shift and Enter keys.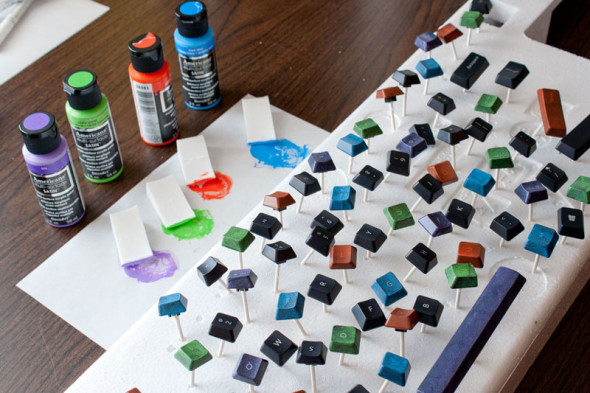 This paint dries pretty quickly, so by the time I was done with the first coat of all the colors, I was able to start over again with another coat. I kept on applying thin coats until I got the opacity I was looking for. Some colors (like the yellow) took more coats than others (like the purple).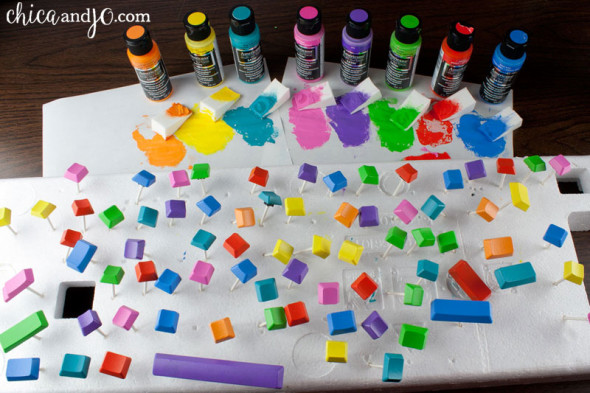 Don't you just love this army of brightly-colored keys?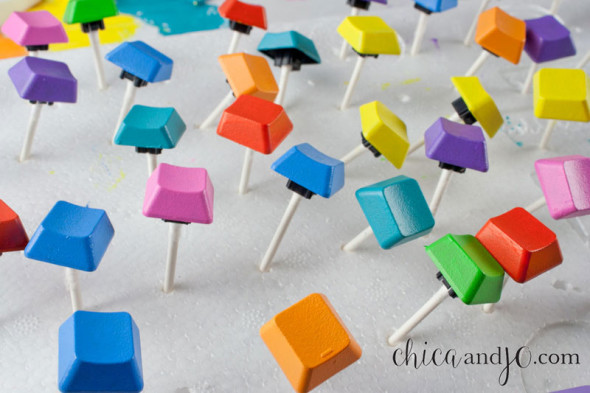 Of course, I'd covered up the letters on these keys, and I needed to fix that. But rather than just go willy-nilly writing them on, I stopped to do some careful arranging first. I referenced my photo and started putting the keys back on the keyboard, carefully setting them there WITHOUT pushing them down in place. I started with the bigger keys, and made sure I had a good color distribution.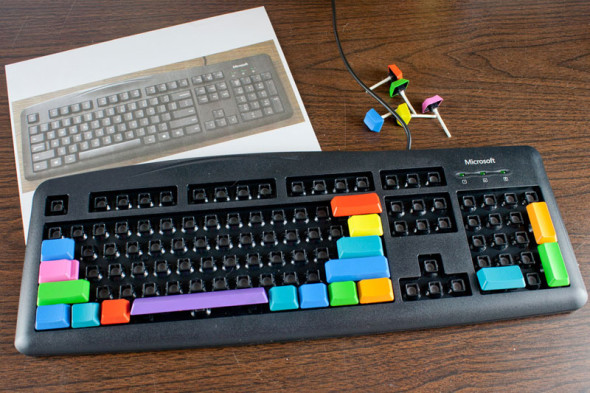 Then I looked through the smaller keys and found the three with the little sensory bumps on them. If you've never noticed, most keyboards have little bumps on the F and J, to help touch typists find "home row" without looking. If your keyboard has a keypad on the side, like mine does, there will also be a bump on the 5 key.
You want to make sure to put these three keys back in the proper place on the keyboard.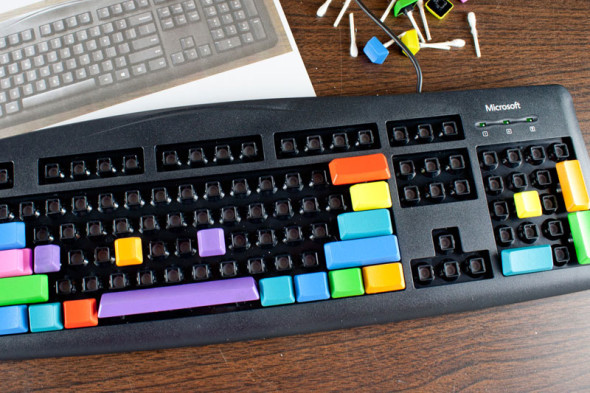 Then I filled in the remaining spots with the regular keys, again NOT pushing them down, but just setting them there gently. I took time to distribute the colors around evenly and get a look I was happy with.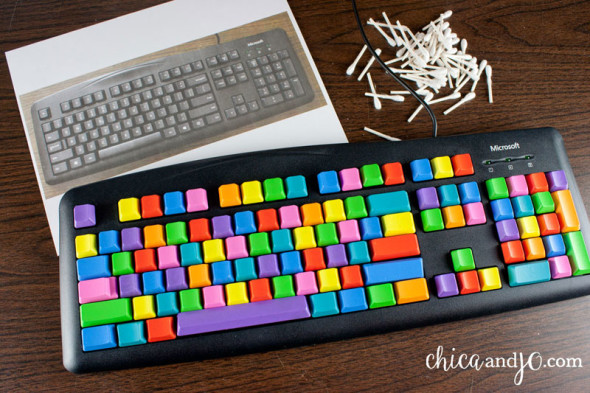 Finally I was set and ready to write the letters on. I took the keys off, one by one, referenced my photo carefully, and used a fine-tip black Sharpie to write the appropriate letter/word on each one.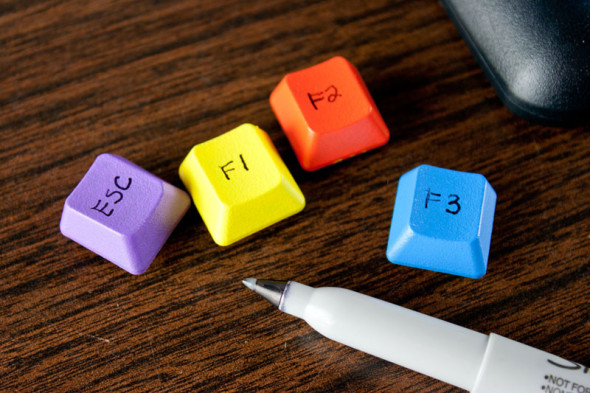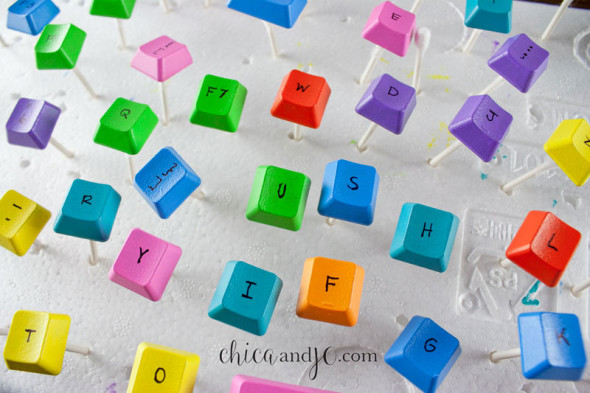 The Multi-Surface paint itself has a lovely satin finish that doesn't require any sort of sealer, but I was worried about the Sharpie wearing off with repeated use, so I put all the keys back on their Q-tip pegs and gave them a couple light coats of Americana Sealer/Finish matte spray for good measure. Be careful not to put too heavy of a coat, though, as that may cause the paint to crackle.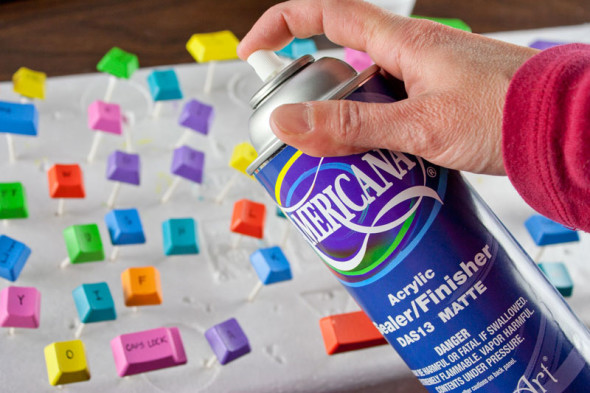 Then all that was left was to stick the keys back in place, pushing them down for good this time.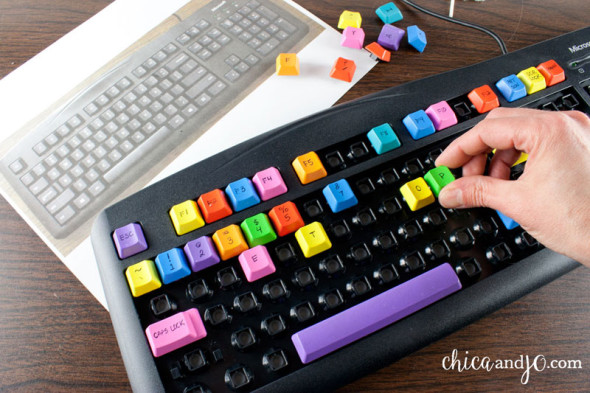 Just look how cool the result is. Can you even believe it?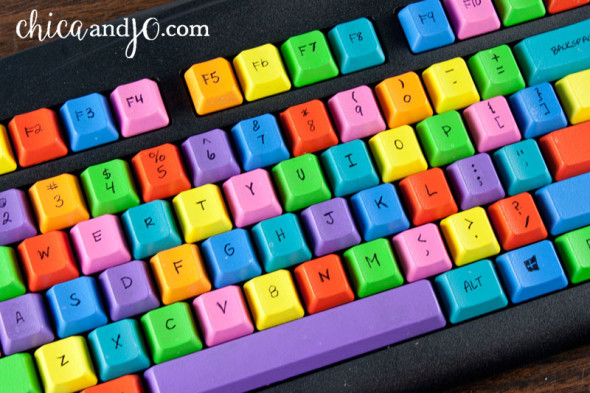 I am completely in love with this keyboard and how lovely it looks on my desk at work!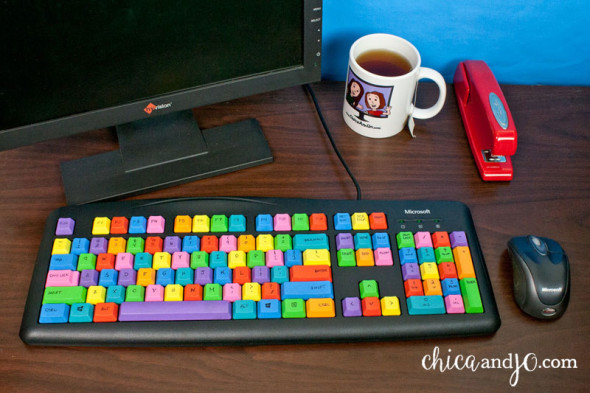 The possibilities with this technique are endless. I was flooded with ideas for color combinations, and I decided to make another keyboard for my desk at home. This time I focused on a color I've been fascinated with lately (turquoise) and a trend that everyone loves — ombré!
Once again I went with the perfectly-suited Microsoft Wired Keyboard 200 for Business, but this time I got white so that it would be easier to cover.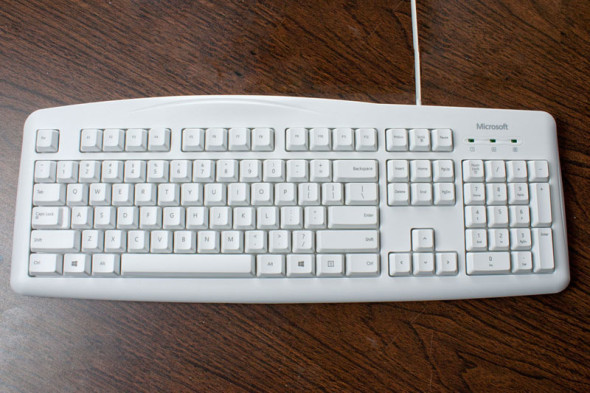 To accomplish the ombré pattern I wanted, it was critical that I keep the keys in the exact position during the painting this time. So I was very careful to line them up perfectly. I switched from my old chunk of packing foam to a 2″x12″x36″ sheet of Styrofoam, which did a better job of holding the keys upright.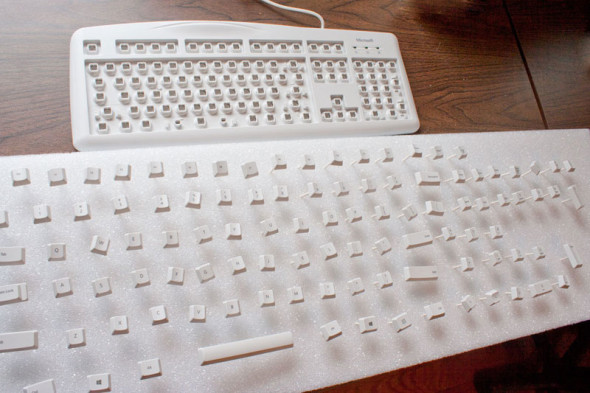 This time I wanted to paint the whole keyboard, not just the keys. I started by painting the area under where the keys go, just using straight Deep Turquoise.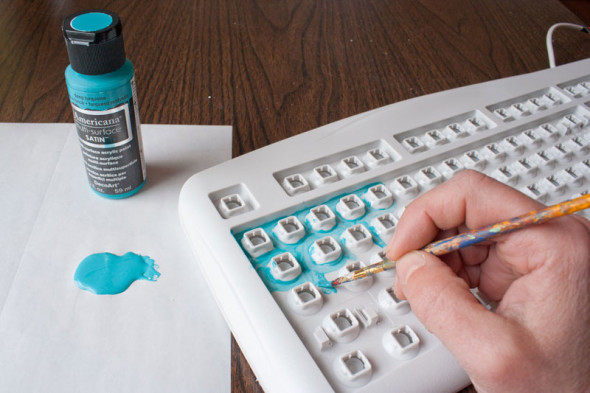 Since the keys would end up covering most of the area, I didn't have to be too neat, and I didn't have to cover it all. I just needed to establish a good background color.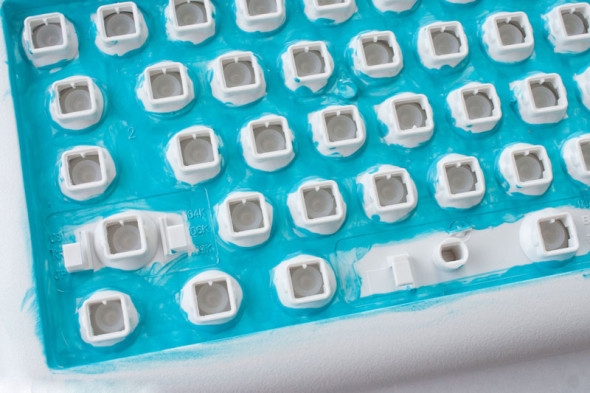 I used some masking tape to protect the cord from paint.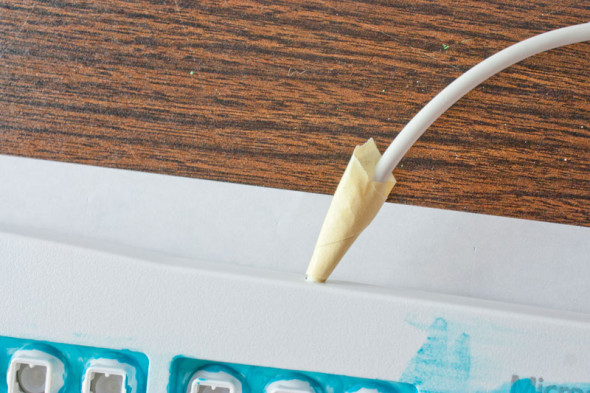 I used a small brush to paint around the little lights on the corner of the keyboard.
Then I grabbed another cosmetic wedge and applied the Deep Turquoise to the rest of the keyboard.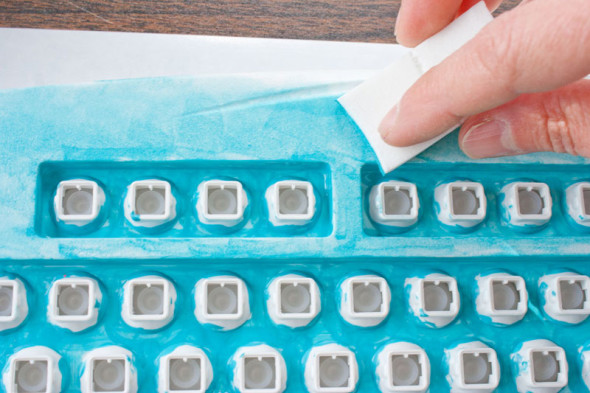 I kept adding coats of color until I got the coverage I wanted.
At last, it was time to work on the ombré. I wanted to make each row of keys a different color, so I knew I would need 6 shades of turquoise. I decided to play with the colors a little on scrap paper first, so that I had a good reference point. I just mixed a little more Cottonball in with the Deep Turquoise to achieve each shade.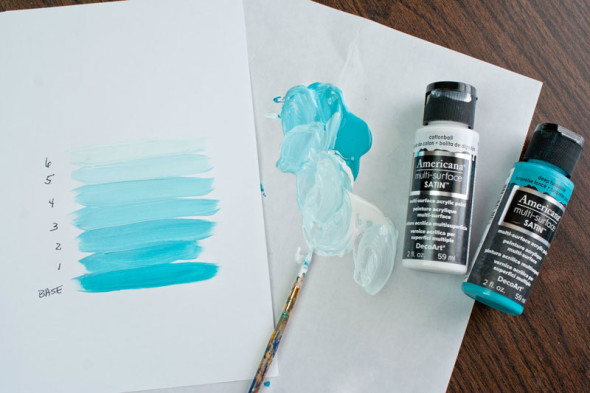 Then I used the same technique as before to apply paint to the keys with the cosmetic wedge. I started with my darkest shade, which I put on all the keys on the bottom row.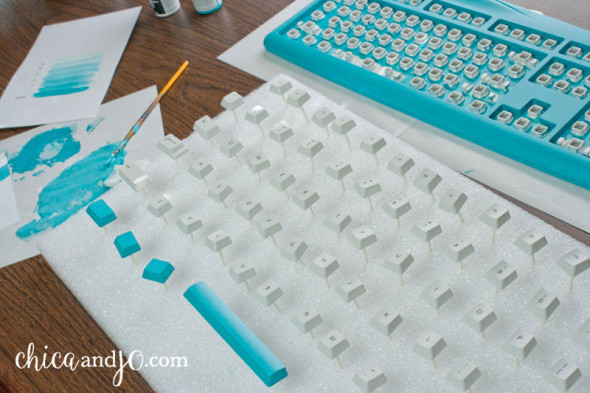 Then I moved up, row by row, using the lighter shades, finishing with the lightest at the top. I found the white keys a LOT easier to cover with paint than the black keys were, especially for the light colors!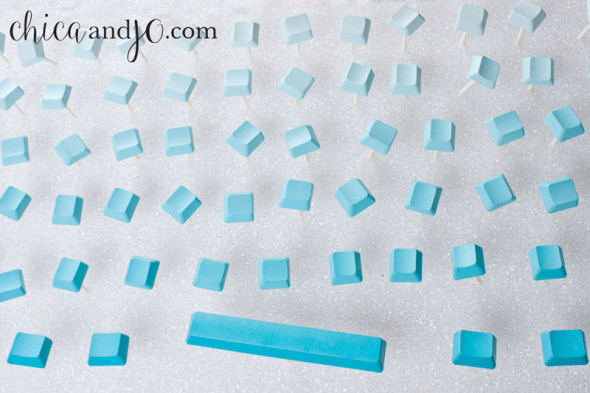 Then I wrote the letters on, and sealed the keys like before.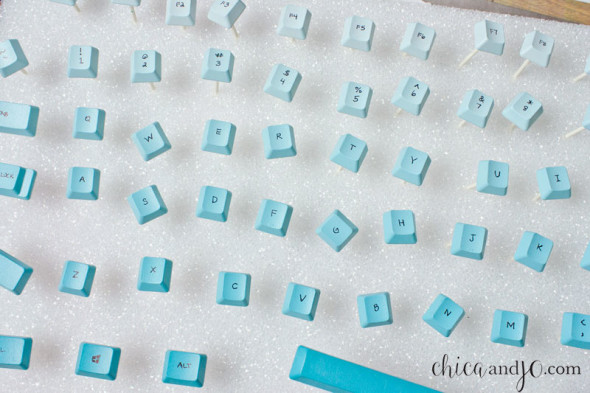 When the keys were dry, I popped them back in place on the keyboard. Fortunately, I could use the same keyboard photo as before, since this white keyboard had the same layout that the black one did.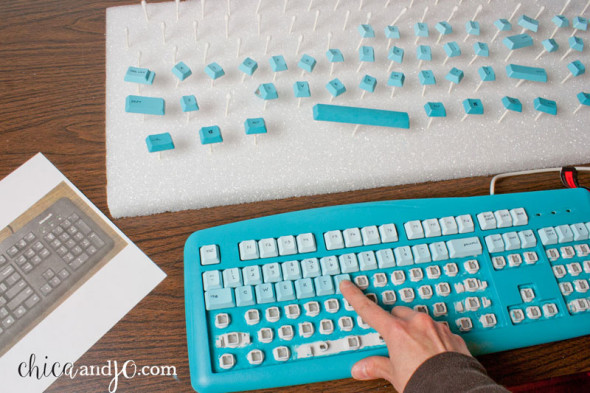 Gee, I thought I loved the first rainbow keyboard, but I might love this one even more! The ombré effect is just what I was aiming for, and the gradation is gradual and perfect.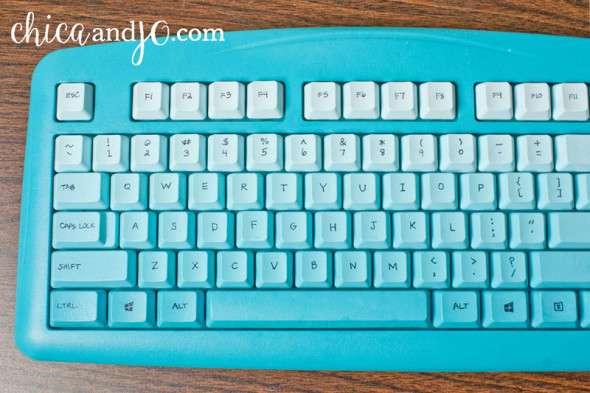 By the way, there are two keys on this keyboard that actually cross over two rows. When I got to those, I just painted the first color over the whole thing, let it dry, masked it off, and then painted the top with the lighter color. Easy peasy!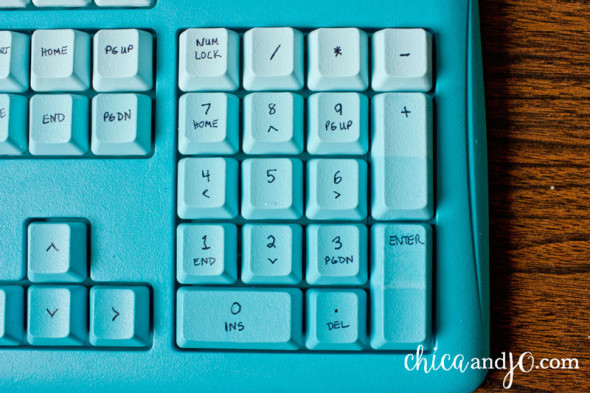 The way this keyboard looks on my desk at home is pretty stinking awesome, wouldn't you say?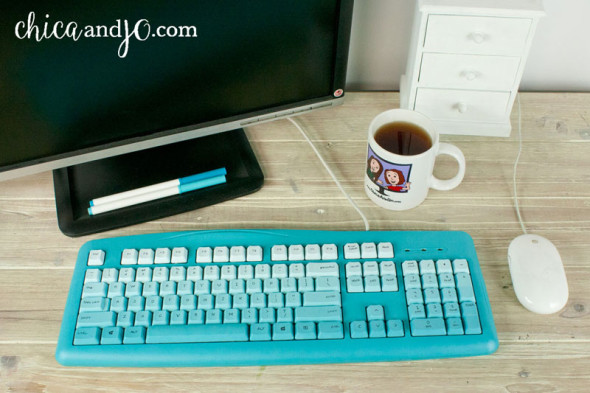 I already have tons more ideas for other color combinations for more DIY colorful keyboards. I can't wait to make them and share the results with you all!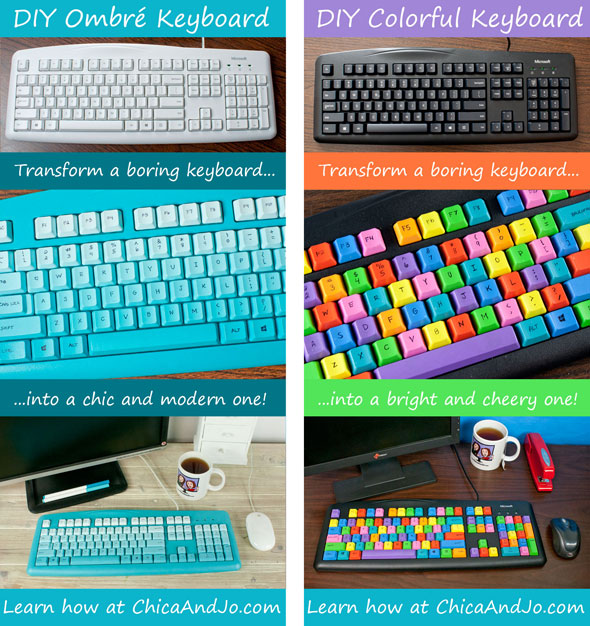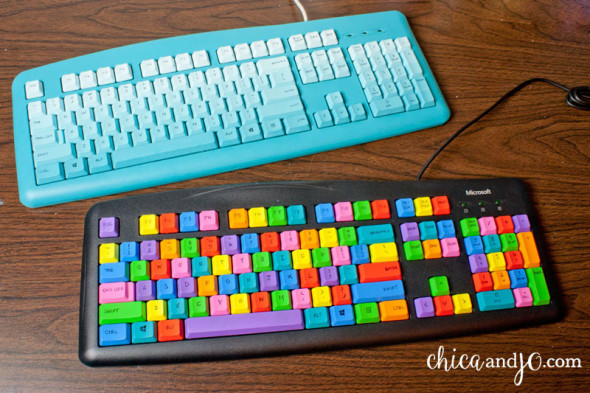 similar projects

leave a comment: