Disney pin collection display board
by: Chica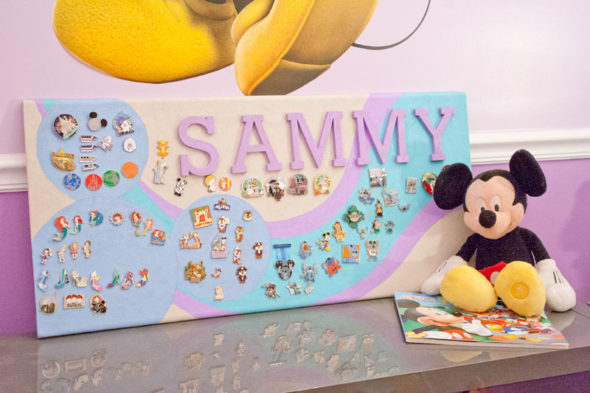 As Jo mentioned in her Disney pin countdown board tutorial, I recently made Little Jo a new display board for her growing pin collection. Jo and her family are due back home today from their latest trip to Disney World, and I know Little Jo is going to have lots of new pins to display. The Disney pin display board I made her started with a simple cork board, but I added some paint and turned it into a piece of art!
I started with a large cork board. Mine was 16″ x 36″, but you can use any size and type you like, as long as it's thick enough for the Disney pins to stick in securely. I also found some cool 3″ cork letters which I thought would be a great way to personalize the board.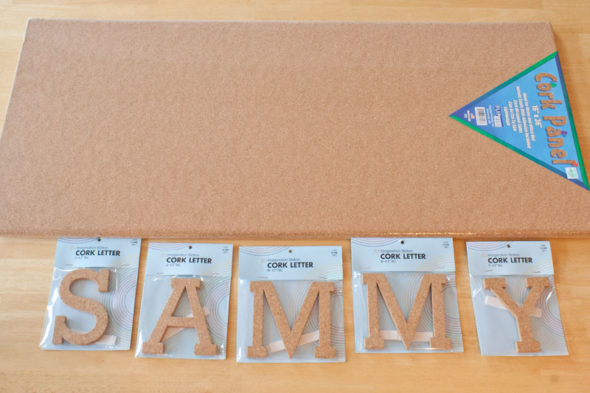 For the paint, I picked out some pretty shades of Americana Multi-Surface paint. I love this paint — it sticks to just about anything!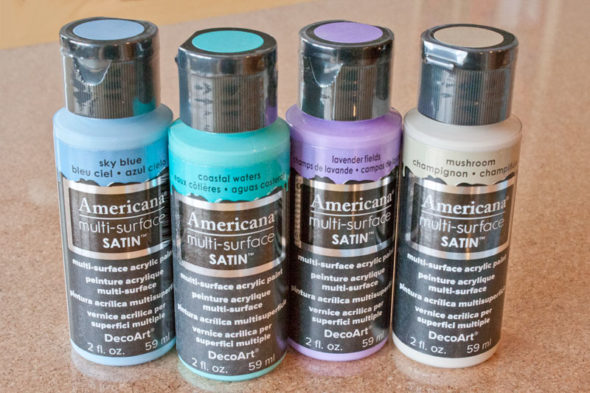 I started by painting the letters with Lavender Fields. I gave it two coats to be sure I got a good, solid color.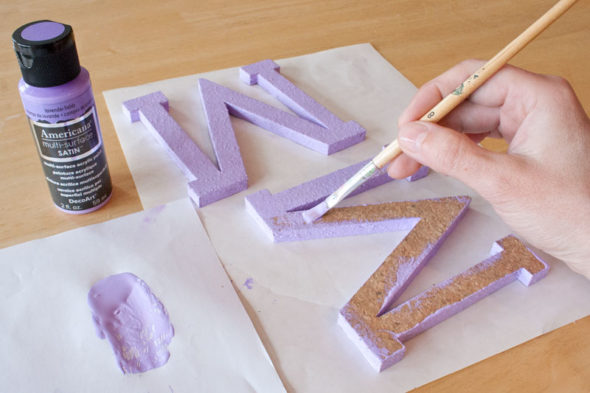 By the way, can you guess what that white paper is under those cork letters? It's my new favorite secret weapon when painting. Whenever I use up a sheet of labels, I save the backing liner. It makes a perfect non-stick surface when painting small objects, and it also works great as disposable palette paper!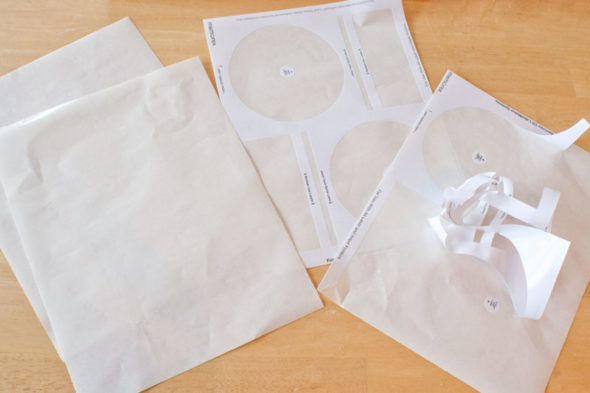 While the paint was drying on the letters, I started drawing my design on the cork board. I wanted a large Mickey Mouse shape on one side, so I traced a dinner place for the main part of his head.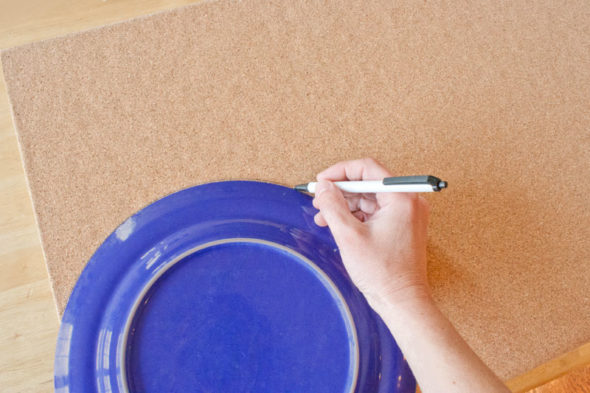 Then I used a smaller plates to add the ears.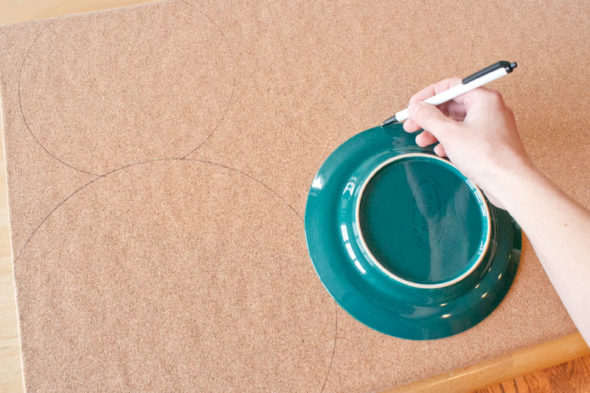 Then I added a giant ribbon/swish shape with a border. I used a pen for all my drawing because I wanted it to show up in photos. However, I recommend you use a pencil, because the pen showed through a little in the finished piece.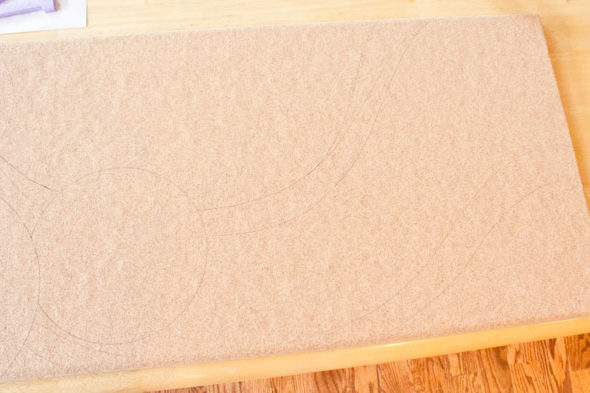 I grabbed the Sky Blue paint and started filling in Mickey's head.
It was so exciting to finally see some color on the cork instead of just my sketch lines!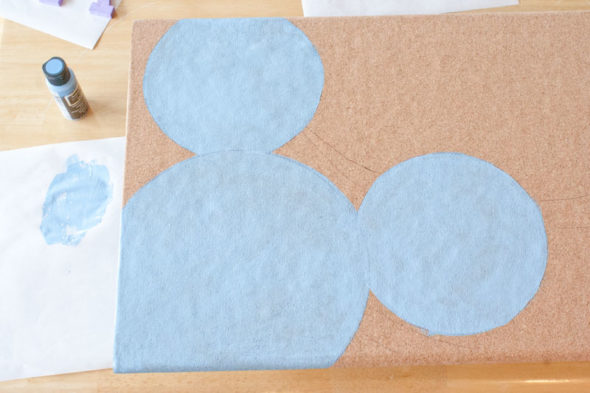 Next I filled in the swish shape with Coastal Waters.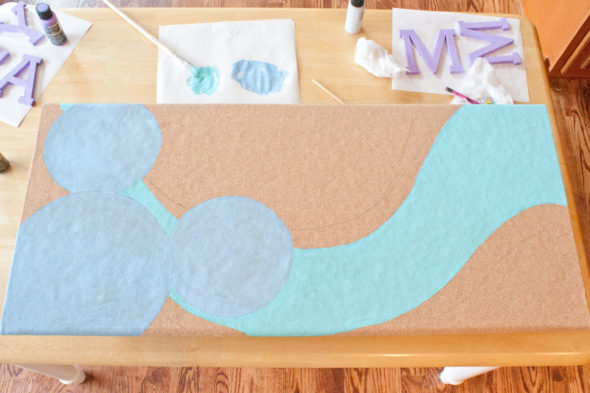 I used Lavender Fields again for the border of the swish, then filled in the background with Mushroom.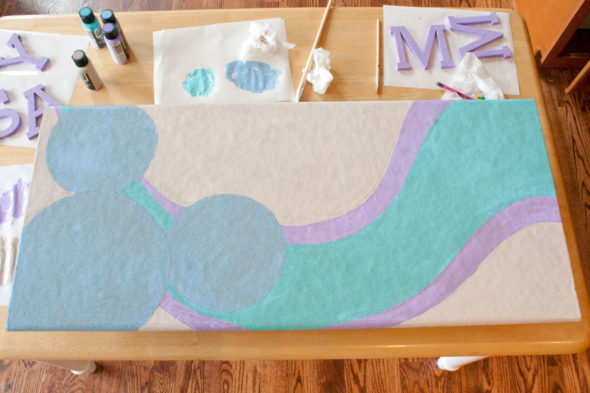 Then I gave everything one more coat to brighten the colors. So long, you boring old cork!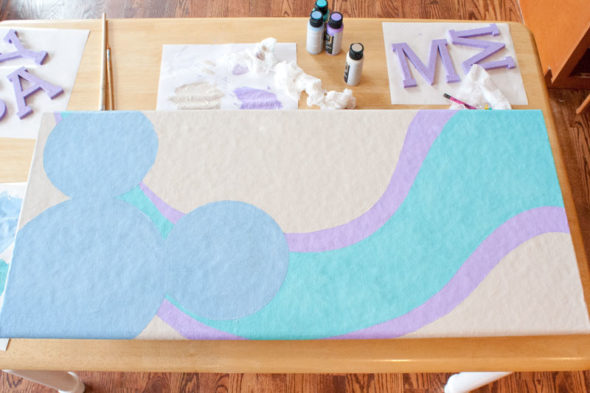 Finally, I glued the cork letters on with some hot glue. I was so excited to give this to Little Jo. It's Mickey without being TOO Mickey, and used all her favorite colors.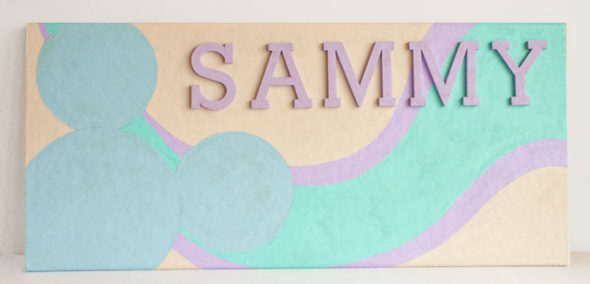 The display board looks awesome in her room next to her giant Mickey Mouse wall decal. It would make a great cork board for any sort of mementos, but I like it best filled with Disney pins!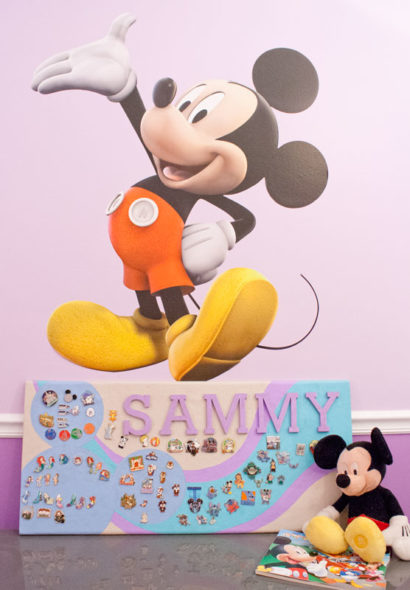 The design I painted on gave her subtly marked areas where she could group her pins by theme. For example, she was able to fill one of Mickey's ears with all of her Chip and Dale pins.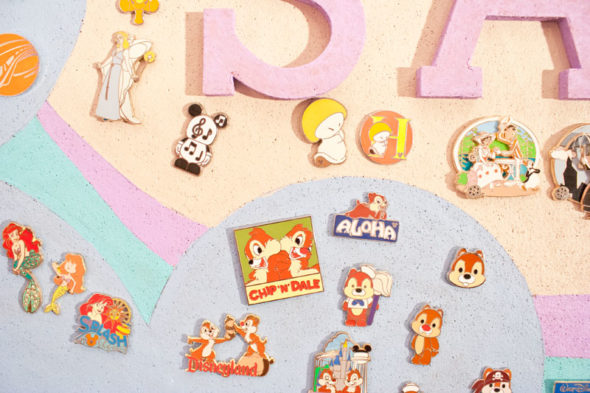 This board was such a hit that Jo's other daughter, MiniMe, asked me to make her one for her birthday. This time the theme was Olaf, the lovable snowman from Disney's Frozen.
I don't have step-by-steps for you on this one, because it was mostly freehand painting, but I wanted to share the picture of the finished piece with you for inspiration. This time, I used a framed corkboard, and painted the background with a combination of blue, purple, and white. I painted Olaf in the corner, and added cork letters to spell out her name.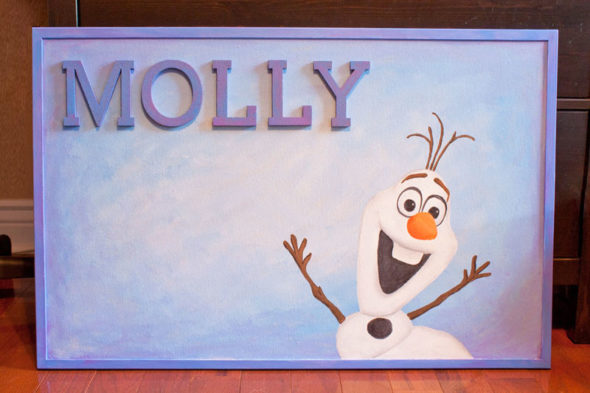 MiniMe had a blast adding all her pins to her new board!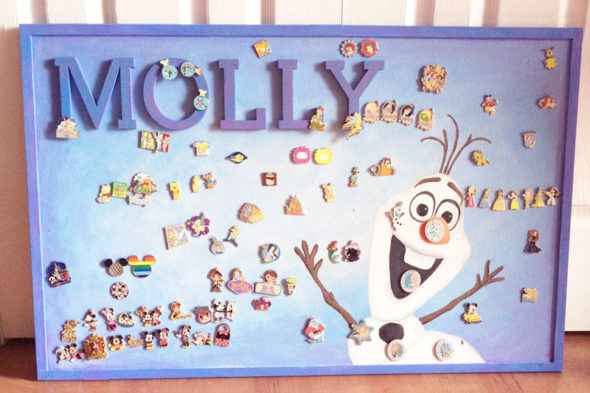 A year or so later, wouldn't you know it… Little Jo had filled up her board and needed another! These kids really love collecting and displaying their Disney trading pins. Stitch is her all-time favorite Disney character, so she wanted a display board dedicated to him.
Chica to the rescue! This time I took some shortcuts and used transfer paper to trace a printed image onto the corkboard. Then I painted it with more Americana Multi-Surface Acrylics and outlined it with a black Sharpie for a crisp, clean look.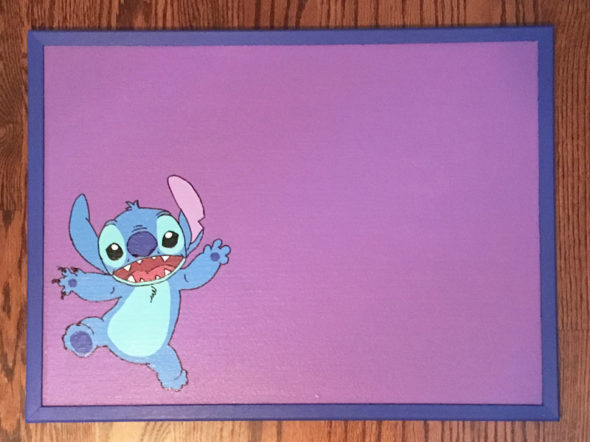 Wow, that girl has a lot of Stitch trading pins!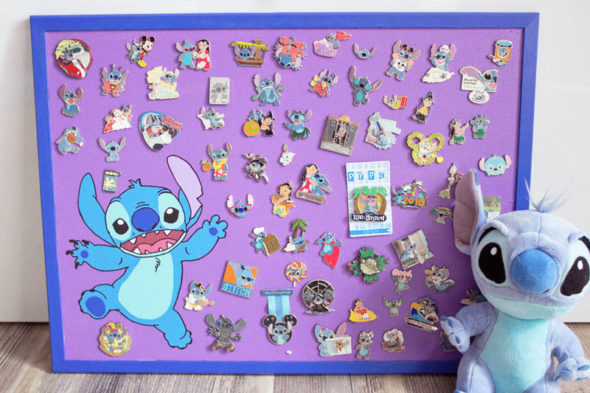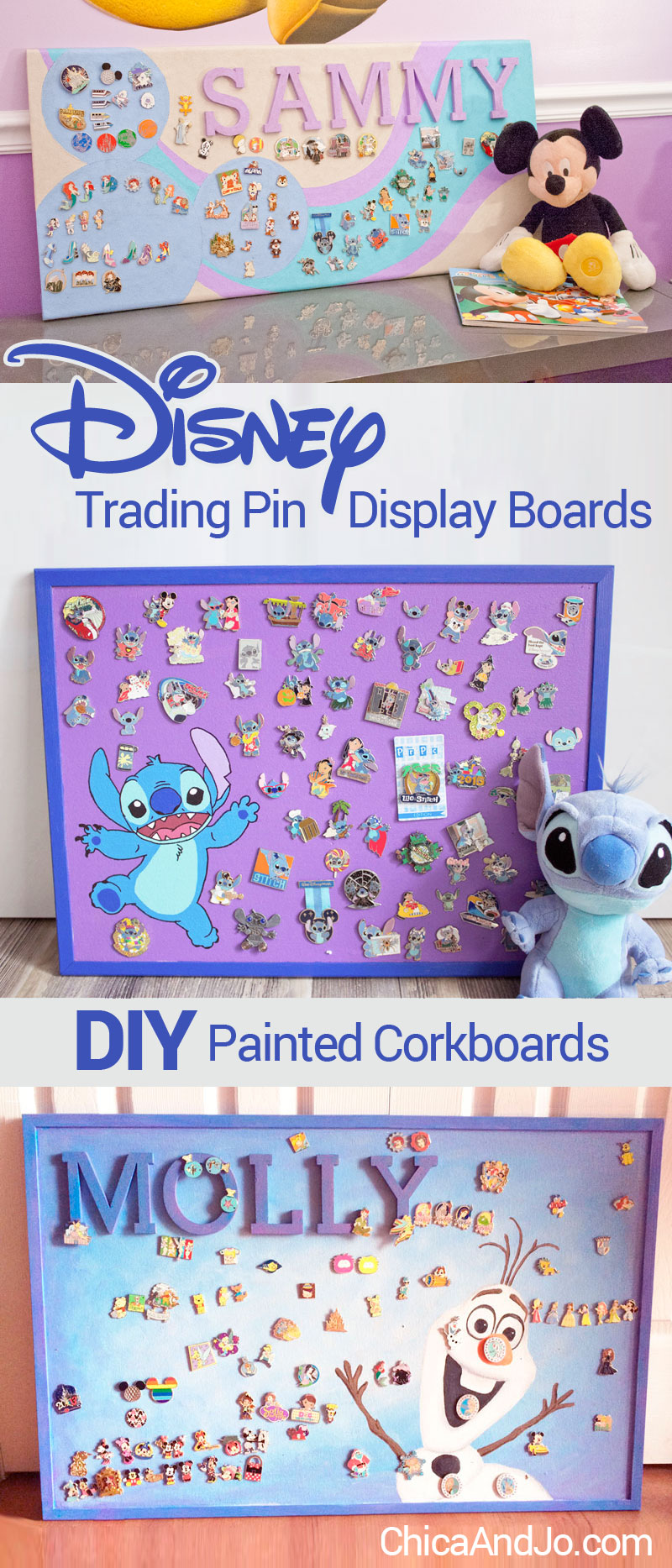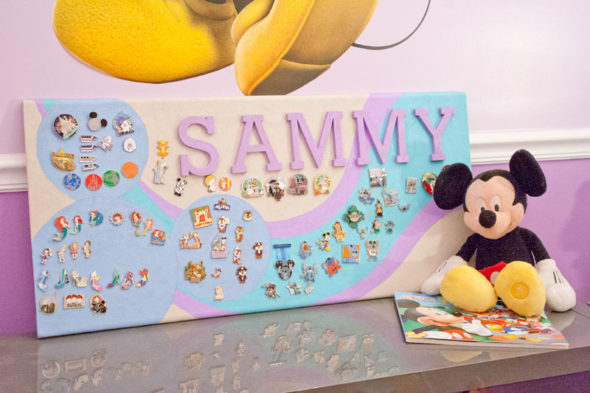 similar projects

leave a comment: