Refurbish a wooden knife block
by: Jo
McGeeky and I received a knife block as a wedding present 16 years ago. It's great and it holds our knives, but I never liked how it looked. Finally, this past weekend, I decided to turn it from the boring, plain, wooden block…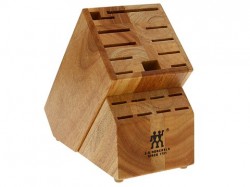 …into a fantastically chic and modern piece of kitchen decor!
The transformation was possible with some of DecoArt's new Multi-Surface acrylic paint and their "Retro Mod" mixed media stencil.
I basecoated my knife block with the "Dolphin" color of Multi-Surface paint and then did the stenciled image with the "Steel Grey". (Tip: clean your stencil quickly after use, or else this Multi-Surface paint will stick to it!) The paint went onto the slick surface easily and I didn't even have to prep my surface (except to clean it). Now, I need to move on to the uninspired napkin holder on my dinner table!
DISCLAIMER: DecoArt gave me the paint and stencils to do this project, but all opinions (good or bad) expressed here are mine.

similar projects

leave a comment: