Scooby Doo birthday party
by: Chica
A friend of ours had a Scooby Doo-themed birthday party for her 4-year-old son recently, and I jumped right in to help with party details. Kids' parties are so fun to plan, and I love Scooby Doo, so it was easy to find inspiration. I thought I'd share the details of what we did for the party with you in case you are also looking for Scooby Doo birthday party ideas!
First up was the invitation. I made a fun, folding invitation that looks like Scooby's face on the front, and opens up to a Mystery Machine-inspired insert with party details. I just love how the ears pop up, don't you? The envelopes were sealed with a sticker of Scooby's dog tag, which is something that shows up throughout the whole party.
And remember those fleece messenger bags I told you about a few days ago? I ended up making eight of them. I just love how they came out, and the collars and tags crack me up every time I see them.
The bags were to be "inspector kits" for the kids, so they could solve any mysteries that happened to crop up during the party. We got all sorts of fun little toys at Oriental Trading Company to fill the bags, including a notepad and pen for writing down clues.
A compass, magnifying glass, and flashlight were there to help the kids in their searches, and a pair of disguise glasses were just in case they needed to be stealthy. So fun!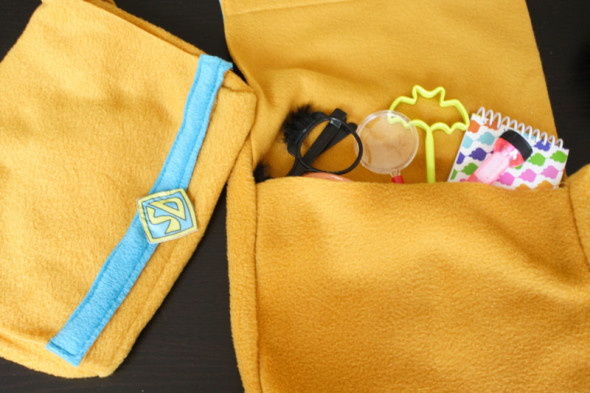 Speaking of mysteries, we set up a mystery hunt game for the kids. Scooby had been taken, and they had to find him! Fortunately, there was a clue that led them to another, and another, until they finally found a giant inflatable Scooby Doo in the garage. I wrote the clues on giant paw print cards. Oh my goodness, watching those kids run around the house with their magnifying glasses was hysterical.
For favor bags, we used printable Scooby Doo faces to decorate ordinary brown paper lunch bags. Instant Scooby!
We filled the bags with things like water, bubbles, and lots of Scooby Snacks, both purchased and homemade. I made a bone-shaped bag tag to top the snack bags.
And I made a coordinating water bottle label to decorate the drinks.
I used similar bone-shaped tags to label the food and snacks on the tables, which I put in inexpensive (new and clean!) dog food bowls.
The bone tags also worked great for labeling the present for the birthday boy!
The birthday cake had two layers. The top was decorated like Scooby and featured a ribbon collar and a dog tag. The bottom layer mimiced the Mystery Machine.Some plastic Scooby Doo gang figurines made the perfect cake topper, and the birthday boy got to keep them as toys afterwards.
For those who prefer their cake in smaller form, I also made some cupcakes, which we topped with dog tag cupcake picks. These might have been my favorite party of the whole party.
To continue the dog tag theme, we made the kids necklaces with blue ribbon and a dog tag. They loved them!
The finishing touch was a giant Happy Birthday banner that I made to coordinate with the decor of the party. I'd say the party was a smashing success!
If you're planning a Scooby Doo birthday party and would like some help with invitations, favors, and decorations, check out our Scooby Doo birthday party printables on Etsy.
The digital download has all the templates you need to make the following:
Customizable party invitations
Scooby face favor bags
Cupcake picks
Happy Birthday banner
Bone-shaped bag tags for snacks
Scooby Doo collar necklaces
Water bottle labels
Paw print labels / decorations
Dog bone labels / decorations
You can find lots of great Scooby Doo party supplies online, too. We used these Scooby plates and Scooby napkins, and these figurines are perfect for decorating the party space.

similar projects

leave a comment: