Harry Potter party
by: Jo
Little Jo loves all things Harry Potter. She has seen the movies more times than she can count and she is in the middle of reading The Goblet of Fire. It came as no surprise to me that this year when she said she wanted a Harry Potter birthday party. Be prepared for me to share A LOT of pictures with you!
I set up the Great Hall inside of our living room. McGeeky hung Darice LED white candles from the ceiling with clear push pins and fishing line. I used different sizes and varied the height. The look was fabulous when the sun set! To cover the wall behind the cake, I ordered a stone wall backdrop
.
I covered the tables in either Gryffindor red or Ravenclaw blue plastic tables cloths and decorated with candleabras
I collected from various places. I used clear, plastic plates on top of gold chargers. To add punch to the chargers, I printed the crests for Gryffindor and Ravenclaw on sticker paper, cut them out, and stuck them on. Having the clear plastic plate on top kept the food from messing up the logo.
To make the banners, I used my Artograph projector to project the Hogwarts crest, Gryffindor crest, and Ravenclaw crest onto foam core. I outlined the images with a pencil and then painted them in. I trimmed out the edges with some coordinating cording. The foam core made them lightweight and easy to hang!
Chica made the cake. She covered it with Wilton chocolate fondant that tasted like Tootsie Rolls! I can't even explain how she made the Sorting Hat cake. She just did, and Little Jo and I believe she used magic.
Our most outrageous party decoration was the suit of armor Little Jo and I dragged home one night. Yeah, McGeeky wasn't too thrilled about that purchase, but I think our armored friend looks right at home!
In the first book, Harry Potter and the Sorcerer's Stone, Harry must capture a particular flying key. I translated that by hanging feathered, vintage-looking keys from the dining room entryway.
Even Professor Dumbledore
took a few moments to pop in on the festivities.
I found educational decrees online and taped them all over one wall.
Next to the entry way, I had Hedwig the Owl in a cage near a box full of note pads and quills I made. I made the quills by purchasing feathers and snipping off the ends. I extracted the ball point pen ink holder thingie from a bunch of pens from McGeeky's office and inserted them into the feather. I cut them down if I needed to and then used white or black duct tape to secure them in place!
I already owned this old-fashioned ink well and we added some gold coins to signify Gringotts Wizarding Bank.
We of course made our Butterbeer recipe and served it at The Three Broomsticks!
Another wall was plastered with Harry Potter "wanted" posters.
My dear friend and co-worker, Donna, was so kind as to paint this fat lady portrait for the party. I placed it next to the front door for the party, but Little Jo immediately moved it to her bedroom door afterwards.
Ah, Honeydukes. The kids favorite stop at the end of the party! I ordered the Candy Shoppe cardboard stand
 and printed out a Honeydukes sign to go on top. We went nuts making custom boxes, labels, and tags for our Honeydukes candies. You can get all of our Harry Potter Honeydukes printables in our Etsy shop. We used these all over the party space!
For the Bertie Bott's Every Flavor Beans, I used our template and a piece of the transparent sheets and taped them to the inside before folding them up and adding the jelly beans.
The Fizzing Whizzbees are my favorite! I used a bee candy mold that I filled with melted chocolate. For the fizzing part, I stirred in Pop Rocks. That's right, Pop Rocks! It totally made the chocolate fizz in your mouth. So fun! We think the strawberry ones tasted the best in the chocolate. I used long plastic bags (the kind made for chocolate covered pretzel rods) which worked perfectly to hold the candies. Print the label, cut it out, staple it on and you have the cutest Harry Potter party favor ever.
You can get the bee mold I used for the Fizzing Whizbees in the Harry Potter candy mold kit available in our Amazon store, which also includes molds to make an assortment of chocolate Harry Potter themed chocolate lollipops. The kit even includes a bunch of sticks, bags, and twist ties!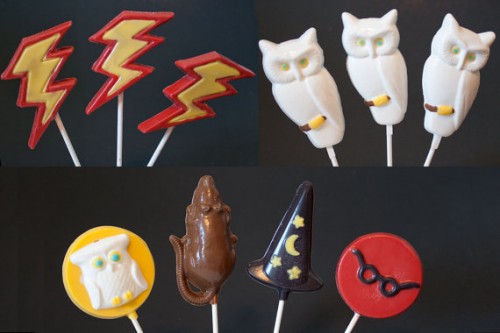 And what trip to Honeydukes would be complete without grabbing some chocolate frogs? I made these with the chocolate frog mold that's also included in our Harry Potter candy mold kit. And the frog boxes were made with a template included in our Harry Potter Honeydukes printables found in our Etsy shop.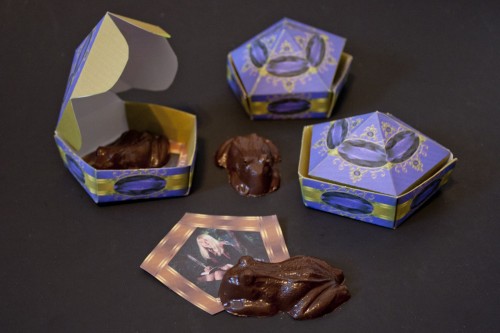 The Honeydukes printables collection includes a round Honeydukes logo printable that is perfect for giant suckers.
And the diamond-shaped Honeydukes logo was the perfect addition to plain brown lunch bags to create sacks for the kids to hold all of the treats.
To get the party started though, we sorted the kids into houses. Each guest was either placed in Ravenclaw or Gryffindor after the Sorting Hat
decided.
Once they were sorted, they had to attend classes! First up, Care of Magical Creatures taught by our good friend, Hagrid.
If you don't have a naturally bearded friend, you can try the caveman beard
out. Make sure you give him a pink umbrella!
The kids enjoyed a little animal husbandry up at our barn.
After a lesson, they needed some time to relax. What better way than Quidditch? The goals are smaller hula hoops attached to inexpensive tomato stakes. Little Jo bought her quaffle while we were at the Wizarding World of Harry Potter but you can also buy also buy a Quaffle online.
.
Next up, it was off to the dungeons for Potions with Snape!
I made Little Jo a Potions book for her studies.
I used our potion bottle labels for the class. Fill them with Tonic Water and watch how they glow with a black light!
A table set with cauldrons, candles and potion bottles.
That's McGeeky lighting the candles before class. He made a great Professor Snape! I couldn't get him to dye his hair black though! And by the way, that is actually my basement craft room. We draped the whole thing in black plastic to hide all of the craft supplies!
The final lesson of the day took the kids out of the dungeons and into the light for Herbology with Professor Sprout.
We luckily have a plant room at the back of our house. She told them about the properties of aloe and then they planted venus fly traps to take home.
All of that activity caused some ravenous appetites! Dinner was served with heaping platters of food back in the Great Hall!
The kids got to take home candy from Honeydukes, the robes my aunt made them, wands, Harry Potter glasses and t-shirts. A special thank you to everyone who worked so hard to make this party a forever memory for Little Jo.

similar projects

leave a comment: