Chalkboard cookie jar for Valentine's Day
by: Chica
We recently got a sneak peek of a new product from DecoArt and I'm so excited to tell you all about the project I created with it. I'm even more excited to tell you we've got a great giveaway of DecoArt products to go with it! More details about the giveaway at the end of this tutorial, but for now let me tell you about glass chalkboard paint.
DecoArt is introducing a new Americana® Glass Chalkboard Paint that's made specifically for use on glass, and — get this — it's dishwasher safe!
I decided to use the glass chalkboard paint on a glass cookie jar, so I gathered all the supplies I would need — the paint, some rubbing alcohol, a paper towel, some masking tape, and a cosmetic wedge for applying the paint.
Preparation of the surface is key with any paint, and especially this one. I used some rubbing alcohol and a paper towel to clean the glass thoroughly, to be sure there weren't any oils from fingerprints. Then I set the jar on a towel to keep it from rolling, and I masked off a rectangular frame with the masking tape.
Next, I used the cosmetic wedge to dab the paint onto the jar. If you've never used one of these for paint before, I recommend you give it a try. It's a great way to create a smooth painted surface with no brushstrokes, and it's the ideal applicator for this chalkboard paint.
One coat of paint isn't enough for a good solid coverage, so I did three coats until I got a perfectly smooth and rich black surface. Be sure to let each coat dry thoroughly before adding the next. When I was satisfied with the coverage, I removed the tape.
The most important part of this process comes next — you've got to let the paint cure and then bake it. I let my painted jar sit on a shelf for 4 days to be sure it was completely dry, then I baked it in the oven, according to package directions. It may be frustrating to have to wait so long to dry, but the results are worth it, because the finished piece will be dishwasher safe. Amazing!
Once the paint was all dried and cured, the next step was to condition it. My niece, Squirt, was eager to help me with this part. She rubbed a piece of chalk over the entire surface, then wiped it off with a paper towel.
Once conditioned, I was amazed at how well the paint took chalk. Squirt played around with it for quite a while, writing lots of messages on it. Each time, the chalk showed up bright and clear, and wiped away easily with just a paper towel.
The cookie jar was pretty neat already, but I wanted to decorate it for Valentine's Day. I also wanted the decoration to be removable so I could change it for other holidays. The solution was a package of cling vinyl that I found in a variety of colors.
While Squirt was drawing on the chalkboard, I traced a heart shape onto the back of the red and white vinyl and then cut a bunch of them out.
Then I wrote my final message on the chalkboard and stuck the hearts all around it, like a frame. I found that I had to spritz a light mist of water on the back of the vinyl to get it to stick. This was probably because my pieces were small and parts of them overlapped the chalkboard, which wasn't a shiny-smooth surface.
It only took a minute or two to create a sweet frame of hearts!
My favorite part about this project is that I can replace the hearts with other shapes for other seasons. I'll be sure to share the results with you in the future.
And now for that giveaway I told you about! Check out the basket full of DecoArt goodies we have to give to one of you lucky readers.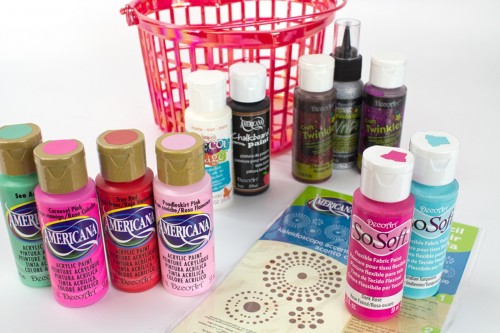 The winner will get a heart-shaped bucket filled with a selection of Americana® acrylic paints, some DecoPage medium, some regular Americana® Chalkboard Paint (sorry, the Glass Chalkboard Paint isn't available quite yet, but it's coming soon!!), a few bottles of Craft Twinkles glitter paint, some SoSoft fabric paint, and a Kaleidoscope accent stencil. If this collection doesn't inspire you to get crafty, I'm not sure what will!
To enter our giveaway, all you've got to do is leave a comment on this page giving me an idea for another shape I could use for the frame on my cookie jar. For example, I think holly leaves would look great at Christmas. We'll give you a week, then draw one lucky winner at random on February 21st.
Good luck!
RULES: One entry per person (determined by e-mail address). One winner will be chosen at random from all valid comments received by the deadline. Winners will be contacted via e-mail within 72 hours of giveaway end date. Winners must reply within one week with a mailing address or prize will be forfeited and new winner will be chosen. Giveaway open to US residents only and prize will only be shipped to a US address. Rules and deadline subject to change without notice.
WINNER: Congratulations to our winner, smpsprout, whose comment was:
17. smfsprout: This could be dressed up with animal shapes and filled with animal crackers – if you want to stick with edibles. You could also dress it up in different ways for both the bath and bedrooms.
smfsprout, the animal crackers are a great idea! We also love that you're thinking outside the box and and suggest using it around the house for storage. We hope you enjoy the collection of paints and other products we're going to send you. We're sure you'll be inspired to create something fun!
For those of you who didn't win, thanks so much for taking the time to enter. We love all of your great ideas, but our favorites were the doggie bones, beach scene, and after-school snack ideas. You guys are so creative!

similar projects