Recently, I had a bunch of friends and family over to my house for a Social Artworking party. The concept behind this is that you and your guests paint a 16×20 canvas using easy-to-follow instructions and a pattern. Add in some adult beverages and yummy food and you have a night of great fun that provides a unique alternative to a traditional party.
The guys enjoyed the painting experience just as much as the ladies. I chose to do the bowl of cherries as my design and did a vintage theme around it. I served vintage cocktails like Tom Collins and Side Cars and had a blue/red color palette. The most fun was making everything in tasting dishes. There's something about little food that makes me smile!
Chica helped out by bringing individual cherry trifles as our signature dessert. I used mini cherry pies and individual banana puddings as well. What's more vintage than banana pudding?
As a general party supplies tip, I recommend you visit Shop Sweet Lulu for unique and adorable party decorations. She is now my first stop for all things party!
Stay tuned, I am going to plan a Christmas canvas painting party for Little Jo and her friends!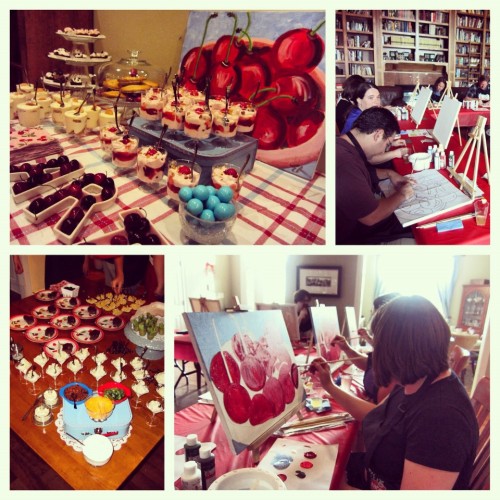 If you liked this, check out these similar projects: