Easy canvas wall art
by: Jo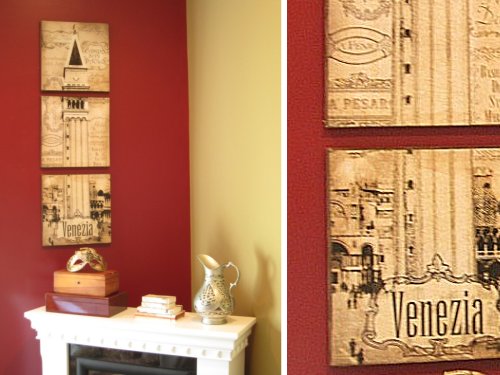 This project was totally inspired by our friends Ken and Jeremy over at Vertigo Graphic. Head over and check out their site for lots of crafting inspiration! One of my favorite stops on our cruise this last summer was Venice. It was magical! I like to decorate my bedroom with art that was either collected on or inspired by my travels. I found a Venice poster at Michaels a few weeks ago and knew I wanted to give it the same treatment that Ken and Jeremy did with a Paris poster.
I started with a St. Mark's Square poster and three 12×12 canvases. I measured my poster into three equal 12×12 squares and cut them up.
The poster I started with worked really well for three canvases of that size, but your poster might work better with different sizes of canvas. Try to match your starting poster size as close as you can to the canvases you want to buy for the project.
After cutting the poster, I painted my canvases along the edge and around the outer edge of the top a dark chocolate color.
Once the paint dried, I applied a layer of decoupage medium over the whole thing. Here's a tip for you — soak your poster pieces briefly in water before putting them down onto your decoupaged canvas. This will loosen the fibers and make it easier to smooth out. Use a brayer to work out the wrinkles and bubbles, starting in the middle and working towards the edges.
I allowed my canvases to dry thoroughly and then trimmed off any excess poster paper that hung over the edges.
Next, I mixed some glazing medium with my brown acrylic paint and sponged it around the edges of each poster section to give it an aged look.
The final step I took was to use sandpaper along the edges to get rid of jagged cut lines and distress it even more. Since the sanding left white paper showing, I used a Distress Ink pad to go over the sanded edges and make them look better.
I love how I have custom art work now for my wall! It was a lot of fun and such a simple project. I had a hard time making myself stop working on this project. I kept wanting to add layers but decided that in the end, sometimes less is more!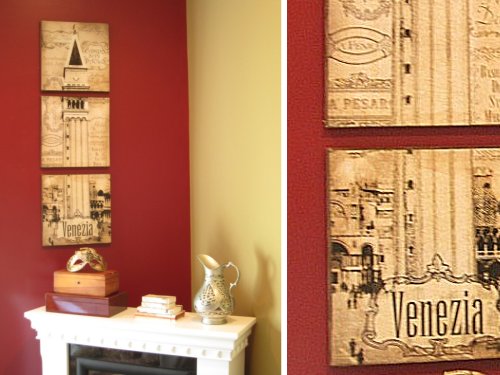 similar projects

leave a comment: