I love trying out new products, such as the DecoArt's new Ink Effects that I teased you about on Facebook last week. Well, now I can tell you about my experience using it. I have some tips to share along the way to make your project as successful as possible. Also, check out the DecoArt Ink Effects website for more inspiration and tutorials. Oh, and by the way, DecoArt did send me the product to play with, but the opinions are, as always on our blog, all mine. Let's get started!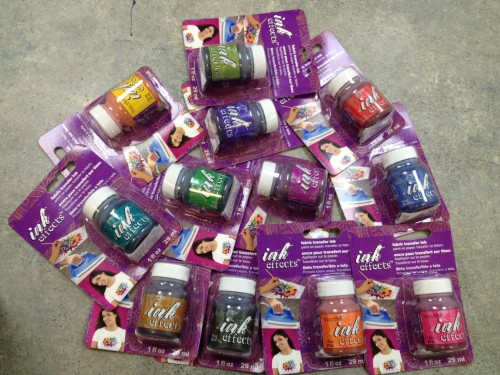 My first project with these inks was for Little Jo. She loves roller skating and her last birthday party was at the local roller rink. For her invitations, my co-worker, Jenny, designed a custom roller skate image for me to use (and for us to share with you). For this project, I shrunk the image down a little and printed it a few times onto a plain piece of paper. I used a laser printer to do mine, which means the toner's black lines will faintly transfer to the finished fabric piece. If you do not want the lines at all, make sure you use an inkjet printer or a photo copy. You can also use these inks with coloring book pages or just make freehand designs.
After printing my design, I painted it with the Ink Effects. A couple of more tips here:
If you want the black lines to show up on your finished project, paint them with black ink. I am hoping DecoArt comes out with this ink in a pen because I do not have the steadiest of hands with a brush!
The color that appears on your painted image is not the same as what it will look like when transferred. Look at the dots on top of the bottles in the right picture below to see the finished color. Totally different than the colors on the painted design below. Go by the dots, not the paint!
Then I waited for the images to dry. This takes about 45 minutes. Once dry, I got out the iron and set it on the cotton setting. McGeeky was very confused when I asked him where the ironing board was, because he knows that I don't actually iron clothes — I just use it for craft projects!
I laid out one leg of my tights, placed the image towards the top, and covered with another sheet of copy paper. Since you have to iron for about 30-45 seconds per image area, I didn't want to scorch the tights underneath. The extra sheet of paper (or a pressing cloth) will prevent that. To transfer the image, I pressed firmly and slowly moved my iron around.
When I peeled away the painted design, I couldn't help but marvel that it looks so cool! You can use the same painted design up to three times. Just keep your iron on for 60 seconds or so the next time to be sure the ink color is as intense as the first time. Peel up a corner of your design to make sure it transfers how you want.
I used two sets of two roller skates to complete each leg. I wish I had reversed the image for the other leg but I didn't think of it until I was finished with the tights. Lucky you though — I reversed the image on the download for you.
The right image below shows my hand inside the tights stretching them. Notice how the Ink Effects has absorbed into the fabric so that the paint does not crack when stretched. You can't even feel that it is there! You certainly don't get results like this with regular iron-ons or fabric paint.
Little Jo loves her new tights. I can't wait to make more for her and Mini Me for Halloween and Christmas. Here are a few more parting tips about Ink Effects:
Use light colored fabrics. The transfers work best on synthetics, and not at all on silk (just so you know).
If your fabric contains more than 30% cotton, you will need to use the base coat product first. Spray this on, holding your fabric vertically, and allow it to dry for 45 minutes. Only spray the area where your design will be.
Don't toss the painted papers after you are done with them — used designs would make great faded, grungey background images on another piece.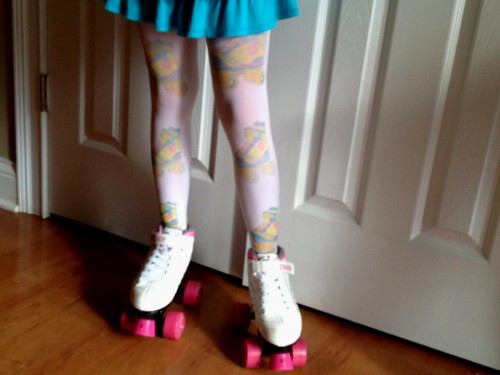 If you liked this, check out these similar projects: