Girl Scout cookie cupcake recipe – Peanut Butter Patties
by: Chica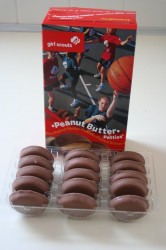 Get your sweet tooth ready, because I'm here with my third and final recipe for cupcakes inspired by Girl Scout cookies! I've already shared recipes for Thin Mint Girl Scout cookie cupcakes and Lemonades Girl Scout cookie cupcakes, and I'm rounding the collection out with my all-time favorite, the Peanut Butter Patties.
As a kid, I savored each and every Peanut Butter Patty cookie from that familiar red box, although where I grew up, we called them Tagalongs. It's interesting how the same cookies have different names in different areas of the U.S., and I'm really not sure why they do it. Regardless, these cookies will always be Tagalongs to me, just as Caramel Delights cookies will always be Samoas. I suspect about half of you will agree!
For this recipe, the key component I had to include was a smooth and rich layer of peanut butter, of course. I also made sure to add a cookie crunch and a coating of milk chocolate to round it out fully. Jo and I both think this is our favorite of the three cupcake recipes I've come up with, although the Lemonades are very close behind.
Cake ingredients:
1/4 cup melted butter
1/4 cup sugar
1 cup ground Nilla Wafers
1 box of French Vanilla cake mix and whatever ingredients the box requires (usually eggs, oil, and water)
Preheat the oven to whatever the cake mix directions state, then work on the crust. Jo and I actually taste-tested several types of cookies/crackers to get the closest match to the cookie in a Tagalong (tough job, right?) and we found that Nilla Wafers worked the best. Grind some up in a food processor and add them to the butter and sugar,
Mix it thoroughly until the mixture resembles wet sand. Then use a spoon to distribute the crumbs evenly among 24 cupcake liners.
Using the same trick I showed you for the Thin Mint cupcakes, press a small measuring cup down into the liner to pack the crumbs down into a nice, flat layer. Bake the crusts for 3 minutes just to get them set, then pour in your prepared French vanilla cake batter and bake according to package directions.
While the cupcakes bake and cool, you can work on the decadent part — the frosting!
Frosting ingredients:
1 cup (2 sticks) softened butter (not margarine!)
1 cup creamy peanut butter
1 tsp pure vanilla extract
3 cups powdered sugar
12 oz bag of milk chocolate chips
2 tbsp vegetable shortening
chopped peanuts (optional)
By the way, I know I tell you on all my recipes how important it is for flavor to use real butter instead of margarine, but this time I really, really mean it. There is a LOT of butter in this frosting, which is what makes it so good. If you use margarine, well, I can't be held accountable for whatever you end up with!
Whip the butter in your mixer until it's smooth, then add the vanilla and mix until incorporated. Add the peanut butter and mix again until very smooth and creamy.
Add the sugar and mix until thick and lovely, taste it, and tell yourself repeatedly not to eat it all.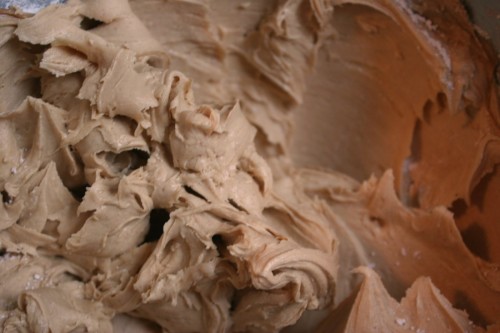 To quickly and easily frost the cupcakes, put the heavenly peanut butter frosting into a disposable icing bag (no tip needed) and cut a pretty fat hole in the end, then just pipe swirls onto the cupcakes.
Put the chocolate chips into a glass bowl and heat them in the microwave until almost melted, then stir in the shortening. Why shortening? Two reasons. First, it will thin down the chocolate so that you can get a thin coat and it won't be all clumpy on the cupcake. Second, it will keep the chocolate from getting too hard after it cools, which means that you'll be able to bite into the cupcake much more easily.
Return to the microwave another 30 seconds or so to completely melt the shortening, and stir well. The chocolate should be nice and smooth and fairly thin and runny. Let the chocolate cool a bit before continuing, so that you don't melt your frosting.
Now it's time to dip! Take a cupcake and dunk it upside down into the chocolate, just until the frosting is submerged. Then lift it up in a smooth motion, and let it hang upside down a few seconds so the excess chocolate drips off.
Flip it right side up and you should have a nice smooth coating of chocolate on top. I like to add a few chopped peanuts to the top while the chocolate is still melted. Admittedly, there are no peanuts on a Tagalong (or Peanut Butter Patty for the rest of you), but this serves as a hint to the flavors inside, and is an appreciated "red flag" for those allergic to peanuts.
But honestly, I mostly add the peanuts because it looks pretty.
These cupcakes are so decadent on top, and the French vanilla cake adds a lovely light touch to the peanut butter. And the chocolate coating is pretty awesome, too!
I gotta say that I am now sort of addicted to having cookies in the bottom of my cupcakes. I had no idea how great a little crunch would be, but I really love it. Especially this one.
I hope you all enjoyed my trio of Girl Scout cookie-inspired cupcake recipes. I certainly enjoyed creating (and eating!) them. I hope I covered at least one of your favorites!

similar projects

leave a comment: