Quilled paper Easter eggs
by: Chica
I usually try to do something a little different each year for my Easter eggs, so Jo and I were brainstorming recently about traditional crafts that we could apply to the gloriously versatile Easter egg. We decided to give paper quilling a try, and I did a test run this week. I'm so happy with how they came out that I just had to share it with you all.
Paper quilling is something I've been wanting to try my hand at for a while. It's appealing not only because of the fun things you can create, but also because it takes minimal supplies to get started. You just need some ordinary white glue, a toothpick, and a pack of quilling paper. Quilling paper is basically long strips of paper that are super thin and come in any color imaginable. I love just looking at it!
There are lots of great paper quilling books that can teach you some amazing techniques and patterns, but for this project I'm going to show you some quick basics that will enable you to make a bunny, duck, and flower design for your Easter eggs.
All paper quilling starts with rolling the strips of paper into a spiral. I like to do this by wrapping it around a toothpick. Just put the paper against your finger and lay the toothpick on top.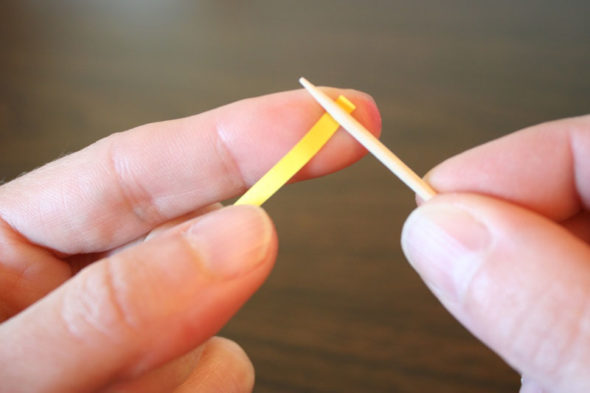 Then use your finger and thumb to curl the the end of the paper tightly around the toothpick.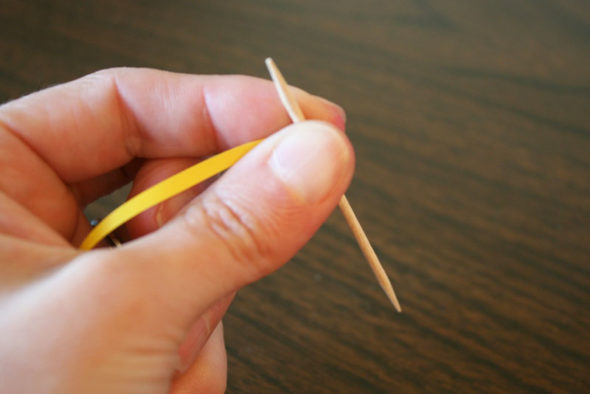 Keep on going, wrapping tightly, until the whole strip is wrapped. The length of paper you'll use will depend on how big of a circle you want. For my Easter designs, I used 8″ strips of paper for the larger coils and 4″ for the smaller ones.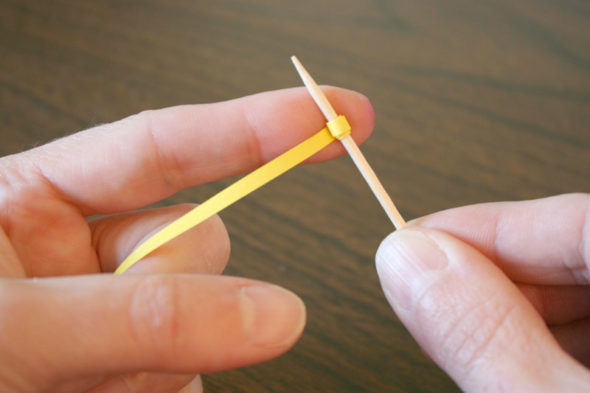 When you're done, just slide the spiral off the toothpick. If the center pulls out of your coil while you're pulling it off the toothpick, just use your thumb and finger to press the inner parts of the coil back in, so it's flat again.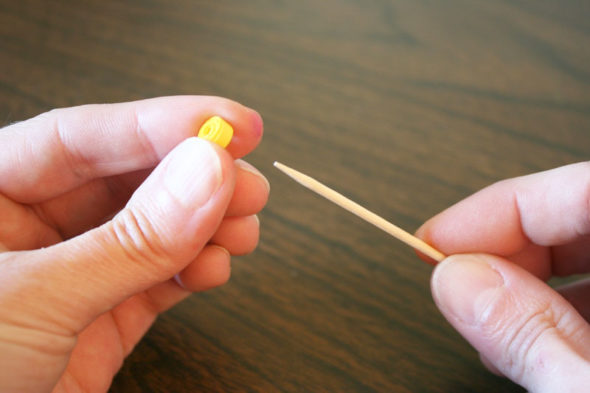 Then just let go of the coil and let it relax. It will unwind slightly, which is exactly what you want it to do.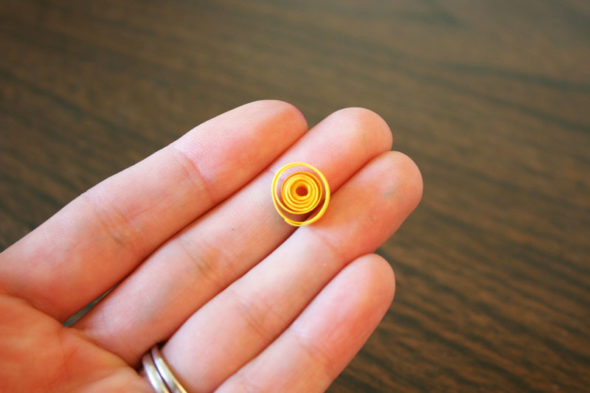 If you're aiming for an exact size, you may need to tighten or loosen the coil a little to get it just right. Then use a toothpick to apply a little dot of ordinary white glue to the end of the paper. Use your finger to hold it in place for a few seconds until it dries.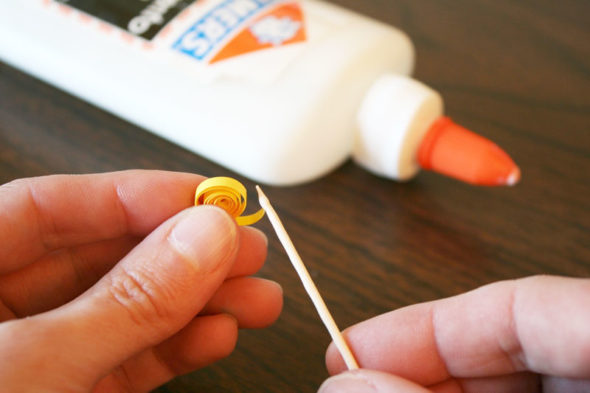 For the duck, you'll need two yellow spirals, one larger than the other. Since my paper was only 8″ long, I had to uncoil the larger one quite a bit to get it to be big enough. If I had used longer paper, it would've been a bit easier, but I rather like the open look I ended up with.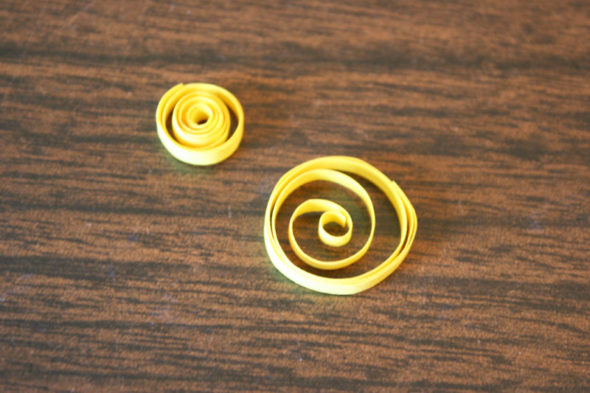 One of the most popular techniques with quilling that will let you create tons of different effects is a simple pinch. To do it, just put your fingers on each side of the coil and bring them together, pinching the edge into a point. Pretty easy, right? You just made the duck's body!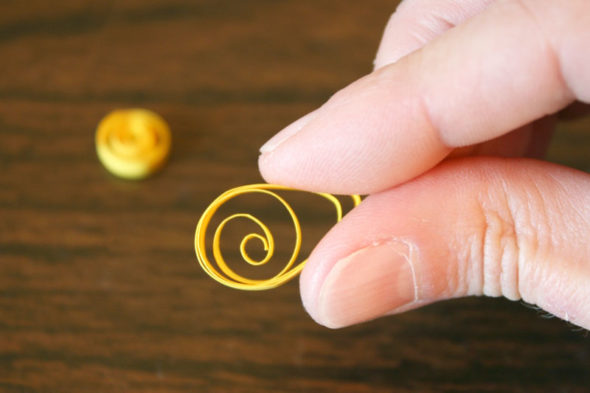 Use a dab of glue to attach the smaller coil to the larger, pinched one.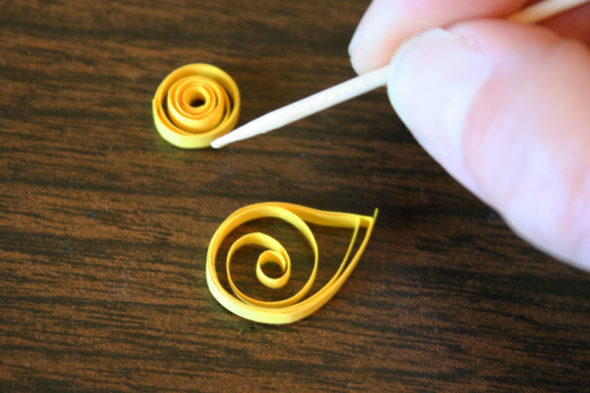 Gently hold the pieces together until the glue dries.
This duck is really coming together now! All he needs now is a beak, and that's easy enough to do with a tiny piece of orange quilling paper. Just fold it into a V shape and glue it to the duck's head.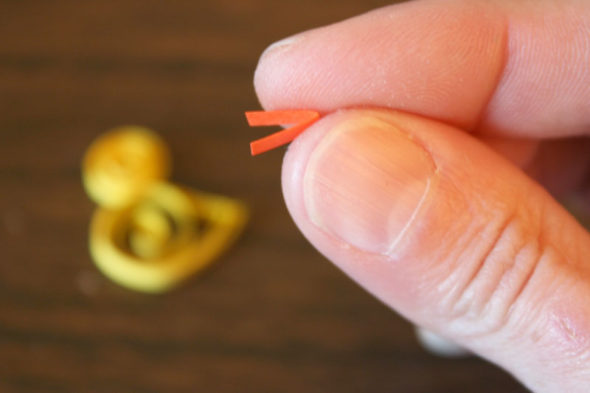 Just look at how cute this little guy is!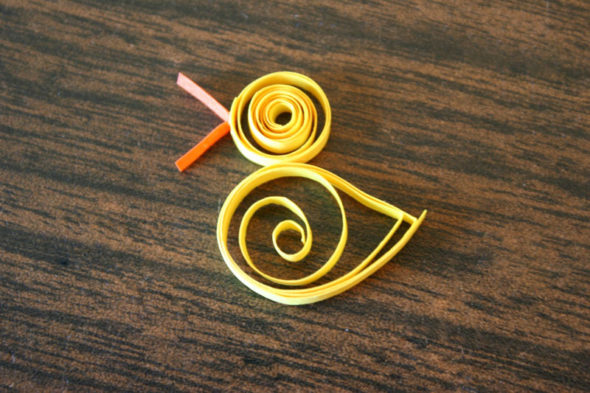 Next up is the bunny rabbit, and he's pretty easy to make, too. You need one large coil, one medium one, and four small ones, all in pink.
Leave the large spiral round, but pinch the medium and small spirals into points.
Then arrange the pieces into a body, head, ears, and feet, and you'll have a bunny before you know it!
Lastly, you can make a simple flower with one tiny orange coil, five small purple ones, two medium green ones, and a small strip of green paper.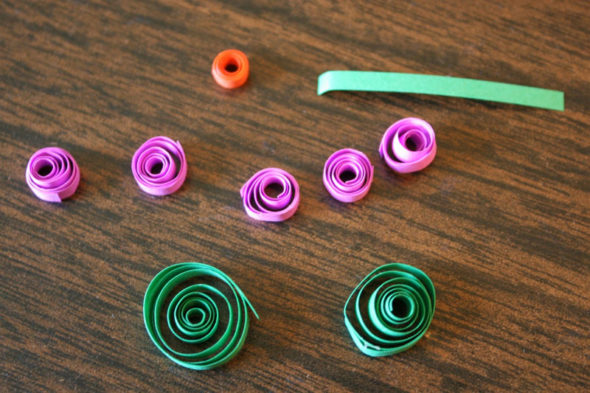 To form the leaves, pinch the two medium green coils twice each so that they have two points.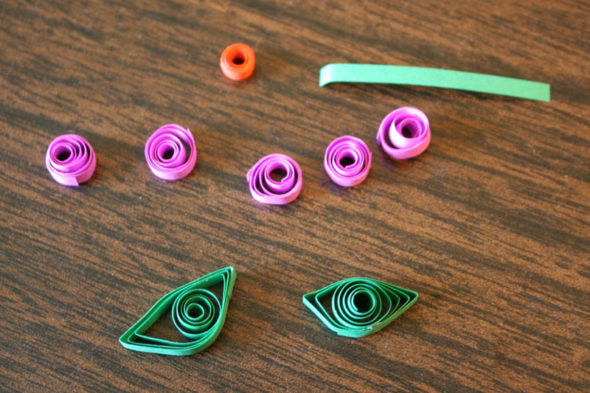 Glue the pieces together and you've got a pretty flower. Of course, you can easily swap the purple for other colors if you'd like.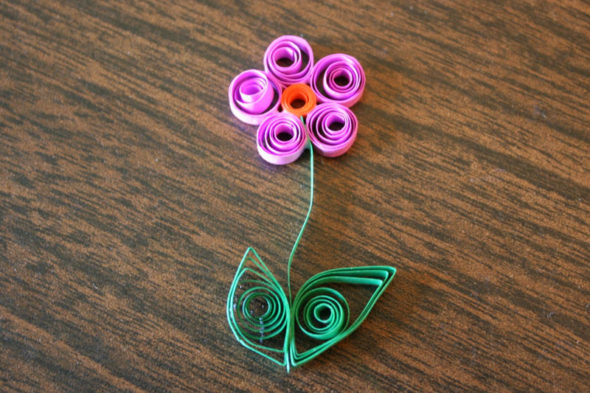 I think my quilled creations are so adorable! I'm putting these quilled paper designs on Easter eggs, but they could easily go on a greeting card, frame, scrapbook, or just about anything.
To attach the designs to the eggs, just use a toothpick to add some white glue to the backs. Make sure you use a non-toxic craft glue like Elmer's so that your eggs will still be safe to eat.
With the egg resting on a piece of paper towel or foam to keep it cushioned and stable, put the quilled paper on the egg and hold it in place for a little bit until it sticks.
To display the eggs, you can use more quilling paper to form small loops that will work as stands. I am completely in love with these sweet little quilled paper Easter eggs!

similar projects

leave a comment: