Girl Scout cookie cupcake recipe – Lemonades
by: Chica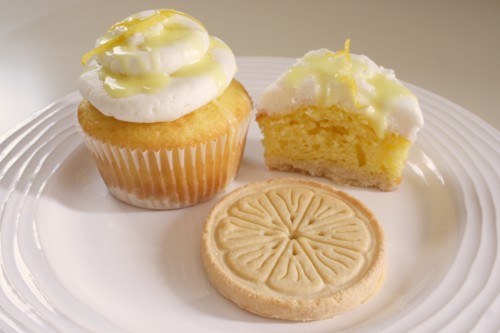 Both Little Jo and my niece, Squirt, have been selling Girl Scout cookies over the last few weeks, and we've all been eating them like crazy. I swear, sometimes it's like My Honey can eat a whole box of them before I can even turn around! We're all enjoying the plethora of cookies now, but what happens when they are all gone? What about 6 months from now when the stash is depleted and you're craving those yummy Girl Scout cookie flavors?
To avoid this disaster, I decided to develop cupcake recipes that are inspired by three of my favorite flavors of cookies. These cupcakes don't use the cookies themselves as an ingredient, because the point is to satisfy the craving when cookies aren't available. Instead, my recipes will carry on the flavors of the original.
First up is one of the newer cookies to the line-up, introduced in 2006 — the Lemonade. This is a shortbread cookie with a tangy lemon icing on the back. Everyone who has tried my cupcake version of this cookie says I hit it out of the park. With rich buttercream and lemon flavor bursting at the seams, I'll have to agree!
Cake ingredients:
3/4 cup softened butter (not margarine!)
1/3 cup powdered sugar
3/4 tsp vanilla extract
1/4 tsp salt
1 1/2 cup flour
1 box of lemon cake mix and whatever ingredients the box requires (usually eggs, oil, and water)
Preheat the oven to whatever the cake mix directions state, then start by making a shortbread dough. Mix the powdered sugar and 3/4 cup of butter until smooth and creamy. Add the vanilla and salt and mix well. Then add the flour.
Mix the dough well until it pulls together and forms large clumps. It will look too dry at first, but resist the temptation to add any liquid. Just let it keep mixing and it will come together after a minute or two.
Divide the dough evenly among 24 cupcake liners and use your fingers to press it firmly into place. If the dough is very sticky, dust your fingers with powdered sugar to make it easier on you. You should have about a half inch of dough in each cupcake.
Then mix up a batch of your favorite lemon-flavored cake mix (my favorite brand is Betty Crocker SuperMoist) and ladle it right onto the uncooked shortbread dough. And don't feel bad about using a mix, either… you're doing to work hard enough with all the other steps, so this is a totally fair shortcut.
Cook the cupcakes according to package directions. While they are baking, you can go ahead and work on the lemons. You'll need two lemons, and PLEASE, make sure you use real lemons and don't try to get by on that preserved stuff that comes in a jar or bottle. It will make all the difference in the world!
First, use a lemon zester to make a pile of long, thin shavings of the lemon's peel. Then use a microplane grater to make another pile of tiny confetti with whatever yellow is left on the lemons. Be sure to only take the yellow part, and not grate down into the bitter, white part of the peel. Then juice both lemons and strain out the seeds. You'll need the zest and juice in the remaining steps.
Frosting ingredients:
1/2 cup softened butter (not margarine!)
1/4 cup shortening
1 tsp vanilla
4 cups powdered sugar
1/4 cup lemon juice
1 tsp lemon zest
Mix the butter, shortening, and vanilla together in a stand mixer until creamy. Add the sugar and lemon juice and mix (slowly at first, or it will splash) until fluffy. Add the zest and mix until incorporated. At this point, take a moment to taste this wondrous concoction you've just created, because you'll hardly believe how good it is!
When the cupcakes are completely cooled, put the frosting into a disposable icing bag with the point cut off (no decorator's tip necessary) and pipe it onto the cupcakes.
Glaze ingredients:
1 1/2 cups powdered sugar
1/4 cup lemon juice
yellow food coloring
Mix the powdered sugar and lemon juice together to make a quick glaze. This will really add some amazing lemon flavor to the cupcake. Add a little yellow food coloring to get a nice lemony yellow color.
To keep this next step from being a pain to clean up, put the cupcakes on a rack and place some paper towels underneath. Then drizzle a spoonful or two of glaze onto each cupcake, letting it drip off the sides if it wants to. Before the glaze dries, add two or three bits of lemon zest to the top of each cupcake.
These cupcakes are gorgeous and taste every bit as good — or better, actually — then the original Lemonade cookies!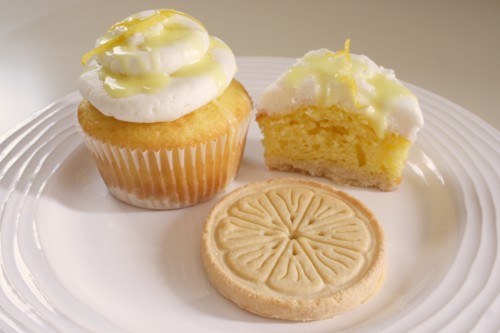 The shortbread will cook up to a crunchy cookie on the bottom which will really surprise your friends as they bite into it. The rich and tangy frosting is a perfect compliment, and that glaze will set your taste buds into orbit.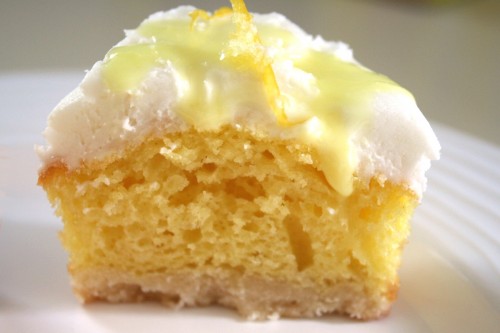 So that's one Girl Scout cookie cupcake recipe down, and two to go. Anyone want to guess what the other two cookies are that I'm going to work with?