St. Patrick's Day Hershey's Kisses
by: Chica
Jo and I were talking about Hershey's Kisses the other day and wondering why they don't come in green foil around St. Patrick's Day. This seemed like even more of a travesty when we realized that those little kisses would go so well with the most common St. Patrick's Day phrase there is — "Kiss me, I'm Irish". And with that, inspiration was born, and I decided to make my own.
The first thing I did was design some tags. You can download our free "Kiss Me, I'm Irish" tags and labels to create and decorate your St. Patrick's Day Hershey's Kisses.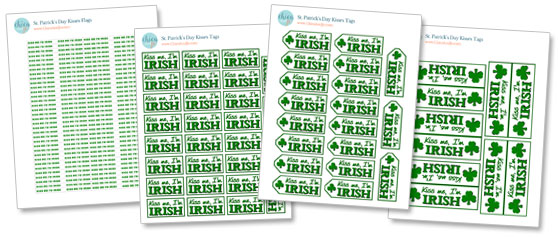 The most important part of a Hershey's Kiss is the little paper flag, so let's make our own with the phrase "Kiss me, I'm Irish" printed right on it. To be authentic, we want to use tissue paper, but tissue paper is too thin to put in your printer. So I came up with a clever method for printing on tissue paper!
Cut a piece of tissue paper to around 12″ x 15″ and put a piece of regular 8.5″ x 11″ copy paper on it.
Then start folding over the edges and taping them down, wrapping the tissue around the back of the paper.
When you get to the corners, be sure to fold the tip under and tape it down so that the edges of the paper are nice and smooth. Otherwise, they might get caught up in the printer, and nobody wants that.
Make sure you tape down all the edges so that it's smooth.
Flip it over and now you've got a perfect sheet of tissue paper that's ready for the printer!
Then print the flags from our template right onto your new sheet of tissue.
Now for the only part of this project that is kind of annoying — you've got to cut out all those little flags. I found it easiest to cut the tissue while it was still taped to the paper, because it kept it stable so it didn't fly around all over the place. I also found that a paper trimmer didn't work well, but just shredded the tissue, so you're going to have to do this by hand with scissors.
It'll be worth it, though, because just look at those adorable little flags!
Next up, you need some green foil candy wrappers.
The ideal size you want is 2.5″ x 2.5″, since that's how big the original Kiss wrappers are. If your wrappers are too big (like mine were), just made a little cardboard template and use that as a guide to cut them down to size.
Now for the fun part – wrapping the candy! Start by putting one piece of foil, green side down, on the table. Add one of your flags so that it's half inside the foil and half out. Then place an unwrapped Kiss in the center of the foil, on the end of the flag.
Then just wrap the foil up around the candy and press it firmly around the contours of the Kiss.
Aren't they adorable? Oh, just imagine the possibilities of custom Hershey's Kisses!
These St. Patrick's Day kisses are pretty awesome as they are, but to take them over the top, I decided to package them up so that I could give them as gifts. I came up with three fun ways to package them, and I'm going to show you all three.
The first two methods depend on an unusual item, a quarter size plastic coin tube.
These tubes just so happen to be the perfect size to hold three Hershey's Kisses. If you want to make a lot of these, you may want to look at buying them in bulk.
These little tubes need some decoration, though, so my first packaging idea involves adding adhesive labels. To make these, print our template onto a sheet of sticker paper, then just cut them out and add them to the sides of the tubes.
My second idea was to add a tag to the tube. To do this, I printed the tags from our template onto white cardstock and cut them out. Then I punch a hole in the end of each one, right in the middle of the shamrock.
Then I just used some coordinating ribbon to tie the tags onto the tubes. So cute!
In case you want to give someone more than three kisses, try my final packaging idea to create St. Patrick's Day treat bags with cute toppers. To do this, print the bag tags from our template onto white cardstock, cut the toppers out, and fold them down the middle.
These toppers are sized to work perfectly with 3-3/4″ clear treat bags, but you could also use 4″ wide bags if that's what you have. Add about a dozen kisses to the bag, fold the top over an inch or so, and slide the cardstock topper over the fold.
Secure the topper on both sides with a staple, and you're all set.
If you're looking for a fun way to celebrate St. Patrick's Day with your friends or an easy and unique favor for your kids to share with your classmates, I hope you'll give these St. Patrick's Day kisses a try. They're so cute I almost don't want to eat them!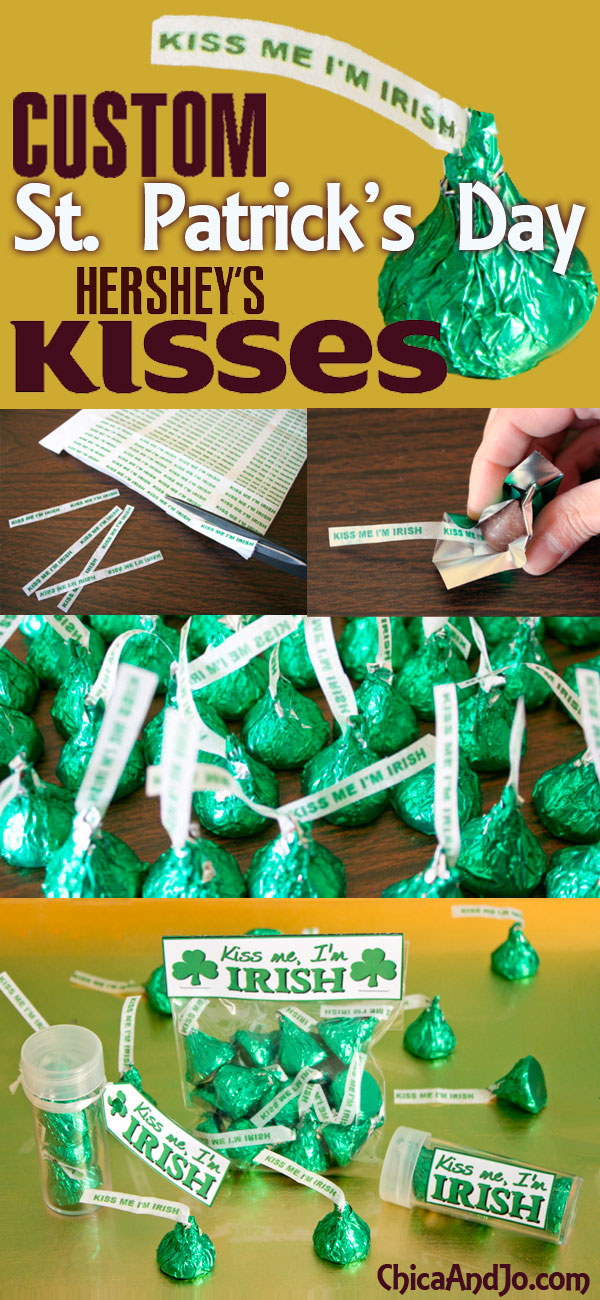 similar projects

leave a comment: