Valentine's Day appetizers
by: Chica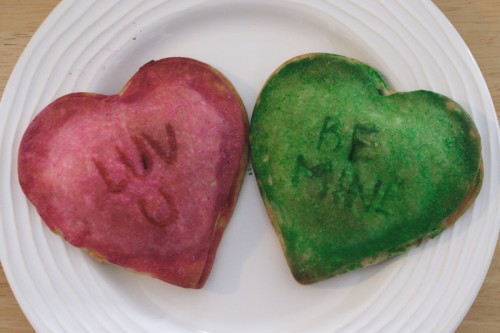 My mother invited me to join her and her friends for their monthly BUNCO game last night, which also included a potluck dinner. The theme was Valentine's Day, so I noodled all day until I came up with an idea for a dish I could bring to share with everyone. I figured a lot of folks would make sweets (I was right — boy we had some great desserts!) so I wanted to come up with something savory. What I finally settled on was heart-shaped loaded mashed potato pies. Sounds yummy, right? Well, they are!
I started out with about 2 cups of mashed potatoes and added about a half cup of shredded cheddar cheese, 1/4 cup of bacon bits, and a handful of chopped green onions, then stirred it all together.
I used a large heart-shaped cookie cutter to cut pieces of pie crust. I used the refrigerated pie crust that comes rolled up in the grocery store. It tastes great and saves so much time. I was able to get 6 hearts out of each circle of dough.
I arranged half of the crust hearts on a cookie sheet and put a big spoonful of the potato mixture onto each one.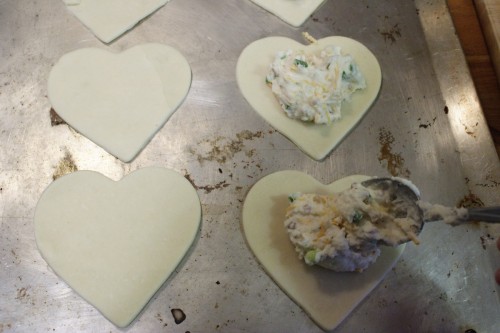 Before adding the tops to each heart, I first used my finger to put a little water on the bottom crust, all around the edges. Then I put the top crust on.
I pressed the edges down carefully but firmly, so make sure they were sealed. At this point you can cover the pies with plastic wrap and let them sit if you need to, then bake them when you're ready to eat. I let mine sit about 3 hours, but I think overnight would probably work too, as long as they are covered very tightly.
The pies cooked for about 10 or 15 minutes in a preheated 425 degree oven, until golden brown.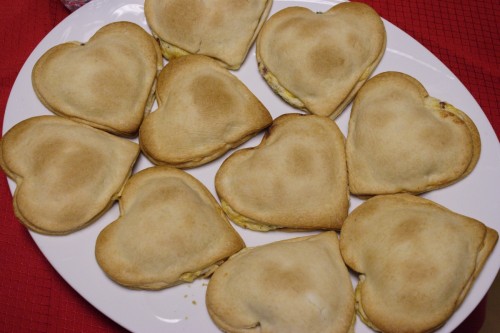 They came out so pretty and were a big hit at the party! The loaded potatoes on the inside were heavenly with the cheese and bacon mixed in. I served them with sour cream for dipping and it was a fantastic combo.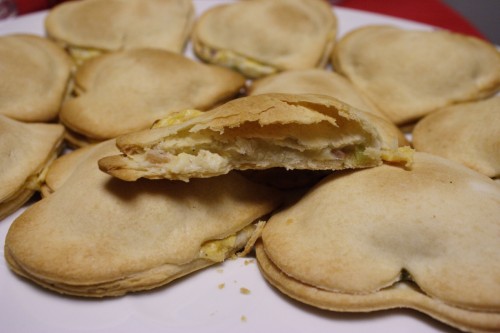 You could easily stop here, but if you want to take them over the top, then here's another idea. See, there were two leftover pies from the party last night, and as I got ready to warm them up for my lunch today, a brilliant idea popped into my head. What if I could add color?
First, I used some Wilton Food Writer markers to write messages on the pies, like you see on the classic Valentine conversation hearts. I had to be very careful not to press too hard and ruin the flaky crust.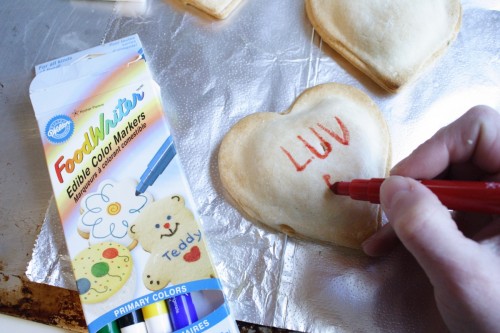 Then I melted some butter and mixed in some food coloring gel to tint the butter pink and green.
Then I brushed the butter onto the hearts, which were on a foil-lined pan.
I reheated the pies for 10 minutes in a 350 degree oven and voila – colorful conversation hearts! The butter added an extra yummy flavor to the pies, too. Next time I make these, I'll try adding the color before the first baking.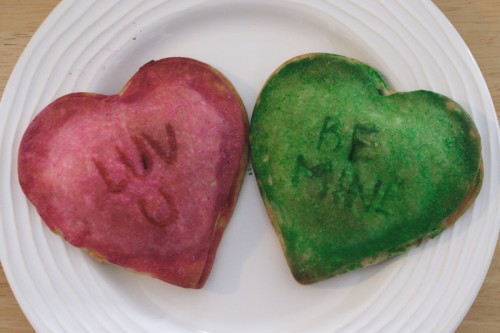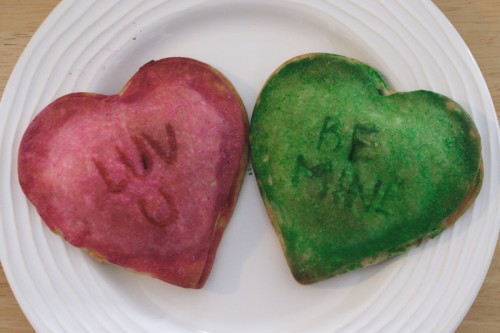 similar projects