Geeky Valentine candy
by: Chica
Nothing says Valentine's Day like heart-shaped boxes of chocolates! I like to surprise my Honey with several of the tiny boxes, which I'll tuck in his bag, truck, or around the house. They are inexpensive and it's so fun to get a bunch of little gifts all day. However, I don't always like the way the little boxes are decorated in the store, so this year I decided to make my own design.
We are in a pretty geeky household, so I figured I'd go with a computer-themed Valentine design. I started with an old motherboard and some keys from a keyboard. Then I added some words on labels that I made with my retro embossing label maker and took a picture of the whole thing. You can use my image too — just download our free Geeky Valentine printable.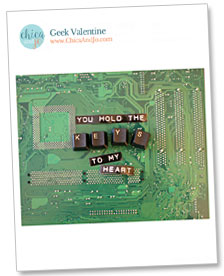 After you download our template, just print it into a sheet of sticker paper and grab a mini box of chocolates.
Peel the backing off the sticker sheet. (If you don't have sticker paper, you could just use regular paper and a glue stick.)
Hold the lid of the box and the sticker sheet up to the light to help you center the design on the box, then press lightly into place.
Put the piece on the table, image side down, and press more firmly, to make sure the sticker has good contact all over the lid.
Then use some scissors to trim away the excess sticker.
Then put your new lid on the box and that's it, you're done!
Isn't this custom geeky Valentine's Day candy heart so much better than the boring ones in the store?
What a quick way to turn an ordinary box of chocolates into a cool gift for the computer geek in your life.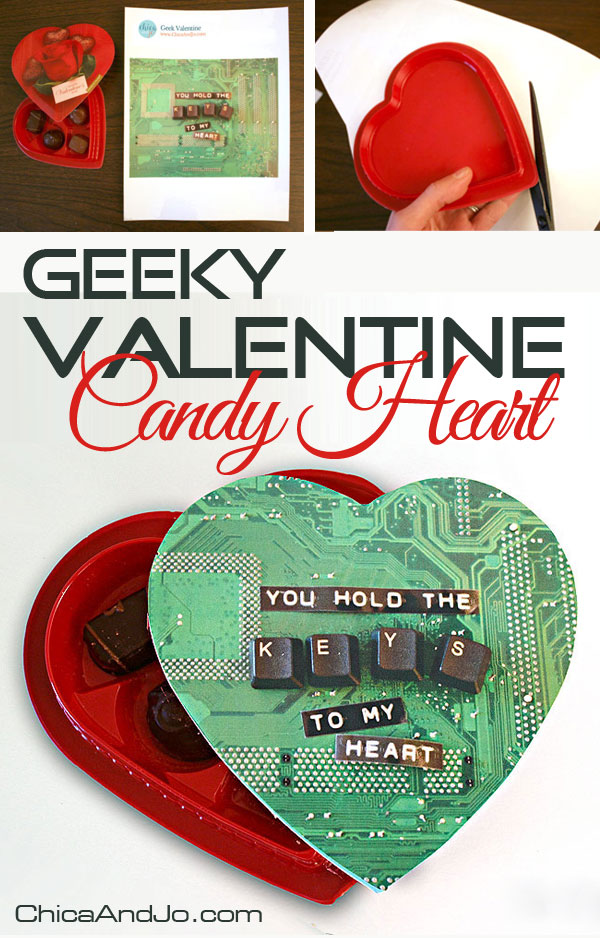 similar projects

leave a comment: