Here's the first of two Advent calendar ideas we are going to share with you guys this week. This one was inspired by a 24 mini cupcake stand that I just had to have when I saw it. It was a basic need, you see!
First, I spray painted my cupcake stand red. I love the color red and thought the silver color the stand already had was fine, but not quite exciting enough for me. Next, I used my Cricut Expression (you'll notice that it is also red) to cut out 24 one-inch white circles.
On each circle, I wrote something fun that my family would do. We don't have to do it on the exact day we open it, but it is like a coupon the kids will be able to use for that activity at some point in the near future. Some of them, like "Tonight is family game night" or "Homemade hot chocolate after dinner" will be done immediately. I put each white circle in the bottom of a festive mini cupcake liner. To hide each surprise activity and also make it look like a cupcake, I then put a 2″ pom pom into each cup, choosing colors that coordinated with your liner.
In order to know which day to open which cupcake, I added a number to the top of each one, counting from 1 to 24. I used tiny glittery stickers to make this easy. I also adorned the stand with a bit of ribbon to make it extra cute. You can do that or not — whatever whatever floats your Advent boat!
Once I filled up the stand with all the cupcakes, I was ready to go! If you are using multiple colors of pom poms, I recommend placing them all on your stand before adding the numbers, so that you can move them around and get the look you want before numbering them.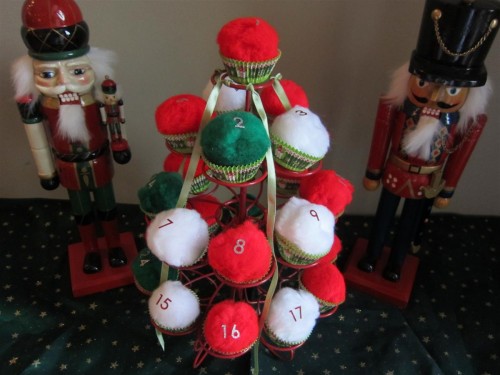 If you liked this, check out these similar projects: