Several of my friends and family members have given me extra keys to their houses, so I have lots of them lying around. The problem is that they all look the same and I can never find them when I actually need them. To remedy this, I decided to make very distinctive key chains and a board to hang the all from.
To start, I selected a Walnut Hollow Pine French Provincial plaque as the base to hold my keys. I painted a base coat of white to seal it, and then applied a finish coat with Americana paint in cadmium yellow. For contrast, I painted the edges with Americana paint in purple cow.
While the paint was drying, I worked on the key chains. I used some wooden blocks from a Jenga-type game that I bought at the dollar store. They were nice and smooth so they didn't require sanding. I drilled a hole near the top of each one. I made sure the hole was big enough for my colored ball chain to fit through later.
I painted each block a different color to coordinate with the colored ball chain that I had. Then, I used DecoArt Decoupage Gloss Finish to adhere cropped photos of the actual houses the keys belonged to on the front of each block. The cropped images are safer than a full image or a name, because I know the houses well enough to identify them, but if I ever lost a key, a stranger wouldn't know what it belonged to. Plus, it just looks super cute!
I finished all of the blocks and the plaque with a good coat of the DecoArt Decoupage Gloss Finish to protect everything. When that was dry, I threaded the ball chain through the holes and added the keys. I used a ruler to measure and line up the brass cup hooks that I would hang the keys from.
McGeeky hung the plaque on the wall next to our garage door, and I just love looking at it every day! If I had to do it over again, I would drill the hole through the sides rather than front to back, so that the pieces hang a little better. Just a tip from me to you!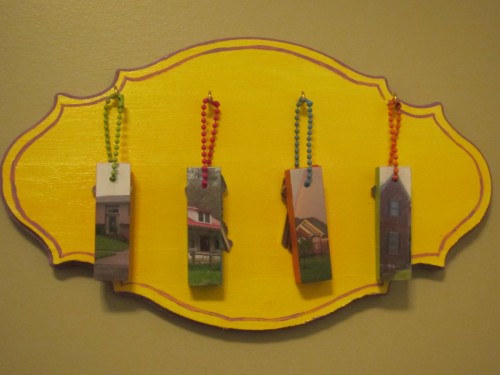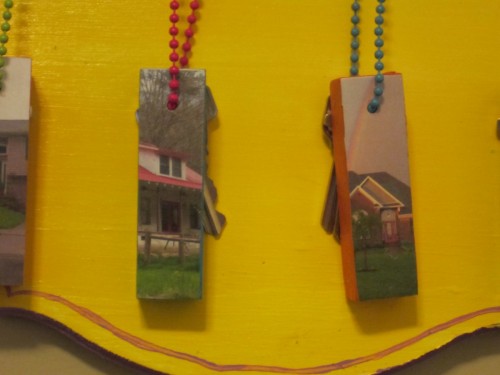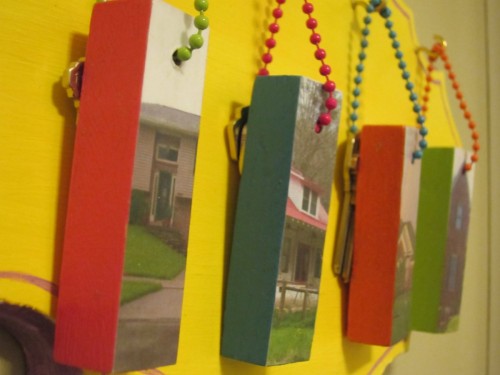 If you liked this, check out these similar projects: