I love my guestroom. It has a Moroccan feel to it and it's always uncluttered. I love the decor in the room, which includes a dresser I painted in a Moroccan style a couple of years ago. (Geez, has it been that long?) I don't have a lot of artwork in there, though, so I really wanted to jazz up the walls a bit more. I was inspired by the Martha Stewart Crafts Cathedral Lace stencil.
When it came to deciding where to put the design, I knew I didn't want to do the normal along-the-ceiling height. I also didn't want to put it at chair rail height, so that left me with one option — along the bottom. This was quite a nice solution, seeing as I am terrified of ladders!
I started by using some masking tape to attach the stencil to a small section of wall next to the door. I just used the bottom of the stencil as my spacer for how high I wanted the design to be. I loaded a stencil brush with some copper and brown metallic paints and then daubed off most of the paint onto a paper towel.
THE MOST IMPORTANT RULE OF STENCILING: DON'T OVERLOAD YOUR BRUSH! You want your brush or sponge to be almost completely devoid of paint before starting to pounce it onto the stencil. If this means you have to do it twice to get the coverage you want, then so be it. If you go with the dry brush technique, you will also avoid the typical problem where paint seeps under the edge of the stencil. Been there, done that. A lot!
Peel away the stencil while the paint is still wet and marvel at what an artist you are.
I've only done a few of these designs so far, but I am going to space them out all around the room. I am sure it will take me the course of a few weekends working on it here and there to actually finish. It isn't hard to do, it's just hard to find the time to do it. I love how it looks!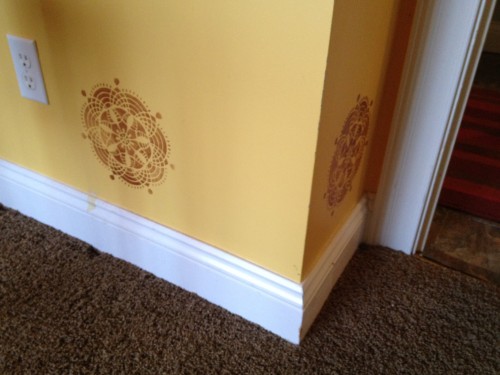 If you liked this, check out these similar projects: