Dinosaur chalkboard paint pails
by: Jo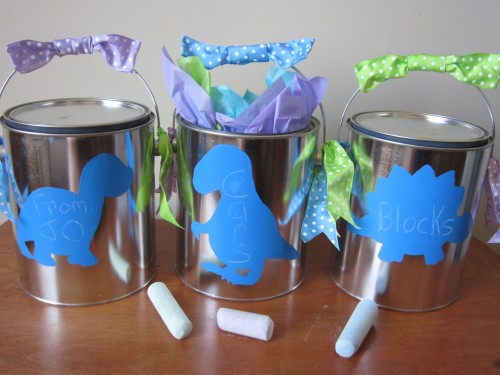 I had a lot of paint buckets leftover from my sister-in-law's recent home improvement themed wedding shower and when I was trying to think of what to do with them, I had the idea that they would make perfect gift "bags". I got the chance to gift some this past weekend when I attended a baby shower and had to wrap my gift.
I wanted to decorate the buckets first, and with a theme that matched the nursery so that the mom-to-be could reuse them to hold toys, etc. This little boy is going to have dinosaurs in his nursery, so I went searching for some simple dinosaur designs to use as a pattern. I didn't have to look far! I remembered after looking for a bit that we already have a set of Cupcake Collars that were dinosaurs. Perfect!
I printed out all three designs and then cut them out to use as stencils.
The easiest way for me to transfer the design to the can was to trace the outline with a thin black permanent marker. I then used some DecoArt Americana Multi-Purpose Sealer on the metal can to make sure the paint would stick. Since the surface was so smooth. I put three coats of the sealer down, just to be sure.
Next, I used Americana blue chalkboard paint to paint in the shapes. I used chalkboard paint instead of regular paint so that the new mom could label the contents of the cans. For the first coat, I mixed in some sealer to be on the safe side, and then followed with two more coats of just the chalkboard paint.
I finished them off with some fun ribbons and festive tissue paper inside, and then of course stuffed the baby's gifts in the cans. I love the set of three different designs, and everyone at the shower loved watching the mom-to-be open them!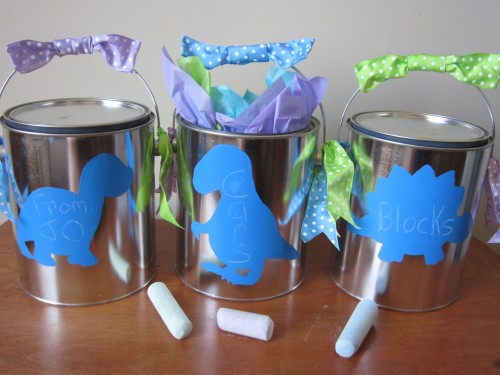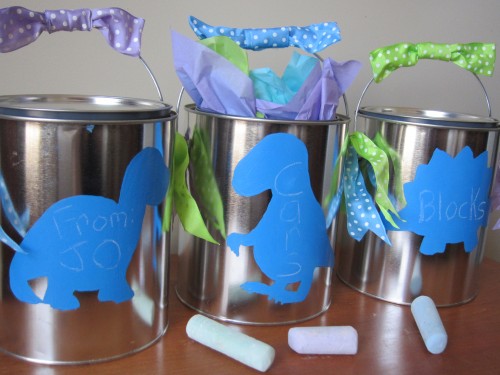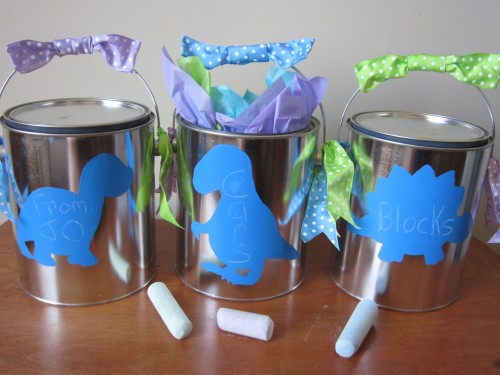 similar projects

leave a comment: