Pumpkin-shaped homemade marshmallows
by: Jo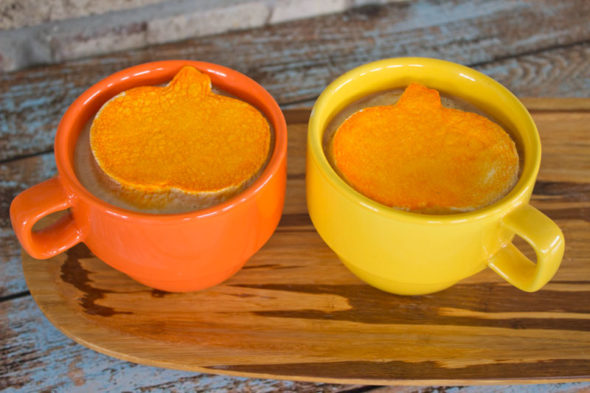 I love making homemade marshmallows to go into my favorite hot chocolate recipe. I make them about three times a year. This fall, it occurred to me to make my marshmallows in a different shape and color than plain ol' white!
Before I show you how to make them pumpkin-shaped, here's the recipe for making basic marshmallows.
Homemade Marshmallows Recipe
Nonstick cooking spray
3 (1/4-ounce) packages unflavored gelatin
1/2 cup cold water
2 cups granulated sugar

2/3 cup light corn syrup
pinch salt
1-2 teaspoons vanilla extract
Powdered sugar

Lightly spray a baking dish with cooking spray. Line pan with plastic wrap, set aside.
In the bowl of an electric mixer fitted with the whisk attachment, sprinkle gelatin over 1/2 cup cold water; let stand for 10 minutes. In a saucepan, combine sugar, corn syrup, and 1/4 cup water. Place saucepan over medium-high heat and bring to a boil; boil rapidly for 1 minute. Remove from heat, and, with the mixer on medium, slowly pour the boiling syrup down the side of the mixer bowl into gelatin mixture. Add salt and vanilla, continue mixing for 12 minutes.
Spray a rubber spatula with cooking spray. Spread marshmallow mixture evenly into pan using prepared spatula . Spray a sheet of plastic wrap with cooking spray and place, spray side down, on top of marshmallows. Let stand for 2 hours.
Carefully remove marshmallows from pan. Remove all plastic wrap and discard. Cut marshmallows into 2-inch squares using a sprayed sharp knife. Place confectioners' sugar in a large bowl. Working in batches, add marshmallows to bowl and toss to coat.
Making homemade marshmallows might sound scary, but it's actually pretty easy. Start by spraying your baking dish with cooking spray and then line with plastic wrap.
Add 2 packages of gelatin to 1/2 cup water in your mixing bowl and allow to sit for 10 minutes.
Combine 2/3 cup light corn syrup, 1/4 cup water, and 1 cup sugar in a saucepan and bring to a boil over medium-high heat. Allow to boil for 1 minute.
Pour the boiling mixture slowly into your mixing bowl with the mixer going on medium. Add a pinch of salt and about 2 teaspoons of vanilla. If you want, add some food coloring at this point. I added orange for my pumpkins. Blend on high for 12 minutes.
Use a spatula to spread your marshmallow mixture into your prepared dish. My dishes were kind of small, so I ended up using two. Cover the marshmallow dishes with another piece of plastic wrap coated with cooking spray. Smooth out the top of the marshmallow by running your hands along the top of the plastic wrap. Allow the marshmallows to set for 2 hours.
Remove the marshmallow from the pan by taking the top layer of plastic wrap off and flipping it over onto some parchment paper.
Carefully peel away the remaining plastic wrap. Sprinkle some powdered sugar on top of your marshmallow to keep them from being sticky.
Now for the fun part — making the shapes! Spray a pumpkin cookie cutter with cooking spray and press firmly through the marshmallow. Re-spray your cutter after every three or four cuts. After they are cut out, dust the pumpkin marshmallows on all sides with more powdered sugar to prevent them from sticking to each other.
My pumpkin marshmallows were the perfect size to fit right on top of my cup of hot chocolate. Just think of all the shapes you could do — bats, cats, snowflakes, stars, stockings… The list is only limited by the cookie cutters you can find!
I stacked four of them in a fun Halloween treat bag to give to a friend. These marshmallows would be a great gift if you coupled them with the Ticket Kitchen hot chocolates that we adore!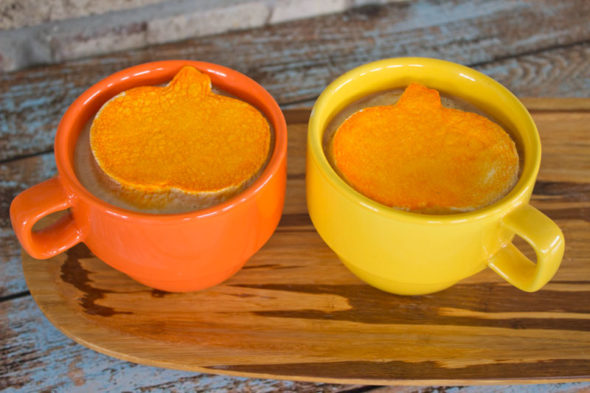 similar projects

leave a comment: