A couple of weeks ago, when I was hanging out with my niece, she told me she wanted to make a cake. Her mother had purchased some Funfetti cake mix and we mixed it up and made a very colorful and fun cake. While we were mixing the batter, though, I looked closely at the colorful bits we were adding and had quite a revelation — they were just ordinary jimmies (a.k.a. sprinkles)! That means you could turn any cake mix into a confetti cake just by adding jimmies to the batter, AND you could customize the colors to suit the occasion. How fun!
To make sure it really would work with just regular jimmies, I did a test batch. I used one of my favorite flavors (french vanilla), and mixed it according to the package directions. Then I added two tablespoons of rainbow jimmies to it.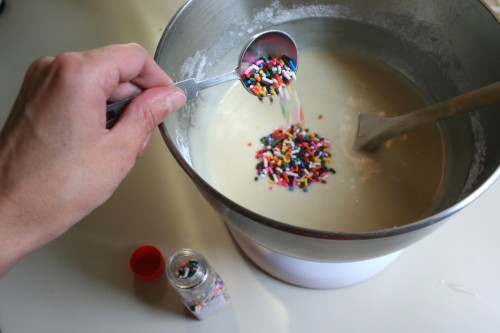 I stirred it up and poured it right into the pan, as usual, and baked it.
When it was all done, I sliced it open to add the filling, and was delighted with the lovely burst of color!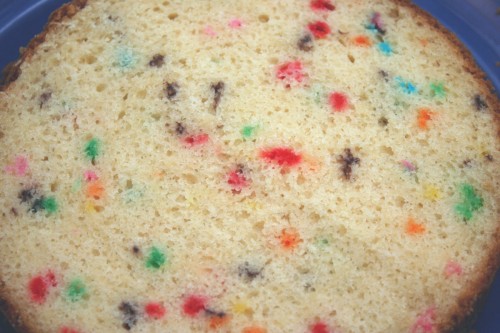 I can't wait to try this for other occasions, with specific colors. Imagine pink or blue for a baby shower, or red and green for Christmas. Even black and orange would work for Halloween, or red for Valentine's day, or school colors for a bake sale, or… oh, the possibilities!
If you liked this, check out these similar projects: