The other day, I bought some green apples at the store so I could make fried apples to go with a pork tenderloin. I made the pork tenderloin and completely forgot about my poor apples until it was far too late. Oops! A couple of nights later, I was searching through the refrigerator trying to figure out a side dish when I saw my apples. I didn't want to fry them, and somewhere I had heard about baking whole apples, so I thought I would give it a try!
First, I washed and then cored my apples. I took about three to four "cores" out of the middle to make a bigger hole. I placed the apples into some baking dishes.
Next, I got out the butter. I used the real stuff. and not the tub of light butter that I normally inflict on myself and McGeeky. I added a spoonful to each apple and then followed it up with some Quaker oats.
Brown sugar is a must with apples. I used Splenda brown sugar in one apple for me, to save on the calories a bit, but used the full throttle stuff in the rest of the apples. Then I added some more butter. I am getting crazy with all that butter!
I sprinkled cinnamon on top but this isn't a necessary step. Chica hates all things cinnamon, so I am certain she would omit this if it were her apples. But they aren't. They are mine so on goes lots of cinnamon! Finally, I sprinkled some pecan meal on top. If I had had chopped pecans instead in my freezer I would have used those.
I baked them at 350 degrees for about 30 minutes. You want them to be all soft inside. At this point, you can serve them as a side dish that would go especially well with pork.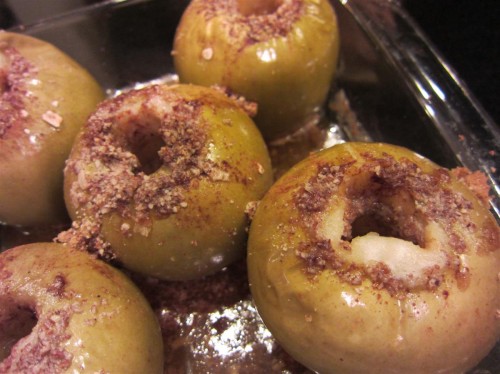 Or, you can keep going and add vanilla ice cream and caramel sauce to make a DELICIOUS dessert! The apples were still very warm when I served this.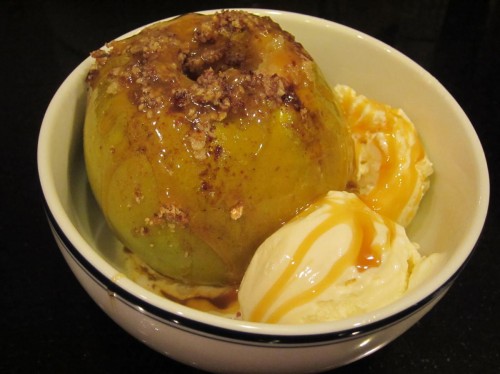 If you aren't a glutton like myself, you can cut the apple in half and add your ice cream and caramel on top. It looks really pretty that way.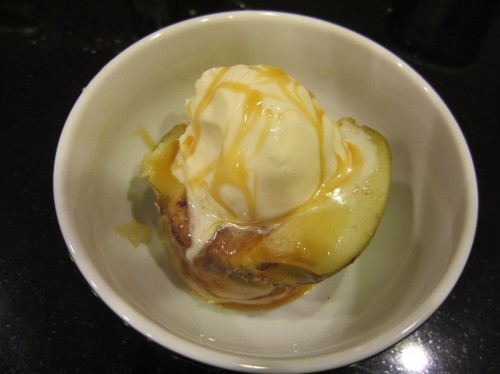 If you liked this, check out these similar projects: