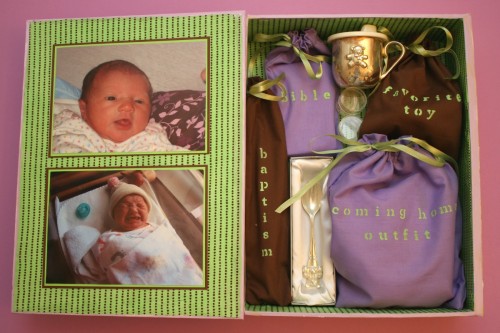 Mini Me is now over two years old, so that means it has been that long since I have been thinking of doing her a baby memory box. In the grand scheme of things, that isn't too overdue, right? Right? Anyway, two things came together at almost the same time that spurred me to finally act on this project. First, and most importantly, Chica and I received a fabulous box full of the new Martha Stewart Crafts Decorative Paint Line by Plaid in the mail. It was just like Christmas for us! Or kids in a candy store, or any other cliche you can think of that roughly translates to us being very EXCITED to play with all of our new craft toys!
The next piece of inspiration came when we were shopping at Michael's and spied a shelf full of decorative book-shaped boxes. They were perfect for my memory box needs! Well, almost perfect. I didn't actually like many of the patterns they had, and none of them were appropriate for a baby theme.  Hence, the idea arose to use some of our new paint goodies from Martha to revamp this butterfly-themed book box.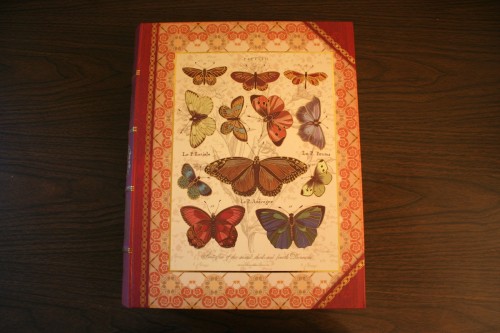 To start, we picked our color palette, and we chose something a little different than normal baby pastels — brown, purple and green. The amazing thing about the Martha Stewart paint is that it's formulated to work on all crafting surfaces, including wood, metal, glass, ceramic, terra-cotta, and fabric!  It is indoor/outdoor safe and dishwasher-safe when used on glass. There are 160 paint colors in five finishes (satin, high gloss, glitter, pearl, metallic). And of course there is a huge array of tools available to go along with the paint. How could you go wrong with such an amazing line of products?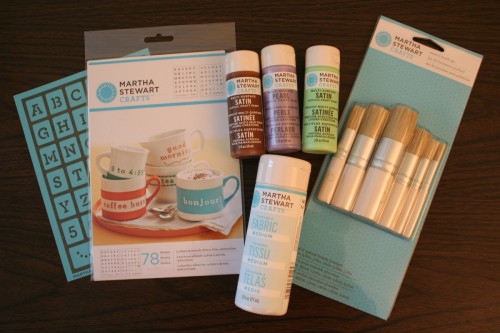 I had some very specific memorabilia items that I wanted to include in the box, so Chica made some of her simple drawstring bags for me out of a coordinating fabrics we found. I used Martha's paint along with her adhesive alphabet stencils to label the bags with "coming home outfit", "baptism" (for her candle), "bible", and "favorite toy". Before painting, we put a piece of cardboard inside of each bag so that the paint didn't seep through. It's also helpful to use our ruler trick for lining up your letters before placing them on the fabric. These particular letter stencils were really nice because they are sticky, flexible, and reusable!
If you plan on washing the bags at any point or if you are stenciling some clothing, make sure you add some of the Tintable Fabric Medium to make the paint washable. Chica didn't trust my ability to not go over the edge of the small stencils with the stenciling brush so she suggested that I also use some masking tape to protect the surrounding fabric. I hate it when she is right, but I totally would have gotten paint all over the fabric.
We came up with a quick tip to make cleaning the paint off the stencils a breeze. Just squirt them with a bit of water immediately after removing them, and let it set a minute. The paint wipes off without a problem!
Aren't the finished bags adorable? We love how this stenciled letters came out.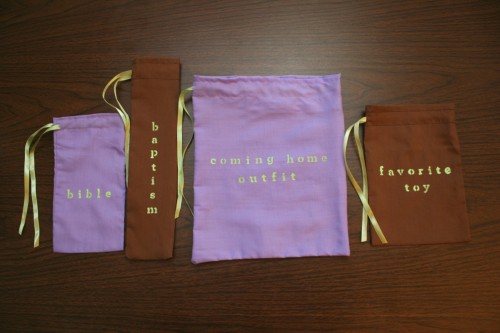 Then it was time to paint the main part of the outside of the box. We went ahead and primed the box with two coats of plain white paint to cover those butterflies up before we started with the fancier paint. Martha's paint line includes some really awesome attachments that go right onto the paint bottles, which makes it so easy. We used the foam roller that twists right onto the bottle of paint. The roller also comes with its own empty bottle if you want to mix a custom paint color.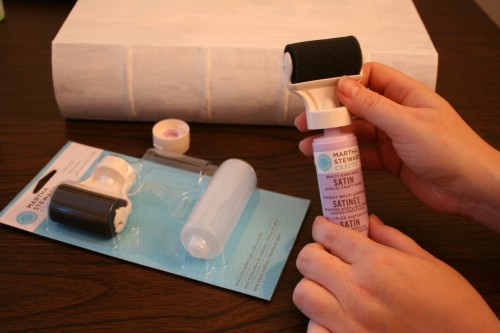 Chica and I both took a turn at rolling the paint on because it was just so fun to do. I had a tendency to squeeze on the bottle too much and Chica kept pressing down too hard. By the time we were done though, we were rolling like pros! The foam provided fantastic coverage without brush marks.
We painted the sides of the box next, and used a satin brown paint on the spine, to resemble leather. On the "page" edges, though, we had a bit of fun. We used Martha Stewart's metallic paint in Yellow Gold and brushed it on to simulate the look of gilded pages. Since we had primed it with white first, the brush strokes in the yellow gold made it look just like pages. What a fun technique and it was so easy!
We wanted to make an area on the front where we could stencil the book title and add a little more decoration, so we selected a pretty frame design from the Martha Stewart Fancy Script Stencil Set. Chica outlined the design in pencil so she could paint the inside green and the outline in brown later.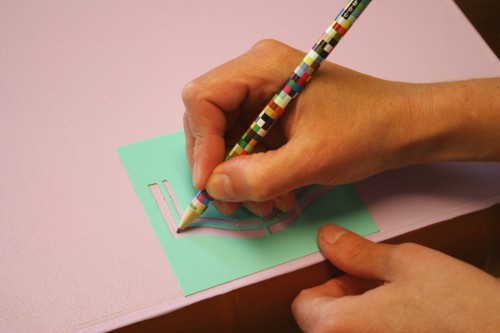 Chica's favorite tool in the new line is the Martha Stewart Adjustable Striping Brush. It comes with 12 brush tips attached to it, but you can pop off as many tips as you like to make your spacing as wide as you want! We dipped all the brush tips into a purple Pearl paint (I LOVE this finish). We can't wait to experiment with trying a few different colors at once.
Chica loaded the brush with paint and then practiced her technique a few times on an old folder we had. She found that the brush tips didn't hold a lot of paint, so she had to reload quite often.
The purple pearl finish looks fantastic on the purple satin cover. She worked around the area we had traced in the middle. Could you imagine trying to do this with tape and a single brush!?! I am thinking we probably would never had tried this technique if it weren't for the brush. You'll be seeing a lot more projects from us featuring this brush, I guarantee it! If you only ever purchased one item from this line, this would be the one we recommend.
Once our stripes had dried, I filled in the shape Chica outlined with the green satin paint. Then I placed the stencil on top of the edge of the dried green paint and used the smallest Martha Stewart Foam Pouncer to apply the brown paint to both ends.
Look at how cute it is already. We both thought it looked fine like this but I asked Chica to connect the two sides with the brown lines. She has a much steadier painting hand than I do! She placed masking tape along the bottom of each line and then free handed the brown lines. Now I loved it even more!
I used our ruler trick again to line up the stencils to give my book a title — "molly's story vol. 1" — and I used the foam pouncer again to stencil it. The same stencil set was used to monogram the spine of the box with her initials.
I love how the outside turned out! As you can see, I used a little more of the yellow gold metallic paint to highlight the ridges on the spine.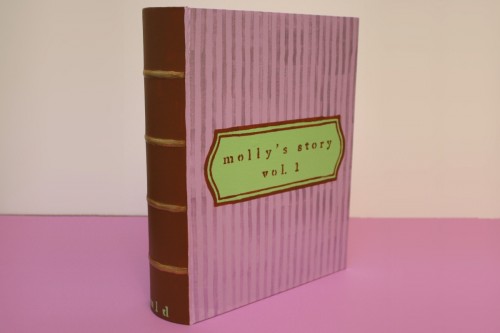 Now for the inside! You didn't think we would neglect that, did you? I wanted to line it with a coordinating fabric but I noticed the pattern on the inside was going to show through, so I primed it first with white paint. I also painted all of the edges purple so it would still look nice. To make the fabric easier to apply, I treated it first with a coat of fabric Mod Podge, and allowed it to dry. This step prevents the edges from fraying when I cut it to size. I then used more Mod Podge to attach the fabric to all the box.
Chica double-mounted two pictures of Mini Me to place on the inside cover. My favorite picture of her is the one of her face all scrunched up and screaming (she was a colicy baby)!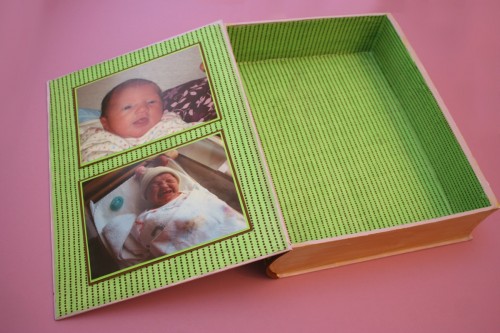 The most fun part of this project was filling the box with mementos from Mini Me's first year. The items I chose to include were: coming home outfit, first Bible, baptism candle, special cards from the hospital, her favorite toy, a silver cup and spoon set, a DVD of clips from the hospital, a lock of hair and her hospital bracelet. For the last two, I used small, clear boxes from the Container Store that held the items perfectly.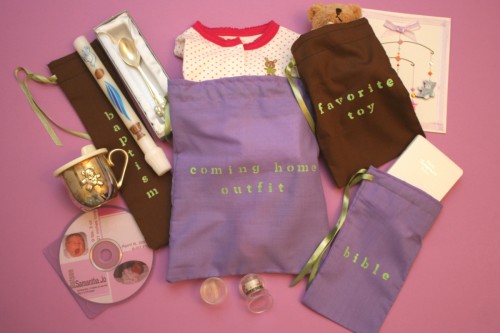 This is how it turned out all put together. I just love it! I am also already thinking that I will need to add a volume for the toddler/preschool years, elementary school, middle school, high school, college and perhaps wedding one day! What a neat way to keep mementos that won't fit into a traditional scrapbook.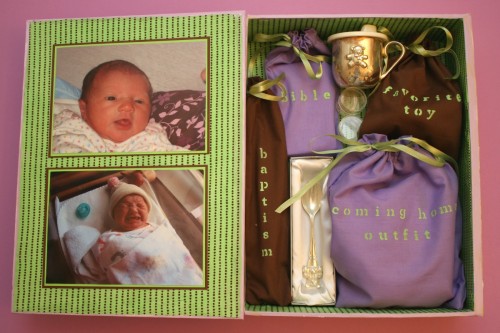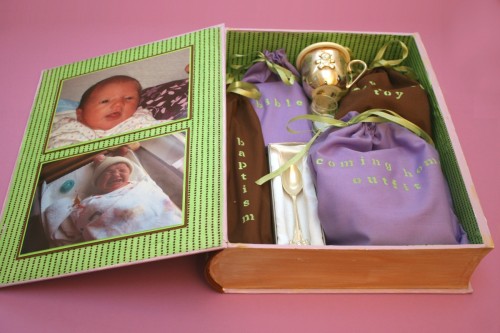 Martha's new line of products is available only at Michael's. Chica and I love a good deal and never head to Michael's without a coupon in our pockets, so here is one for you all to use on your next visit! Until August 30, 2011, you can use this coupon for 40% off one of the new items from the Martha Stewart line.
Make sure you check out some of the other fun projects in the blogosphere featuring this new line: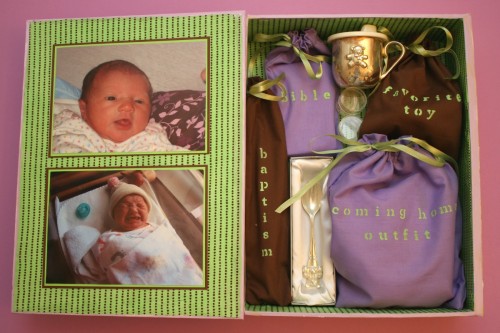 similar projects

leave a comment: