Amazing Race party for kids
by: Chica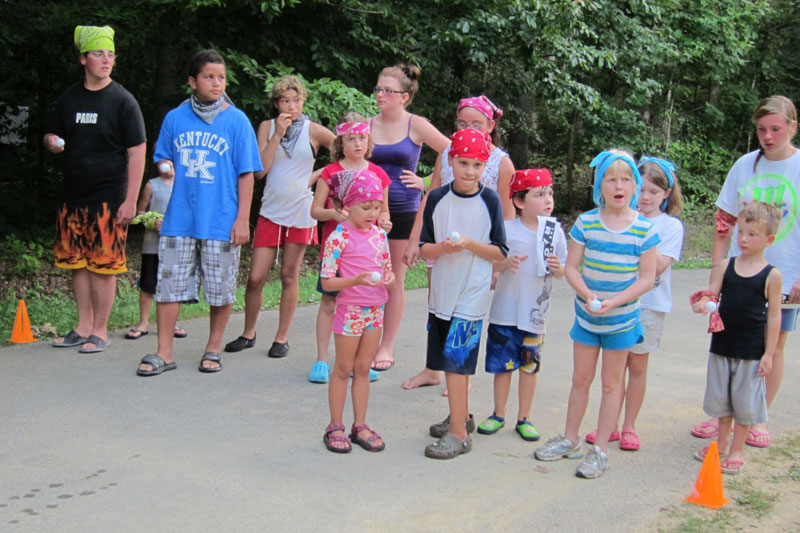 My Honey and I hosted our annual cookout / campout last weekend for our family and friends, and this year we held it at a group camping spot at the lake. With nearly a hundred guests, many of them kids, I always like to have a fun game for the kids to play during the afternoon. This year I decided to put on a mini version of The Amazing Race, and it was so much fun!
Just like our first Amazing Race party, the real fun for me was coming up with the tasks and clues. I figured out some outdoor challenges that would be fun and kid-friendly. I printed them onto the customizable clue templates that are part of our Amazing Race printables collection.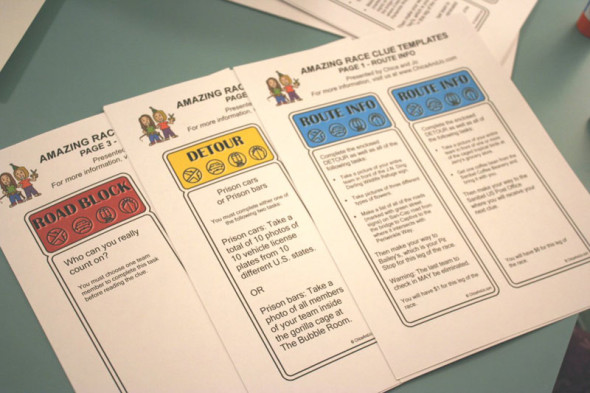 Just like they do on the TV show, I paired the kids up and gave team matching bandanas.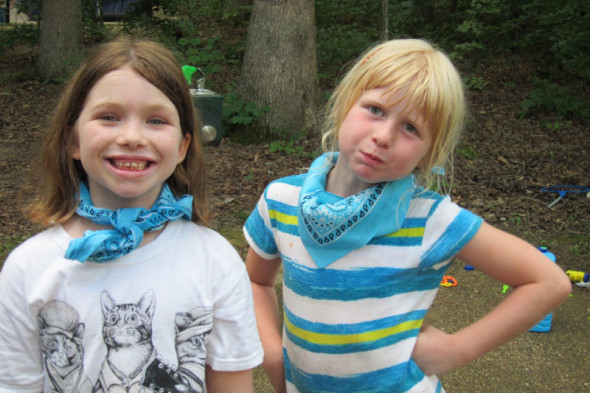 I'm not sure why, but wearing a bandana seems to make kids think they are tough!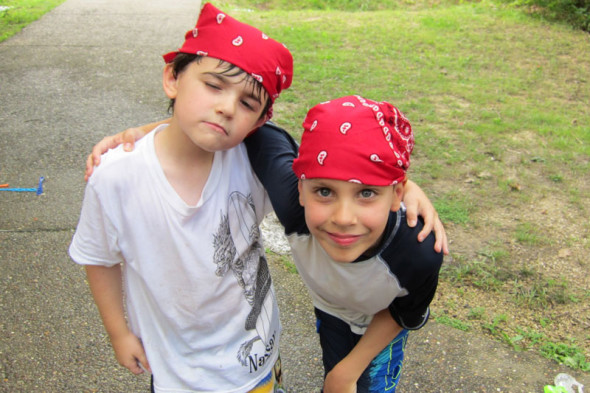 I gave each team their first clue in one of our Amazing Race envelopes and told them to wait until the race started. I sent an adult judge to each task station, armed with the clues to hand out as each task was completed. Then, just like Phil does, I started the race with a raise of my eyebrow and a swoop of my arm. They scurried about so excitedly and headed to the location where their first task was.
TASK #1 – ROUTE INFO: Walk around the entire circle, balancing a golf ball on a spoon. Don't use your other hand! If the ball falls off, start over.
There was a big circular drive at the campsite, but you could have your kids walk any marked distance you can manage. This task was much easier for the kids who took their time and didn't get too excited.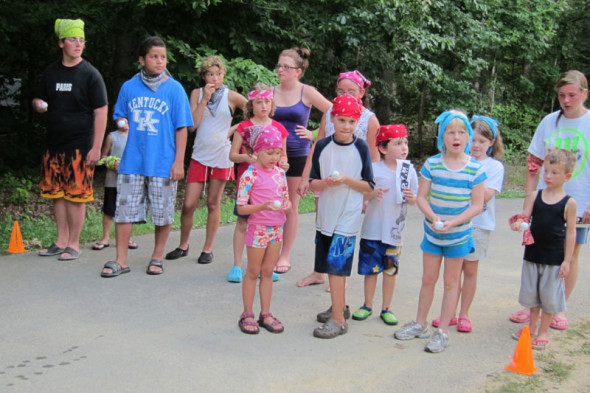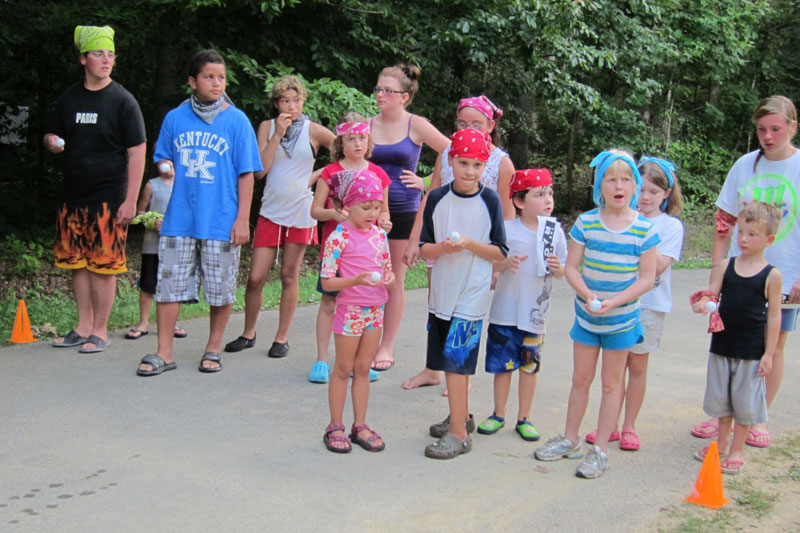 A few of the younger ones kept dropping the golf ball and had to start over, but they soon figured it out.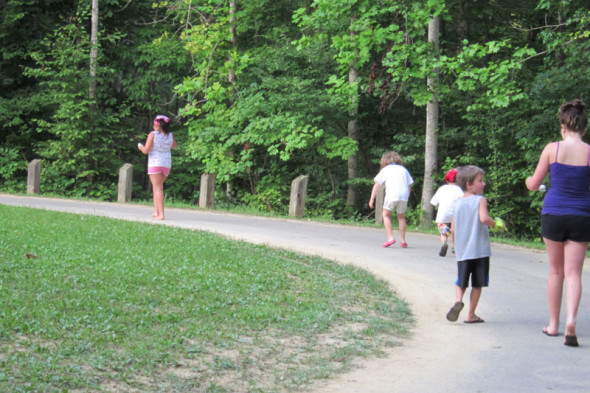 TASK #2 – ROAD BLOCK: Find a cup with a special marking on the inside. Eat the entire contents of each cup you pick up. Pick up one cup at a time!
This was my favorite task by far. I purchased some inexpensive paper portion cups and set them out all over the picnic table. I drew a smiley face in the bottom of 14 of the cups (we had 7 teams) and then put just enough M&Ms in each cup to cover the bottom.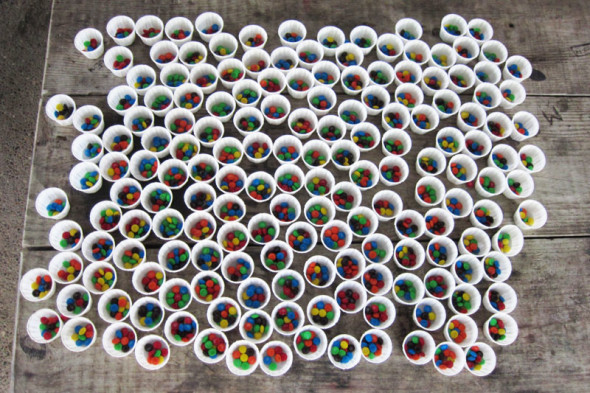 This was a Road Block task, so only one kid from each team could compete. The players had to keep emptying (and eating!) cups until they found one with the smiley face. Some found it within a few guesses, and others took quite a while.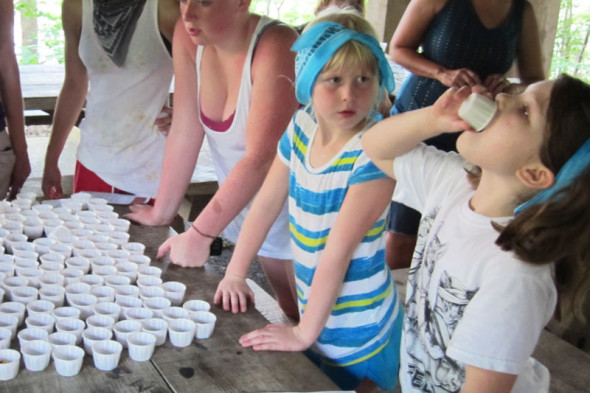 Unlimited M&Ms may sound like a dream come true, but after 20 or so cups, it gets to be a lot of chocolate! If you're worried about sweets, you could easily do this with Cheerios instead.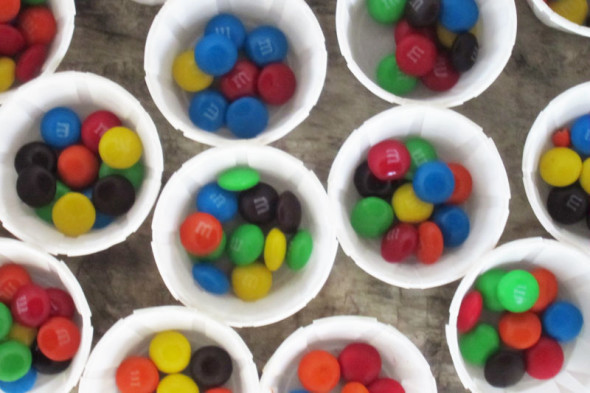 TASK #3 – ROUTE INFO: Count the number of stones that make up the fire pit. Write your number below and show it to the judge.
Okay, you probably don't have a stone fire pit wherever you are playing your race, but you could easily adapt this clue to count anything nearby. Our kids had no trouble counting the stones and getting it right — perhaps I should have picked something a little more difficult.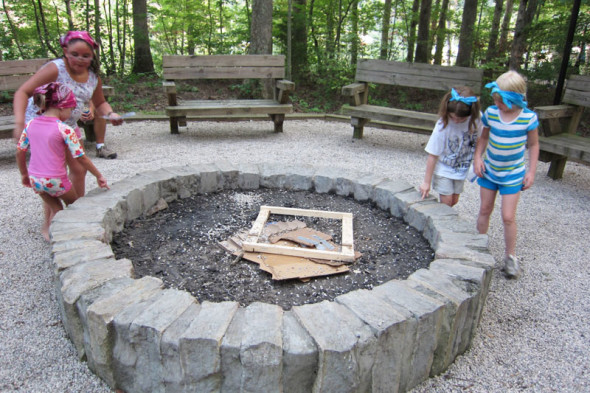 TASK #4 – ROUTE INFO: Eat an entire cup of Jell-O without using a spoon, fork, or your hands!
What was crazy about this task is that a surprising number of the kids I know don't like Jell-O! I would never have guessed such a thing possible, and the faces they made cracked us up.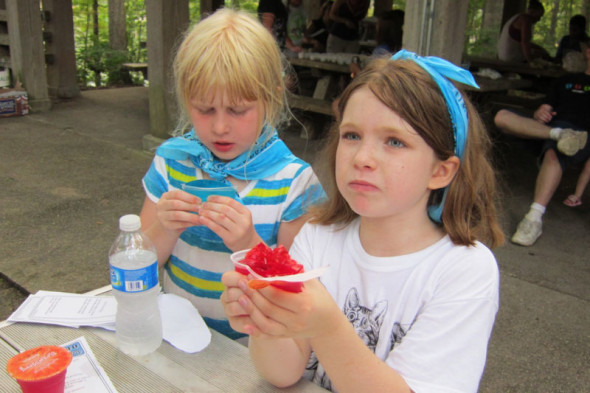 Even Little Jo hates it, but she and all the other kids pushed through and ate what they had to to continue in the race.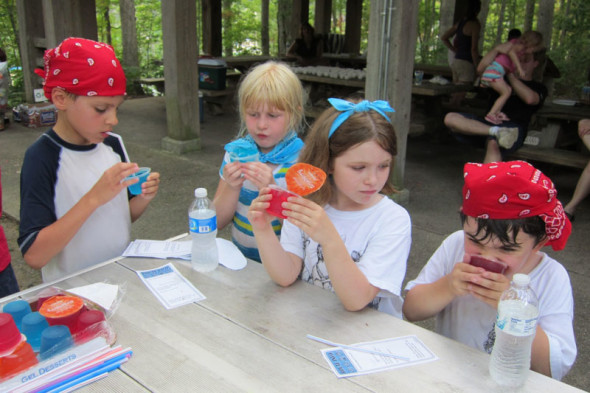 TASK #5 – ROUTE INFO: Assemble the puzzle.
I picked up some 24-piece puzzles from the dollar store and set them on tables for the kids to assemble.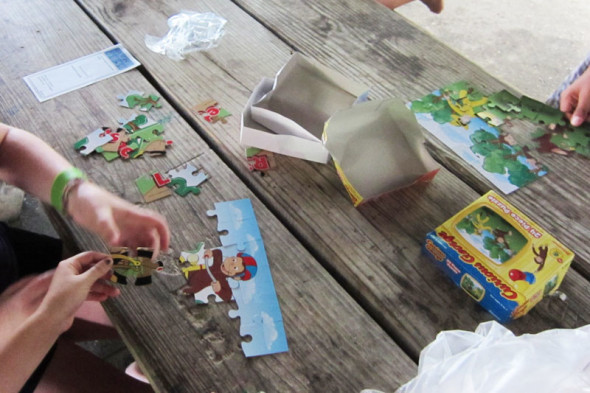 They worked very well together and had them put together very quickly.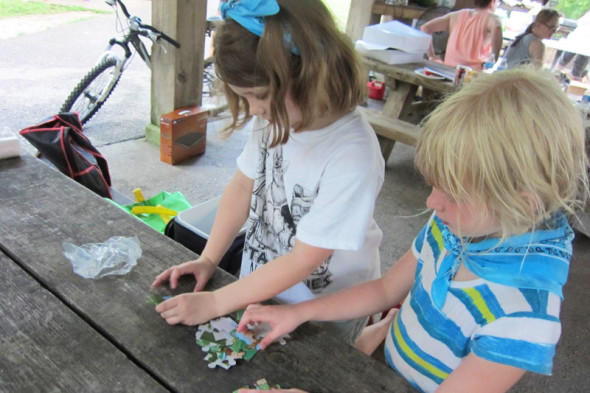 TASK #6 – DETOUR: Either stack a pile of cans of soda in a tower that stays up for at least 10 seconds OR shake two cans of soda and spray them on each other.
We saved this task for last because it had the potential to get very messy. As is typical with a Detour task, the kids got to choose between two different tasks to complete. The first choice was to stack soda cans, and only the older kids chose this option.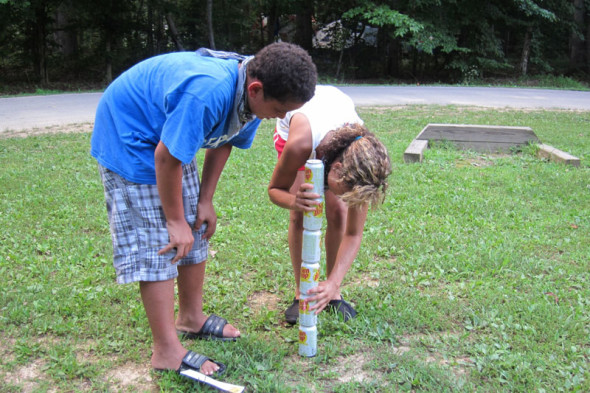 The younger kids immediately went for the option to shake and spray soda on each other. What a riot!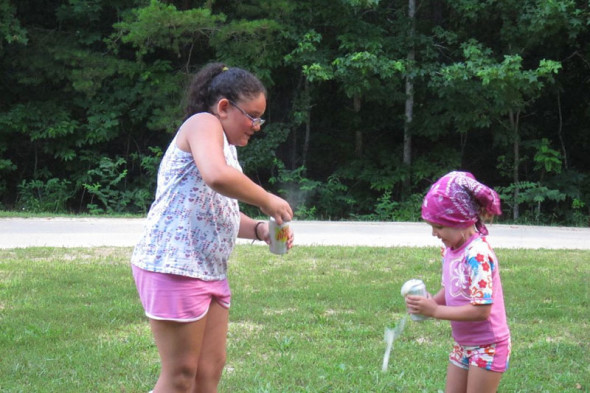 ---
Visit our whole collection of The Amazing Race party ideas to make your event as authentic as you can.
To make your final pit stop more authentic, why not decorate it with a Travelocity Gnome and some international flags? You might also want to hand out Amazing Race T-shirts to the winners!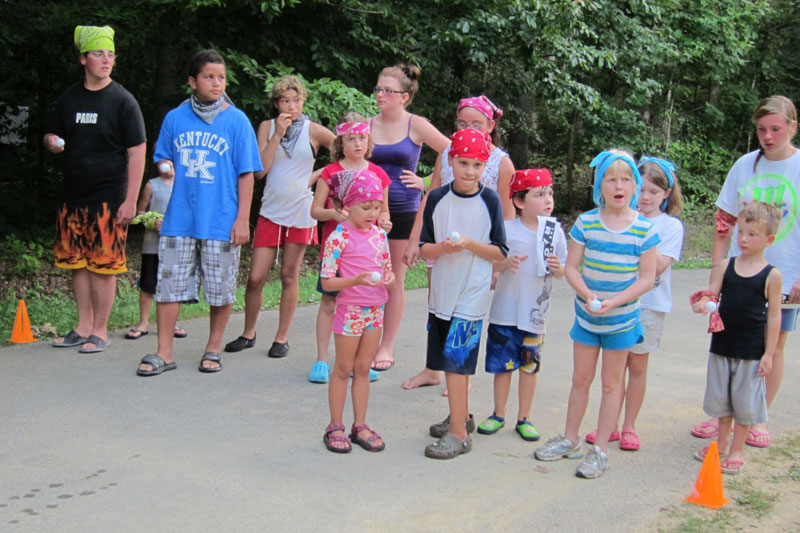 similar projects

leave a comment: