My family loved the individual lemon meringue pies I recently made in Mason jars so much that I decided to try another dessert in a jar. The recipe for this one is quite hard, so pay close attention!
First, go to the store and buy a roll of chocolate chip cookie dough. McGeeky and I had to eat some of the raw dough for old time's sake. I think we lived off pepperoni pizza and cookie dough during college. Ah, the memories. Yes, you can use your own cookie dough recipe instead of the store-bought dough, but it was a weeknight and I was feeling lazy.
Once you finish your dough sampling, spray your wide-mouth canning jars with cooking spray and then press the cookie dough inside so that it covers the bottom and goes up the sides a little bit.
Place the jars on a cookie sheet and bake at 350 degrees. Check them after about 5 minutes. Don't be like me and put them into the oven and then wander off with the idea of cleaning out all of Mini Me's toys and totally forget about your baking. Don't do that! Alas, my cookies turned out a little too well done.
Undaunted and not willing to throw away any cookies, I proceeded to the next step anyway. I added some ice cream and fudge on top and that was it. These yummy sundaes were a big hit all around! You could very easily prep a bunch of these cookie jars ahead of time for a party, and then just top them with ice cream at the last minute.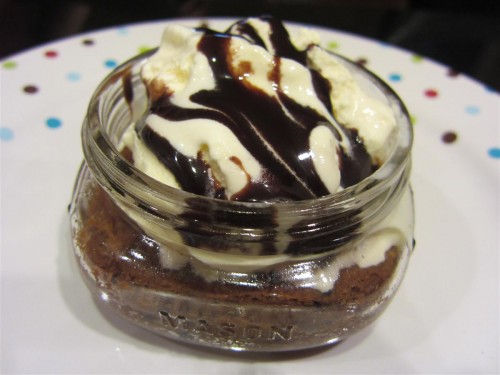 If you liked this, check out these similar projects: