My mom loves lemon meringue pie. It's one of her favorite desserts, so I decided to make one for her but wanted to crank up the cute factor a notch. I saw some adorable 8 ounce wide-mouth canning jars at the store recently that would make perfect containers for individual pies.
Let's make some pie!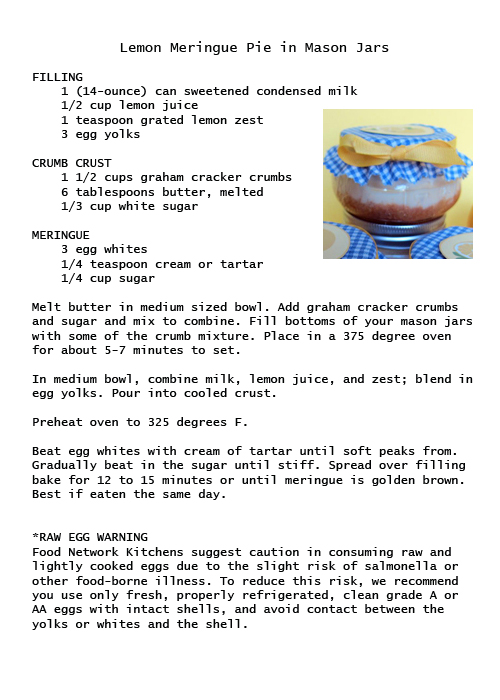 NOTE: I doubled the recipe for this and it made enough to fill 8 jars. I had way too much meringue leftover, but just enough of everything else.
First, melt your butter in a microwave safe bowl (or do it on the stove, whatever makes you happy). Add your graham cracker crumbs.
Add sugar and then stir to combine.
Spoon about 2-3 tablespoons of the crumb crust into each Mason jar. Press it down into the bottom. Put all of the jars on a cookie sheet and slide them into your preheated oven.
While you wait for the crusts to bake, start making the filling. Juice your lemons. I love my Citrusmate juicer. It makes it so easy to make fresh lemonade.
Spoon your sweetened condensed milk into a bowl and then add your lemon juice.
Now, separate your eggs. Finally, I'm cooking a recipe where I use both the yolks and the whites. Usually I end up with a bowl full of one or the other of them! Add just the YOLKS to your bowl now.
Use your microplane grater to zest some lemon peel. I love to zest lemon because it smells so darn good! Add the zest to your filling and stir thoroughly. Add the filling to your cooled jars. I used a couple of ladles full for each jar. Make sure you leave enough room on top for the meringue to be added!
Toss those egg whites into your mixer and start beating them. Add your cream of tartar and then slowly add the sugar. Beat until stiff peaks form.
Fill the rest of your jars with the meringue. They look so yummy already! Now, pop them in the oven again to cook the meringue. Take them out when they start to brown.
While you are waiting on the meringues to cook, let's work on the cuteness factor. I selected a blue gingham fabric for my lids. I thought it would set off the lemon labels nicely. You will need a circle that is of course larger than your lid but not so large that it will cover the contents of the jar. Use scrap fabric to test circle widths until you get it just right. Once you have your circle size, use pinking shears to cut the circles out.
Once your lemon meringues have finished baking and are completely cool, place the lid on top of the jar. Secure the fabric to the lid with a rubber band. I used yellow hair ties (brand new ones, of course) to secure my fabric to the top of the lid.
Now grab out lemon labels download and print some to put in the middle of your circle of fabric. You can adhere them with a dab of glue or some double-sided tape. Or, you can print them directly onto sticker paper which makes it even easier to attach them.
I love how they turned out! Also, they taste even better than they look. These would be perfect for a summer picnic or a bridal or baby shower.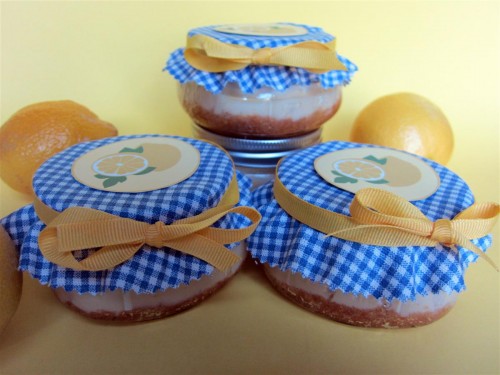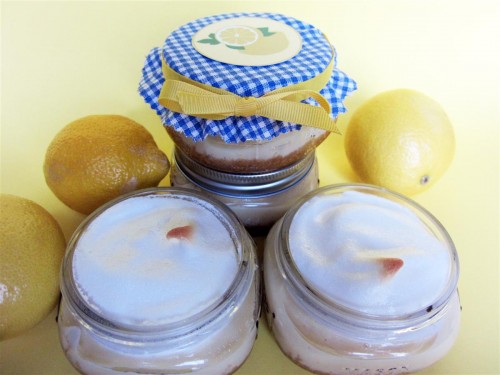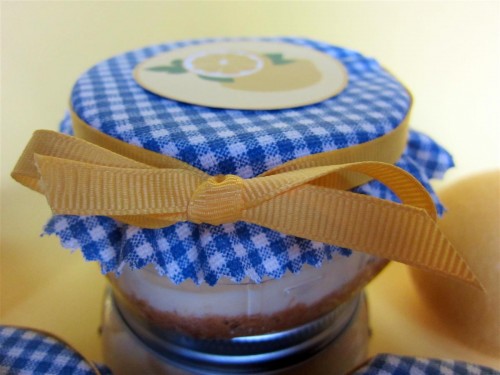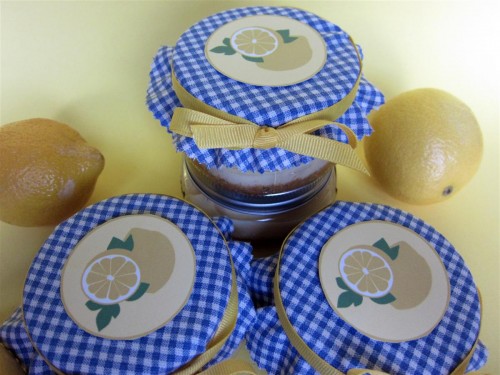 If you liked this, check out these similar projects: