Harry Potter chocolate frog
by: Jo
For the upcoming final installment of the Harry Potter movie series, I wanted to add another project to our Harry Potter repertoire. I love the sweet cart that comes around on the Hogwart's Express and thought it would be fun to replicate the chocolate frog boxes to hand out as party favors for my upcoming movie party.
To make the box, we designed a template that can be printed, cut out, and folded together. It's available as part of our Harry Potter Honeydukes printables collection on Etsy. I really love the unusual and cool shape of the box lid.
If you follow the Harry Potter novels or the movies, you know that chocolate frogs come with wizard trading cards. Our frogs are no exception! We designed customizable wizard trading cards to be personalized with a name and photo, to put in the bottom of each chocolate frog box.
Last, but certainly not least, the boxes needed a chocolate frog! These are easy to make with the chocolate from mold included in our Harry Potter Candy Mold Kit in our Amazon store. Just fill the mold with Wilton candy melts to form the frog. Don't they look adorable nestled in the custom box?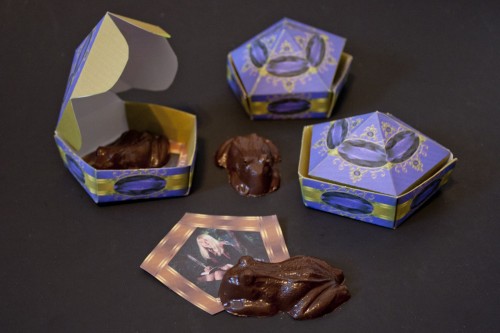 The Honeydukes printables collection includes more than just the frog box. It also includes full instructions and printables to create tags, boxes, and labels for these Honeydukes candies: Bertie Botts Every Flavor Beans, Fizzing Whizzbees, Sugar Quill Lollipops, and Chocolate Frogs. It even has several sizes and shapes of Honeydukes logos for decorating your party space.
And if you pick up one of our Harry Potter Candy Mold Kits to make the frogs, you'll also get other molds, sticks, bags, and ties to make lots of other cute Harry Potter themed lollipops!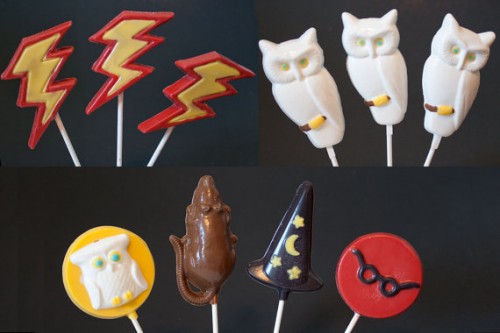 similar projects