Survivor torches and fake fire
by: Jo
During our summer beach vacation in Sanibel, we hosted our own version of Survivor for our friends. It was a lot of work, but so much fun, and everyone had a great time.
Since fire is a very big thing in the world of Survivor (Jeff Probst will be the first to tell you that "fire represents life"), we knew we had to incorporate torches and a campfire into our Tribal Council. We didn't want to mess around with real fire, though, so made our own fake fire. The kids all thought the torches were by far their favorite part of the whole event!
Make Your Own Survivor Torches
This project involved a lot of reworking and rethinking. I went about fifty different directions before finally coming up with something that worked. I assure you, it was a trial! I wills pare you the convoluted details and just show you where I ended up. Basically, I wanted to use LED flickering tea lights attached to bamboo tiki torches to make them look like flames. To do this, I turned to my most trusted material for attaching things… duct tape!
First, pull off a piece of yellow duct tape (red or orange would work as well) that is long enough to wrap around the outside of your tea light twice. You will be folding it over onto itself crosswise to hide the stickiness, so make sure you double the circumference or the light base. Stay with me, I promise this will make sense.
The duct tape is a tiny bit tall for the light so go ahead and cut about 1/4″ off of one long side.
Now, take the strip and roll it around your tea light, making a duct tape tube.
Use another piece of duct tape to secure it in place.
You won't be needing the wicks in the torches so go ahead and remove those and set them aside. If you save them, you can convert these back to regular torches later if you want.
Place your duct tape ring around the wick opening of your torch.
Use more strips of duct tape to secure the ring to the torch top. Continue using small strips all the way around to hold it in place.
To make sure it sticks, wrap a piece of duct tape all the way around.
Your tea light holder is now in place and ready to go.
It doesn't look like flames at this point though. It needs something else. It needs… cellophane! I used red and yellow cellophane that I cut up into rectangles about 6×8 inches or so.
To secure the rectangles around the torch, add some thin strips of really strong double-sided tape (like the super-sticky double-sided tape sheets that we sell in our Amazon store!) around the base.
Then just wrap the red cellophane around, sticking it to the tape.
Don't worry if the tape or cellophane don't stretch all the way around. Just use more tape and add more cellophane, making sure it is stuck really well.
The yellow cellophane will go right on top of the red. Start the yellow where you had the opening for the red so that you have a complete cylinder of red and yellow cellophane all the way around.
When you're happy with the red and yellow cellophane, cut the top edge of it into points and triangles so that it looks like long flames.
Turn on your tea light and place it down into the middle of your torch, right into the duct tape ring you affixed at the top. The nice thing about this approach is that you can remove the light later and turn it back off to save on batteries. If I had just taped the tea lights right to the torches, it would have been very difficult to turn them on and off!
I think they turned out great! The kids (and adults) loved playing with them and they were a lot safer than real fire.
Making a Fake Campfire
The next major prop we needed for Tribal Council was a campfire. You could always buy an indoor campfire, but I will show you how to make a simple one yourself. I will warn you, though – some of the pieces you'll need are kind of weird!
The first things I needed to create fake flames was some sort of air source, and something to enclose it. McGeeky gave me one of his computer fans and I got an old coffee can for the enclosure. I took the top and the bottom off the can, wedged the fan in place in the middle, and then secured it with duct tape.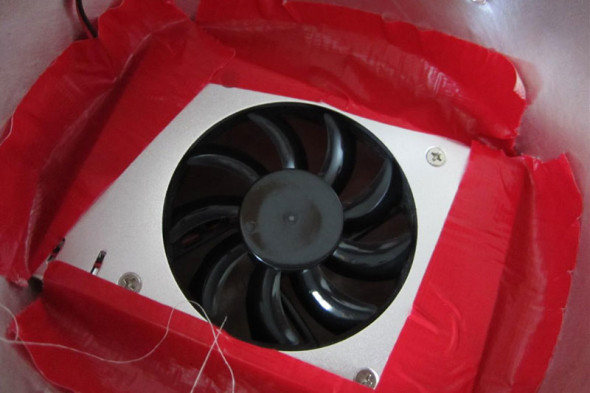 I cut a hole in the side of the can, below the fan, to allow the air to flow through.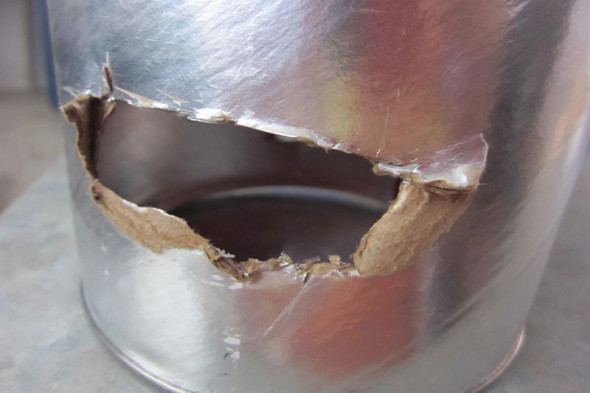 The next step was to wrap the cellophane around the top of the can just like we did for the torches. I added a layer of red and a layer of yellow.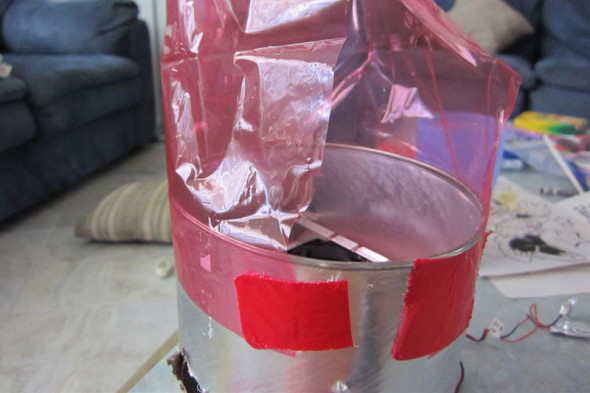 Then I cut the top edge of the cellophane into think strips so that they will flutter when the fan is turned on, making it look like a roaring fire. (By the way, that's our very messy vacation condo that you see in the background.)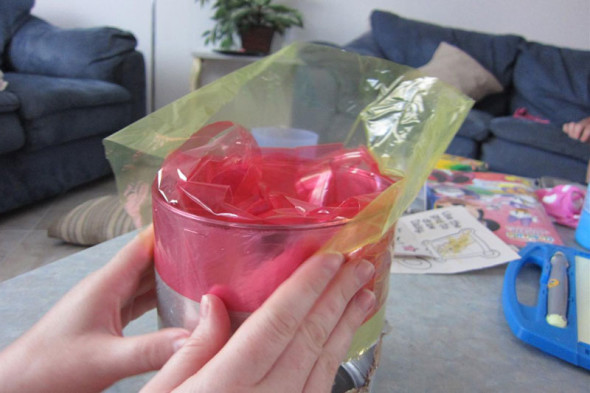 Here's another weird part — you have to power the fan. We used a Power Wheels 12 volt battery out of Little Jo's Jeep for the power. I have a freakish fear of electricity, so I did not connect the fan to the battery myself. McGeeky did that part for me, and says to tell you all the following:
"Don't short across the terminals. Don't connect two terminals together without the fan motor in-between. It won't electrocute you but in rare cases, it could explode."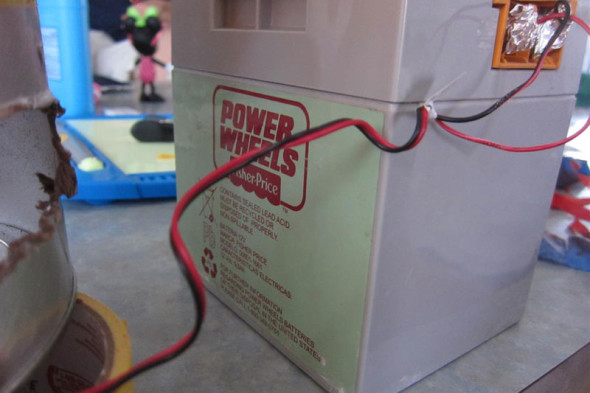 Once that was rigged up, I added some color-changing LED tea lights to the inside of the can. This makes the fire look really good when it is dark!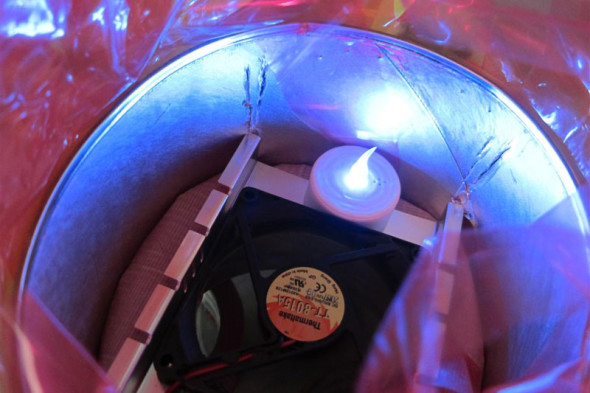 When it was time to hold Tribal Council, I had the kids look around the condo complex for small sticks for us to stack up around the coffee can. If you want a really authentic look, you could lightly spray paint the sticks with black paint to make them look charred like a real campfire. You can also play a crackling fire sounds CD to further add to the ambiance. To really take it over the top, add some dry ice in water behind the fire to resemble smoke!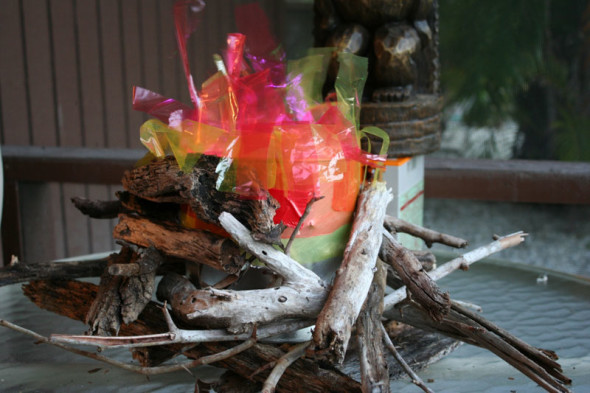 These Survivor torches and Tribal Council campfire were perfect touches to our DIY Survivor event and really made it feel that much more authentic!

similar projects

leave a comment: