One of our big Cupcake Collars fans, Michelle, recently purchased our new Daisy Scout flower design over at CupcakeCollars.com and she was kind enough to share photos of her creations with us. We just HAD to share them with you, because Michelle came up with the most clever new use for them… she put them on cake pops!
We designed our Cupcake Collars to go on cupcakes, but Michelle wanted to try something different, and we just love it. She printed them out at 65% and poked a tiny hole in the middle instead of cutting out the big hole. Then she stuck them to the bottom of her cake pops while the chocolate was still melted, so they'd stick. They were a really fun addition to her daughter's Daisy-to-Brownie bridging ceremony with the Girl Scouts.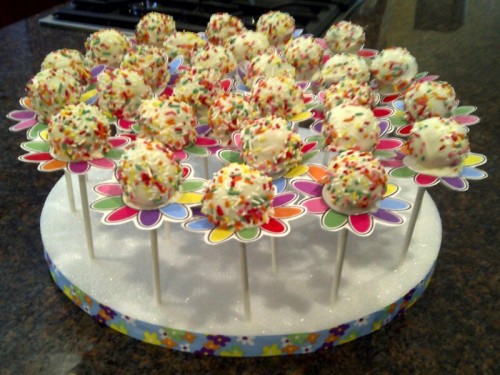 If any of you are looking for a new way to dress up your cupcakes OR your cake pops, be sure to check out our ever-growing collection of Cupcake Collars!
If you liked this, check out these similar projects: