Survivor buffs and tribe flags
by: Chica
Survivor is one of my favorite TV shows and Jo and I have watched every season. We've both always thought it would be so fun to get to participate in the show's challenges, as long as we didn't have to go through the days of near starvation and heat the the castaways usually do! We decided to host our own Survivor-like event this summer during our yearly beach vacation in Sanibel, Florida. Since the Amazing Race we put on last year was so much fun, we knew we wanted to do something similar this year, and Survivor was just the ticket.
We've got several posts planned to tell you about all the elements of our version of Survivor, and I'm going to kick it off today by focusing on a few of the main items regarding tribe identity — the logo, the buffs, and the tribe flags.
For the logo, I designed something that is similar in style to the typical Survivor logos, but with a slightly different slogan. Rather than go with the classic "Outwit Outplay Outlast", we opted instead to use "Outsmart Outlaugh Outfun". This was mostly due to the fact that our version of the game won't involve "outlasting" or voting people off — where's the fun in people not being able to keep playing? We are taking elements of the game and putting a more positive, fun, and collaborative spin on them. You'll see what I mean as we explain the game more in future posts. But anyway, back to the logo! I've actually got four different versions to share with you.
THE LOGO
First, there's the Survivor Sanibel version that we'll be using for our actual event. I've provided it for you in color and black and white, so you can use it for printing or iron-ons as needed.
Then, since we want you all to be able to play along at home, I made a more generic version that you could use for anywhere. Again, it's in color and black and white.
THE BUFFS
So what did we do with these logos? Well, first of all, I put them on buffs! You simply can't play Survivor without having iconic Survivor buffs for your tribe members. They were really easy to make, too. Start off with some stretch jersey knit fabric in your tribe colors. We used red jersey knit and blue jersey knit.
Before you start working with the fabric, take note of which direction it stretches in. One way will stretch far better than the other, and you want that stretching direction to go left to right on your workspace.
Now you need to cut a rectangle out of your fabric, and the size will depend on how stretchy your fabric is. I cut mine to 20″ wide and 18″ tall. You need it to be big enough to stretch around a person's head comfortably, so do some experimenting to get the right size for your particular fabric.
Once you've cut the fabric, fold it in half and pin the sides together.
Use the sewing machine to sew the side seam with a row of zigzag stitches. Using zigzag instead of straight stitches will allow the seam to stretch after it's sewn.
You might want to trim any excess from your seam to clean it up.
Then just flip it inside out and that's it! Because the jersey knit doesn't unravel, you don't need to hem up the other edges. The finishing touch is to print the logo onto dark shirt transfer paper and iron it to the center of the buff, following package directions.
Aren't these just fantastic? They can be worn as headbands, as wristbands, around the neck, or just about anywhere you want. Be sure to make enough for each member of each tribe!
THE MATS
Another item we knew we'd need for our survivor game is a mat for each tribe to stand on for challenges. Jo and I thought long and hard about this one, trying to come up with something that was durable, inexpensive, and heavy enough to not blow away or move when it was walked on. We finally settled or ordinary bath towels, which we were able to pick up for just a few bucks. These ought to work great!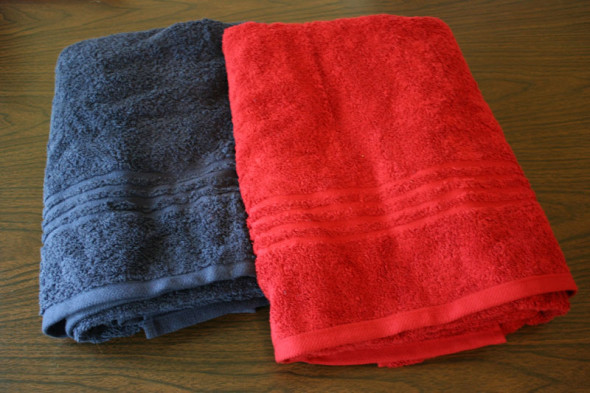 THE FLAGS
The last thing we needed for the tribes to show their identities was a pair of tribe flags. While the flags on the TV show are usually horizontal and hung between two poles, we felt that would not be easy to move around. We opted to follow tradition from some of the earlier seasons and make a vertical flag on a single pole so that a member of each tribe could carry it to challenges and stab it into the sand.
First, the hardware: to make two flags, you'll need four 3/4″ wooden dowel rods that are about 30″ long, two 1″x2″ wooden stakes that are 6′ long, and two 3″ machine screws with wingnuts. Use a saw to cut the ends of the stakes at a sharp angle so that they'll be easier to stick into the sand/dirt.
Then drill a hole into the square end of each stake that's big enough for the screw to fit through. Drill a similar hole into the middle of two of the dowel rods.
Then it's back inside to the craft room to work on the flag. You can use any material you have handy in your tribe colors, but for durability and weather-resistance, we opted to use red rip stop nylon and blue rip stop nylon. Cut a piece of each color that's 24″ wide and about 52″ long.
Fold over one of the short ends of the fabric to form a pocket, pinning it in place. Make sure the pocket is big enough for your dowel rod to fit through.
Sew the pocket in place. (Forgive my red thread… I didn't have any blue!) Do this on both ends of each flag piece.
On ONE end only of each flag, fold the sewn pocket in half sideways…
…and use a pair of scissors to cut a notch in the pocket.
Feed one of the dowel rods with the hole in it through this pocket and you can see that the notch you cut allows the hole to be exposed. This will allow us to attach it to the stake later.
With the flag fabric ready, it's now time to decorate it! I started by printing a giant version of the logo onto four sheets of paper (using the "poster printing" function of my printer).
THen I cut the pieces out and glued them together, forming a giant logo.
I also used my Silhouette SD to cut out letters that spell our tribe names. I positioned all the pieces on the flag and then used a hot glue gun to glue them in place.
Don't you wish you could be a part of the Chicaroo and Jokomo tribes? I may be a little biased, but I happen to think those are the best Survivor tribe names ever.
For the final assembly, start by putting the long wooden stake on a table and lay the flag on top, lining up the hole in the dowel with the hole in the stake.
Put the screw through both holes…
…and secure it on the back with the wingnut. The reason I used a wingnut here is so that it would be easy to assemble and disassemble the flag by hand (no tools needed) when we're out on the beach doing out challenges. It will also make it a lot easier to transport the flags down to Florida!
Slip the remaining dowel rod into the pocket on the bottom of the flag, which will give the flag some weight and allow it to hang straight, even in a breeze. The finished flags are easy to carry and can be stuck into the ground or sand easily, too.
Stay tuned for more projects from us as we continue to plan our Survivor event. We've got plenty more to share with you regarding Tribal Council, immunity idols, and challenges. I can't wait to find out who will be our Sole Survivor!

similar projects