You all know what a First Aid Kit is, and hopefully you have one in your home and car. I have several, and I have to admit that I'm sort of infatuated with them. They are the perfect combination of several of my loves — small containers, packages, samples, organization, and preparedness. First Aid Kits are great because they are focused on true emergency items, to keep you safe and healthy. But what about those other non-emergency times when you need some essential item in a pinch and you don't have it? That's what I like to call Second Aid.
I've been meaning for ages to put together a Second Aid Kit for my car. Every time I'm away from home and wish I had scissors or a stamp or a baggie, I kick myself for not having done it. Even Jo has heard me talk about this idea for years now, but for some reason I never got around to it. I finally did this weekend, though, and I'm thrilled with the results!
I started by collecting items from around that house that might be useful in a pinch. It didn't take long rummaging through drawers and cabinets to find quite a selection.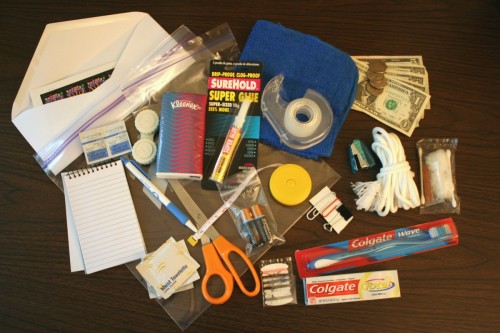 Some of my favorite items are extra contacts, a toothbrush, a measuring tape, paper and pen, and batteries. And of course I had to throw some cash in there, in coins and small bills. You never know when you might get stuck at an unexpected toll booth or have an insane craving for a vending machine treat! I even added a sewing kit and cotton ball/swab kit that I snagged from a hotel room. The former Girl Scout in me is so proud of this collection of "Be Prepared" items.
I decided to store all these goodies in an old First Aid Kit box that I had. It needed a new label though, so I whipped one up real quick. And of course we've got it here for you to download, too.
I just printed the label onto a piece of sticker paper, cut it to size, and stuck it over the existing box's label.
Then I just tucked everything into the box and I was good to go. I'll be putting this in my car so that I'm prepared for all kinds of quasi-emergencies when I'm away from home.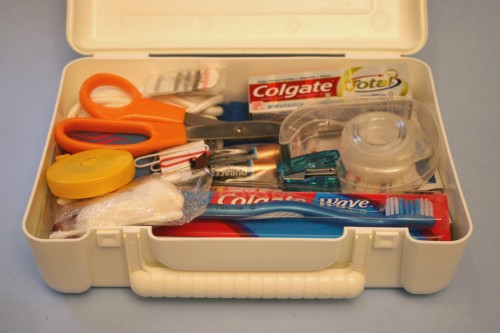 I think this kit is pretty complete, but I know there are things I'm still missing. Fortunately, I can add to it at any time. If you all have any suggestions for things I can include, I'd love to hear them!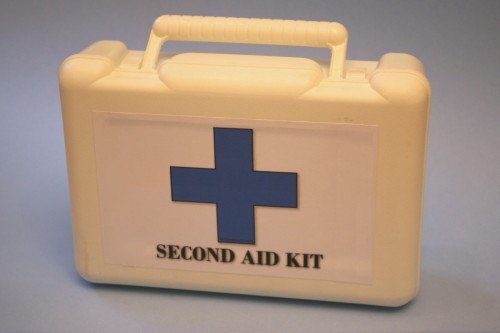 If you liked this, check out these similar projects: