After Chica's recent posts about using her Silhouette electronic cutter, I was inspired to try and use the Sure Cuts A Lot software that I have had languishing on my laptop for quite some time. I got it to use with my beloved Cricut, but I've since learned that this program can also be used with the Silhouette SD (Chica seems to be doing just fine with the software that came with her Silhouette, though, so I'll leave her to it.) I've been wanting to do a family tree project for quite some time so that seemed like a perfect place to start.
First, I found a tree image that I liked. You can either search for SVG (scalable vector graphic) images, draw your own, or trace over an existing image to make exactly what you want. I happened to find a tree that I really liked that was already an SVG image. Visit the forums on Sure Cuts A Lot's website for lots and lots of free downloadable SVG images.
Once I imported the image, I sized it on the cutting mat. I really love this option because I can see sizes visually instead of kind of guessing when I am cutting from a cartridge. I could also use the software to temporarily overlay all of the smaller sign pieces on top of the tree piece, so that I could gauge the proportion. Just remember to move them back off before you cut! Once I had it laid out, I moved all of the pieces to the other half of my 12×24 cutting mat. Then I was ready to cut. I hooked my laptop to my Cricut machine, loaded the paper, and got to it. Actually, truth be told, I fumbled with this part a little bit. I had to do a bit of Googling to find out that you need to have a cartridge inserted in order to make this software work. It doesn't matter what cartridge, you just have to have one. After that, it really was super easy!
While my image was being cut from the paper, I prepared my mounting surface. I decided to use a 12×12 canvas I already had that was covered in a technique gone bad. I simply coated it with a layer of white paint and then finished it off with a coat of blue. Bye-bye failed project. Hello good one!
I put a coat of gloss Mod Podge on the entire canvas, used it again to adhere the tree to the canvas, then finished with another coat on top.
Once my tree was dry, I added the name pieces. I used my P-Touch label maker to make the names and birthdays for each family member. In the images below, you'll see that I blotted out the names for privacy reasons, but rest assured that they are there and there are not just ugly white splotches! I love how it turned out and that I finally used my Sure Cuts A Lot program!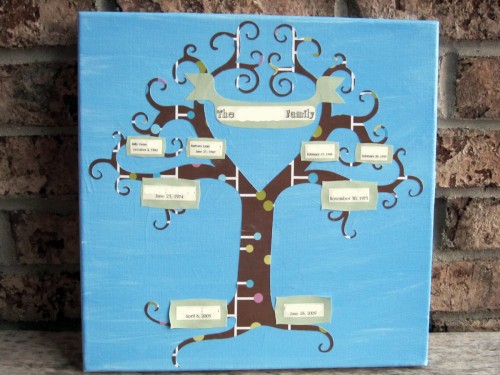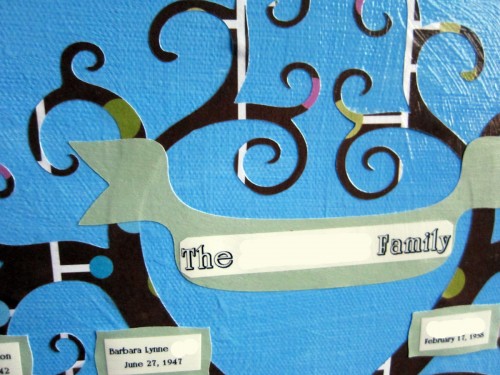 If you liked this, check out these similar projects: