Easter egg cake pops
by: Jo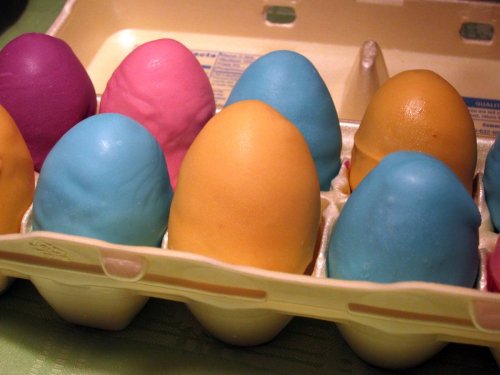 I assume most of you have heard of "cake balls" before, but if you haven't, they are definitely worth checking into. You basically just crumble up baked cake and mix it with frosting to form a sticky, wonderful mess that can be shaped into balls and dipped in chocolate. We're big fans of the lovely Bakerella, who has spent the last year or two making cake balls even more famous by putting them on sticks and calling them Cake Pops. With or without the stick, plain or decorated, cake balls are a delight.
I like making cake balls, and of course I love eating them. When I saw the Easter egg carton label project that Chica did yesterday, I was completely inspired to make something special to go inside. That's when it hit me — eggs are almost round, and I could make egg-shaped cake balls!
At first, I was going to shape the eggs by hand but then I thought, why not use a mold? I simply took some inexpensive plastic Easter eggs I had leftover from last year, washed them out, and then stuffed them full of cake ball mixture. This particular mixture is a basic devil's food cake mix from a box and a tub of cream cheese icing. No homemade frosting for me this time — it was a weeknight and I need shortcuts in life.
Next, put the eggs (in the molds) into your freezer. You can even do this step a day or two ahead of time to make sure the are rock solid, which makes them even easier to remove later. After freezing, simply open the plastic eggs and pop out the cake. Most of mine (9 out of 12) came right out without a problem, but for the rest, I just stuck a toothpick in the convenient holes in the top of my plastic egg and pushed a little. Once the cake balls are out of the molds, put a sucker stick in the bottom of each one, just to make them easier to dip in the chocolate.
Now dip your egg into a bowl or mug full of melted Wilton candy melts. Since I didn't want an egg with a flat side, I stuck the stick into a piece of foam I had on hand to dry upright.
TIP: add a little bit of oil to your chocolate to thin it out some. I learned this trick after doing the purple eggs first. The thinner chocolate gives a more even coat to your eggs, and also makes the finished egg a bit smaller so that you can still fit in your egg carton.
When the chocolate is hard, you can either keep the eggs on the sticks, or remove them if you want to put them in a carton, basket, or bowl. That's it! So simple and so yummy and cute! I love how they look in Chica's decorated egg carton. What a perfect thing to take to an Easter potluck or egg hunting party.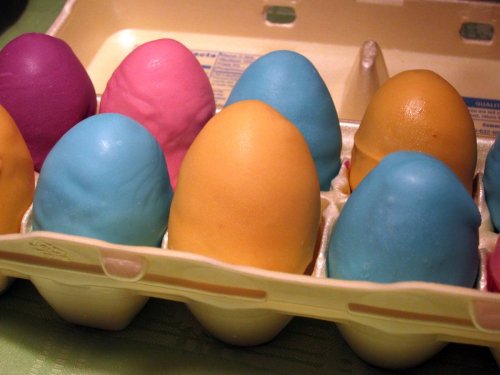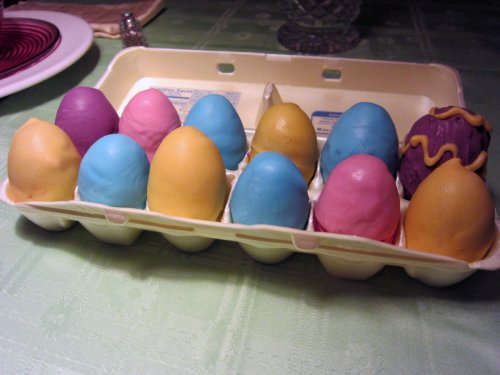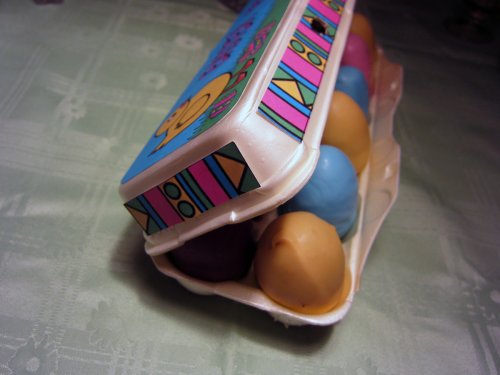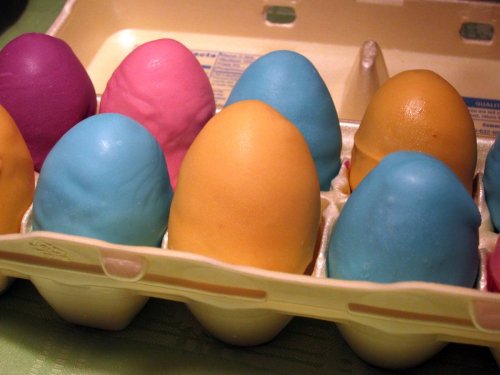 similar projects

leave a comment: